Bayfield boys snap losing skid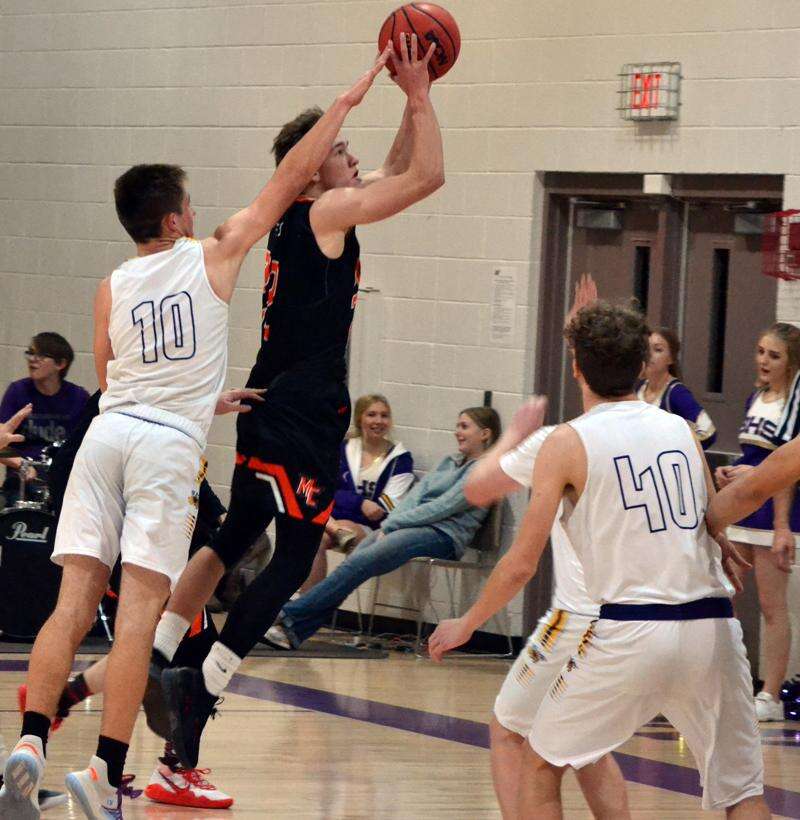 With much of its starters in foul trouble early in Friday's road game at Grand Junction Central, the Durango High School girls basketball team's bench answered the bell. Sydney Flores scored a team-high 11 points to lead Durango to a 45-33 win over the Warriors.
Durango (13-7, 4-1 5A/4A Southwestern League) played strong defense and established a steady post presence in the win. Flores led a balanced scoring attack against the Warriors (11-9, 1-4 SWL), but the team also got contributions from Mason Rowland with nine points and Emma Fitzgerald with eight.
"I thought Sydney had a big night, but really our whole bench played well," said DHS head coach Tim Fitzpatrick. "Sydney played really well in the post and played good post defense. Anna Cuntz came off the bench and gave us good minutes, as did Katherine Paul and Lauren Park."
Durango will stay on the road and will travel to Montrose (15-3, 3-1 SWL) at noon Saturday. It will be the third time the teams have met, as Durango won at Aztec's Rumble in the Jungle tournament in early January, while Montrose beat the Demons 38-30 in Durango last Saturday.
"We're 1-1 against them, so it will be a good test again," Fitzpatrick said. "They made some adjustments against us the second time, and they're a good team, so we'll see. We'll have to get after it tomorrow."
Bayfield 50, Montezuma-Cortez 35
The Bayfield High School girls basketball team didn't squander a second opportunity to take down Montezuma-Cortez. BHS did so in a convincing 50-35 win Friday night in Bayfield.
The Wolverines (6-9, 2-5 3A Intermountain League) were led by Macee Schulz, who scored 13 points. Brooke Merchant added 10 points, and Riley Campbell had eight. BHS avenged an earlier 44-43 loss to the Panthers in January in which the Wolverines were 11-of-28 from the free-throw line and had a chance to win it with under a second left. On Friday, the Wolverines shot 8-of-12 from the free-throw line. Cortez (4-10, 2-5 IML) was just 2-of-12.
"The girls were so pumped and were ready to go. They really played together," said BHS assistant coach Jamie Wursten. "They didn't let anything get to them and pushed through it all really well. We played for each other and it showed tonight."
BHS will host Centauri (13-1, 4-1 IML), ranked No. 3 in the latest CHSAANow.com Class 3A rankings, at 1:30 p.m. Saturday.
"I told the girls that if you come out with that much energy and passion, let's see what happens," Wursten said.
Ignacio 53, Ridgway 19
The Ignacio High School girls basketball team got off to a slow start Friday night on the road at Ridgway but got a second-half lift to defeat the Demons 53-19.
The Bobcats (9-5, 6-0 2A/1A San Juan Basin League) were led by Ebonee Gomez with 13 points, and Makayla Howell scored eight. The Demons (4-7, 3-4 SJBL) were led by Ashley Medina with six points.
After leading 18-11 at halftime, IHS turned it up a notch in the second half and had five different players score. IHS outscored the Demons 20-2 in the third quarter to pull away for the win.
"We came out slow, but after halftime we got back together and did what we do, and it was the same outcome as last time," said IHS head coach Justa Whitt. "Del Norte is definitely on our radar, but we're hoping for a much better game tomorrow against Telluride. We missed two days of practice this week, so it threw a loop in our schedule and rhythm. We will pull it back together, play well and will get ready for Del Norte."
The Bobcats will travel Saturday to Telluride to take on the Miners (6-9, 4-3 SJBL) at 2:30 p.m.
Boys basketball
Grand Junction Central 54, Durango 49
Boys basketballThe Durango High School boys basketball team did a good job of protecting the basketball Friday night against Grand Junction Central until the fourth quarter. Durango (9-10, 0-4 SWL) turned the ball over on seven of its final 12 possessions, gave up a 19-6 run and lost 54-49.
Jordan Woolverton led Durango with 18 points, while Anthony Flint had 12, but the Demons could not get out of their own way.
"In the fourth quarter, it's all about not making mistakes," said DHS head coach Alan Batiste. "We were rushing. We had turnovers on three straight possessions that led to easy layups. It's frustrating and unacceptable for the coaching staff and the boys. We were in control of the game and we still somehow don't cherish the possession. Central ran a box-and-one and didn't even guard the 3-point line. We've been good about not turning the ball over, but when we do, it's in those moments where we can't."
The Warriors (6-13, 2-2 SWL) trailed 43-35 at the end of the third quarter but were able to outscore DHS 27-14 in the fourth quarter.
It won't get any easier for DHS, as it will travel to Montrose (15-4, 3-1 SWL), ranked No. 9 in the latest 4A poll, at 1:30 p.m.
Bayfield 62, Montezuma-Cortez 59
The Bayfield High School boys basketball team brought an end to a 12-game losing streak Friday night in Bayfield after the Wolverines shocked Montezuma-Cortez, 62-59.
Quintan Hunter led the Wolverines (2-14, 1-6 IML) with 17 points. Crosby Edwards had 11 and Kacey Chandler had nine, including two 3-pointers.
Cortez (9-7, 3-4 IML) was led by Titus Jackson with 19 and Teagan Whiteskunk had 12 in the loss.
"It was a huge win for this group," said BHS head coach Klint Chandler. "The kids have been working hard, and for it to finally pay off, I couldn't be happier. We took that next step tonight."
BHS had a 60-59 lead with 7.6 seconds remaining, but Hunter missed a free throw. Cortez had a chance for the win, but the final shot was off the mark. After a foul on Cortez, Chandler made both free throws with 4.1 seconds left. In the final possession, Cortez point guard Andrew Wood was called for a palming violation, which sealed the win for BHS.
BHS will host Class 3A No. 6 Centauri (14-1, 5-1 IML) at 3 p.m. Saturday.
Ignacio 50, Ridgway 46
The Class 2A No. 5 Ignacio boys basketball team stepped up its defense in the final three minutes of Friday's game at Ridgway and held the Demons scoreless for the final three minutes to earn a 50-46 win.
Ignacio (11-2. 7-0 SJBL) was led by Brady McCaw with 18 points, while Bryce Finn and Ocean Hunter each had eight. Ridgway (5-10, 2-6 SJBL) was led by Kaden Forrest with 10 points.
"We just came out flat and never seemed to recover," said IHS coach Chris Valdez. "Hopefully it's not becoming a habit. We had an eight-point lead and gave it back. We had to fight back and took the lead with a minute and a half to go, and our defense kept them scoreless. It wasn't pretty, but it was a big road win."
Ignacio will play Telluride (6-9, 4-3 SJBL) at 4 p.m. Saturday.
Girls wrestlingThe Colorado Girls High School Wrestling Championships at Thornton High School will be condensed into a one-day tournament after a heavy snowstorm swept through the Denver metro area Friday.
The tournament, which was scheduled for Friday and Saturday, will now be held exclusively on Saturday. La Plata County has three wrestlers in the tournament: Bayfield's Shayden French and Lindsey LaMay, and Durango's Samantha Vasquez.
bploen@durangoherald.com