Bayfield senior looks to leave it all on mat at state tournament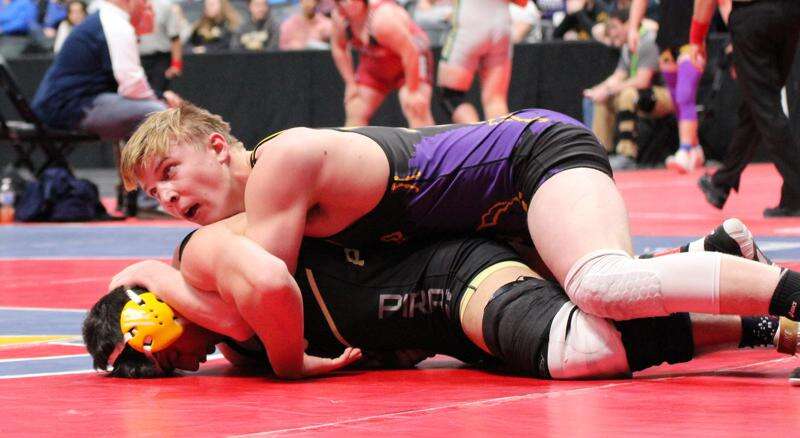 When Bayfield High School head wrestling coach Todd McMenimen made his return to the program last season, he had high expectations. He wanted a phrase to hammer down to players, coaches and fans that while the program had seen a lull in state qualifiers, Bayfield wrestling would make a return to being an elite program. The phrase McMenimen coined took on a life of its own among the team. "Building tradition from the mat up" was born.
Bayfield senior John Foutz has embodied the ethos of the message, and has ran with it ever since. The no-nonsense, tough-love approach has helped Foutz become the heart and soul of the program. The senior is aiming for his first state championship at 220 pounds and was the No. 2 seed entering the Colorado High School Activities Association's State Wrestling Championships. He believes he can end his career on top of the podium at the Pepsi Center in Denver. Foutz got off to a strong start in the first round of the Class 3A tournament Thursday with a first-round pin victory to punch his way into the quarterfinals.
"The goal, at least since the start of last year, has been to become a state champion," Foutz said. "It's just about continuing to work hard toward that goal, and keep charging along, I guess."
Foutz, son of Mike and Terene Foutz, has managed to charge along in an impressive final season. Last year, he made it to the 3A semifinals of the 195-pound bracket and would eventually finish in fourth place. This year, Foutz moved up to 220 and dominated from his opening match. He started the season a perfect 15-0 before finally losing to Cody Ponce of Eagle Valley at the Warrior Classic in late December. He has an impressive resumé this season with four wins over two wrestlers ranked in the top five of his weight class, according to Tim Yount's On The Mat rankings.
Foutz is not the only Wolverine that is competing at state this weekend. Three others, Dylan Pickering, Shane Moore and Kobe Prior, are all making their debuts at the Pepsi Center. When asked if Foutz gave advice for the first-timers, Pickering said he had not.
"Honestly, no, he hasn't and John doesn't say much," Pickering said. "John leads by example. He goes out there and gives it his all. That's his way of leading."
Foutz also led by example on the football field. He was a senior captain for the Wolverines, and was the heart of the defense. He managed to get through a tough season in which he was playing on an injured ankle and never complained or missed a game. While the Wolverines went 4-5 overall and 1-3 in the 2A Intermountain League, head football coach Gary Heide said Foutz was always the one to step up, oftentimes it was well before the coaches.
"I was really impressed with his positive approach with the good and the bad," Heide said. "I can remember the times after some of our games where I needed some help, and he was always there. He was the man at the end of the game or the start of a week where he was the positive person. He was lifting up even the coaches, as well as the players. He'd get to practice and give it his all every time."
Foutz's motivation for being a leader and wanting to be at the top of the podium stemmed from the end of his sophomore year. He had narrowly missed out on qualifying for state in each of his first two seasons, as he lost in the playback bracket in his freshman season, and was denied by Delta's Gauge Lockhart during his sophomore year. But being on the 2017 team that won the 2A state championship in football, and his dad, an accomplished wrestler himself, pushing Foutz, he knew what it would take to get to the top in wrestling. Starting that summer, he left it all on the field and the mat, and his mindset shifted.
"That match against (Lockhart) was my most emotional match of my career," Foutz said. "I remember I was tired and remember giving up. Back then, I didn't have the mental fortitude to go at the end of that match and give it what I had left. I'd say that pushed me. That was the turning point. From there, I knew that I was willing to do whatever to become the best, and the drive within me never left."
At the start of his junior season, McMenimen returned to the program after a four-year absence. He made an immediate impact on Foutz, and he had his breakout season.
"His biggest improvements have been mentally," McMenimen said. "He's really improved. We've worked a lot on it over the summer and all year long, as well as last season. How he approaches matches now is so different than when we first started last year. He's not looking at guys and trying to judge them how they look walking out there, and realizing that there's not a 220-pounder in the state that can hang with him when he wrestles the way he wants to. He's really, really solid."
When Foutz takes to the mat at the Pepsi Center, he won't reflect on the negatives – close losses and injuries – but said he will do what he does best: block out the crowd and just wrestle.
"No matter what, I'm proud of everything I've accomplished," Foutz said. "I'm proud to have given it all, and I couldn't ask for more. When I walk into Pepsi Center, I know it will be a big crowd, but to me, it's just another tournament. You have to block out all of the noise and focus on everything that has gotten you to this point. If I can wrestle my way and my style, I'll know that I did everything possible, and left everything on the mat."
bploen@ durangoherald.com
Behind the scenes with John Foutz
What's your favorite sports movie?:
"The Junction Boys"
What's your favorite postgame meal?:
A big steak for sure.
which teacher has made the biggest impact on you?:
Gary Heide. He has been a great football coach, and he's fun in gym class.
WHo is your favorite athlete?:
I'd say Michael Jordan. He's one of the greatest to ever come to play the sport of basketball or any sport.
Do you have a favorite animal?:
Dogs, either golden retrievers or a German shepherd.
What is your most memorable moment as an athlete?:
Probably winning state in football my sophomore year. Especially because we won at home, that was really cool.
IF you could take a trip anywhere in the world, where would you go?:
Brazil, it seems like a really beautiful place and a cool country in my opinion.
If you could choose to be a superhero, who would it be?:
Thor. He's got the big hammer, the lightning and he's jacked. He's got all the good stuff.