Alliance holds first Winter Pride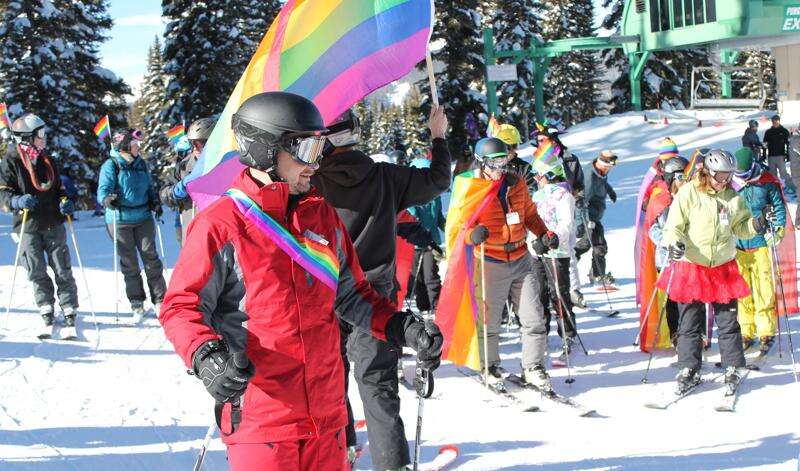 Draped in rainbow flags and sporting rainbow wigs, skiers and snowboarders took to the slopes Saturday afternoon for the Winter Pride parade at Purgatory Resort.
The Four Corners Alliance for Diversity held the inaugural weekend event which drew about 150 people, said Kristi Dean, the chairwoman of the alliance.
The speedy procession drew supportive cheers from others on the mountain, and at other Pride events at Purgatory the reception was similar, said Ryan Garcia, the vice chairman of the alliance.
"Everyone has been receptive of the message 'love wins," he said.
The Alliance holds an annual summer Pride Festival, but in the last year, Dean and Garcia joined the board, and since then, the group has been working to host more events for the lesbian, gay, bisexual, transgender, queer and questioning community, he said. "I grew up in the area. I know it's really rough in rural places to be LGBTQ. So I want to be out here to be like a role model, to show people, 'look, you can be yourself' and people are going to be OK with it," he said.
In Durango, the Alliance has found acceptance, and a broad group of people attend Alliance events.
"It's not just gay- and lesbian-oriented. It's the entire community and it's very welcoming," board secretary Ernie Garcia.
Matt Gomez and his friend, Leigh Mikell, came out to support the LGBTQ community and wore bright tutus to the parade.
Gomez, a Durangoan, left the Mormon Church about eight years ago because it doesn't embrace the gay community and he had a couple of friends who were gay.
"Who am I to impede on their happiness?" he said.
More information about the Alliance and their upcoming events can be found at 4calliancefordiversity.org.
mshinn@durangoherald.com