Hundreds turn out to embrace inner selves and celebrate community
Saturday was all about embracing personal truth and community with a family friendly Pride celebration at Buckley Park featuring artists, drag performers and comedians who drew hundreds to the scene.
The event was scheduled to start at 3 p.m. after a Pride parade down Main Avenue, but before the clock struck 3, Buckley Park was already filled with townspeople and visitors.
Brian Joy, event organizer and chairperson of Four Corners Alliance for Diversity, said this might be the city's biggest Pride event yet. He said the Pride parade on Saturday was also the first to feature floats. He said that's in large part attributable to Fort Lewis College and local schools whose students were enthusiastic about designing floats for the parade.
"It became a much bigger community event by being able to get all those kids involved," he said.
Although the month of June is officially designated as Pride Month, a celebratory time for the LGBTQ+ community, the alliance for diversity decided that September worked better because college and high school students were back in town after the summer break.
"Judging by the crowd, I think it made sense. I don't know if we've ever had this many people before," he said.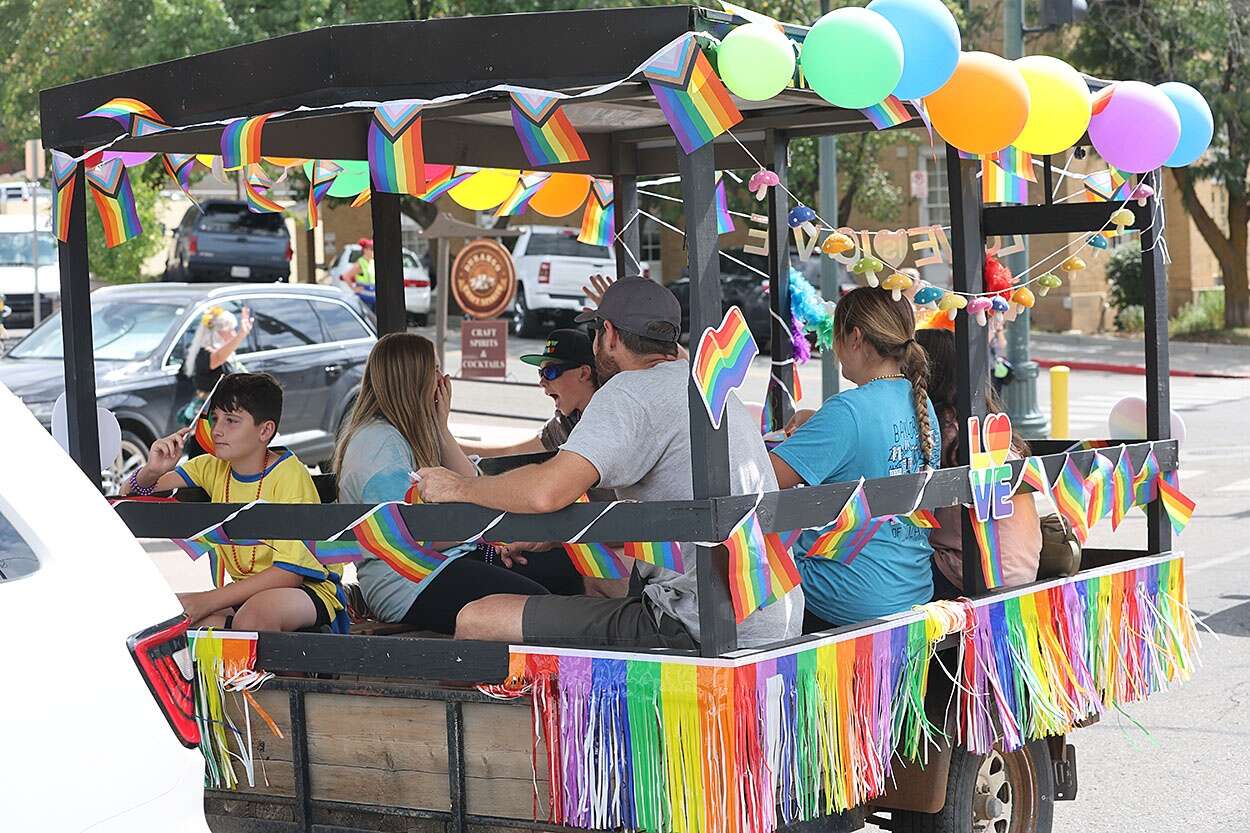 JoAnn Smotherson, board member for Four Corners Alliance for Diversity, said Pride events are important to young people in particular because they provide a sense of community.
"It's a place for young people (to) run around and see and feel that they're part of a larger community and if they have gender nonconformity or sexual nonconformity, it's OK," she said.
She said Pride has evolved over the years. It started as a statement by the LGBTQ+ community: "We're here, we're proud and we're staying. And make room for us."
It turns out, people heard the message and have made room.
"They've opened up and said you're absolutely right, there is room in this world for you," she said. "It is rapidly evolving into a place for everyone to celebrate that this world is made of so many colors. Diversity is everything and there is room for us and for you."
Joy said celebrating Pride lets people show their true spirits in a safe place with people who trust them and relate to them.
"We don't always see that," he said. "So I think it's really important that we have these events.
He said in small cities like Durango it can be hard for members of the LGBTQ+ community to find each other or even realize there is a community. Pride events are held to mitigate that issue.
"We don't have gay bars here. If we were in Denver, it's just like, oh, we'll just go to the gay bar," Joy said. "We don't have that. So these events become even more important to us. And it's a chance for everybody to celebrate who they are and be free and be themselves."
Aluna Delrey of Farmington, wearing makeup and dressed in an extravagant outfit, was scheduled to perform a drag show on the main stage at Buckley Park. They said they prefer the pronouns "he, she or they," and were attracted to drag because of the transformation the art allows.
"The mysteriousness of it," they said. "Sometimes you can transform your face into something completely different just with a little bit of makeup. I get to be beautiful and I can still express my art at the same time."
Delrey said they attended their first Pride event in Durango and it's been a while since they've performed in the city, so they were looking forward to the afternoon.
"I've always liked the art of drag and performing," they said. "I started about five years ago. It found me. I'm really happy with what I do and it's something that I grew up watching."
Delrey said they are part of a drag group in Farmington. The group performs to foster community there and wants to do more shows in Durango.
Karen Pontius, advocating for the Democratic Party at a booth in Buckley Park, said the Pride event created a "wonderful gathering."
"When you come out and have a festival it's so wonderful to see the community's support. That's why I'm here," she said.
She said after the U.S. Supreme Court pulled the rug out from under the Roe v. Wade ruling protecting abortion rights, other rights are now at risk: The right to marry whom one loves and the right to contraception, chief among them.
"These are big deals for everybody, not just the gay community," she said.
Katie Stewart, a member of the Durango School District 9-R school board, was also advocating for Democratic incumbents and candidates on Saturday.
"Had you asked us 10 years ago if we thought the Supreme Court would overturn Roe v. Wade we would say no, that it was codified, that it was settled. Apparently, it wasn't," she said. "So am I worried about the rights of others and myself? Absolutely."
cburney@durangoherald.com