Participants say government is overreaching, violating Constitution
About 200 people gathered Friday evening in downtown Durango to protest public health orders aimed at reducing the spread of the coronavirus.
What was originally said to be a peaceful walk down Main Avenue to promote local businesses turned into a rambunctious rally that paraded through downtown Durango around 6 p.m.
The organizer, La Plata County rancher John Avery, said this week the event was not a protest to the public health orders. During a speech Friday, however, Avery decried actions by the government as a violation to the constitution.
"What have we become, to let ourselves be governed and treated like cowards?" Avery asked the crowd. "This is our time to be strong. Take a stand. Don't be afraid. Don't let fear rule your life."
The rally started at the Durango & Silverton Narrow Gauge Railroad's parking lot near McDonald's, with groups of people gathered without masks and not social distancing. Many people had "Don't Tread on Me" flags and Trump 2020 swag.
The Durango Police Department had a strong presence in the parking lot. Authorities said this week they would take an educational approach, not an enforcement-minded stance.
Brice Current, deputy chief of DPD, said there was only one flare up when a counter-protester coughed on a person attending the rally. The man was not ticketed and told to leave, though Current said he could be ticketed at a later time.
Other than that one incident, Current said the rally went relatively smooth.
"We always prepare for the worst, and hope for the best," he said. "It went pretty well, and everyone seemed super respectful."
After Avery's speech, the crowd walked north on Main Avenue. Cars honked horns, people shouted at the protesters, both in support and opposition.
Misti Witt, who lives in southeast La Plata County, said she participated in Friday's event, in part, to protest the city of Durango's requirement to wear face coverings in businesses and places that can't maintain social distancing, which went intro effect Friday.
"But it's not just about face masks," she said. "It's about taking away an individual's right to chose what is best for themselves."
Heath Rowe, a La Plata County resident, said he doesn't have an issue with wearing a mask. But, he said it's not the government's place to make it a requirement. And, he added people have been taking issue with a range of orders that have shut down the economy.
"People are feeling frustrated about everything," he said. "The masks have just been the tipping point."
Clark McKay, also a La Plata County resident, reiterated much of the same.
"Why are they taking healthy people and restricting them from living a normal life?" he said. "It's frustrating because I think the government is pushing us and pushing us. We're definitely getting away from a free country."
Local health officials say previous public health orders that asked people to stay at home and closed businesses deemed nonessential were effective in flattening the curve of the coronavirus.
As of Friday, La Plata County was reporting 76 confirmed cases of COVID-19 and zero deaths because of the virus. One person who died had tested positive for the disease, but died of congestive heart failure.
But now that those regulations are being relaxed, with more businesses opening and tourism picking up, officials have voiced concern cases could increase. As a result, face coverings are seen as an effective way to help slow the spread as the economy reopens.
A recent survey of 355 or so Durango businesses found that 65% of store owners supported a face-covering mandate.
Several store owners who spoke to The Durango Herald this week said they were in support of the mandate because it would protect their employees, but it would also take pressure off the store itself to ask for customers to wear a mask.
"Businesses are caught in the middle," said Tim Walsworth, director of the Durango Business Improvement District. "They're just trying to open their stores, employ people and spur the economy. We just don't need conflict, especially right now."
With the rally starting around 6 p.m., and the march down Main Avenue shortly after, most downtown businesses were closed. For the stores still open, Walsworth said it would be hard to say whether they lost business because of the rally.
"I would not be surprised if some closed early," he said. "But I also wouldn't be surprised if some opened their doors wide and said come in."
Katie Burford, who owns Cream Bean Berry in the 1000 block of Main Avenue, which was open, said the store has required customers to wear masks for the past few weeks, even before the city's mandate.
But she has directed her staff to not be confrontational if someone refuses to wear one.
"There's nothing more non-political than ice cream, and I'd like to keep it that way," Burford said.
Amber Gilchrist-Morris, who has owned the Wild Horse Saloon for 15 years, took part in the event with her husband and two sons. She said if the economy doesn't reopen soon, many local businesses are likely to close.
"It breaks my heart," she said. "But they're not going to break us. We're going to remain strong, no matter what."
Gilchrist-Morris, too, said she was out Friday to show her disdain over the face-covering requirement.
"The City Council is treating the citizens of Durango and the entire county like children," she said.
Cheryl Stevens, who lives near Hesperus, said there has been a "huge amount of fear mongering" surrounding the coronavirus.
"It's Memorial Day weekend, and we're standing for our country," she said. "And as a citizen of this country, I have the right to go where I want to go without having to wear a mask. Whether it's in Durango, it just doesn't matter. I have that right to choose for myself."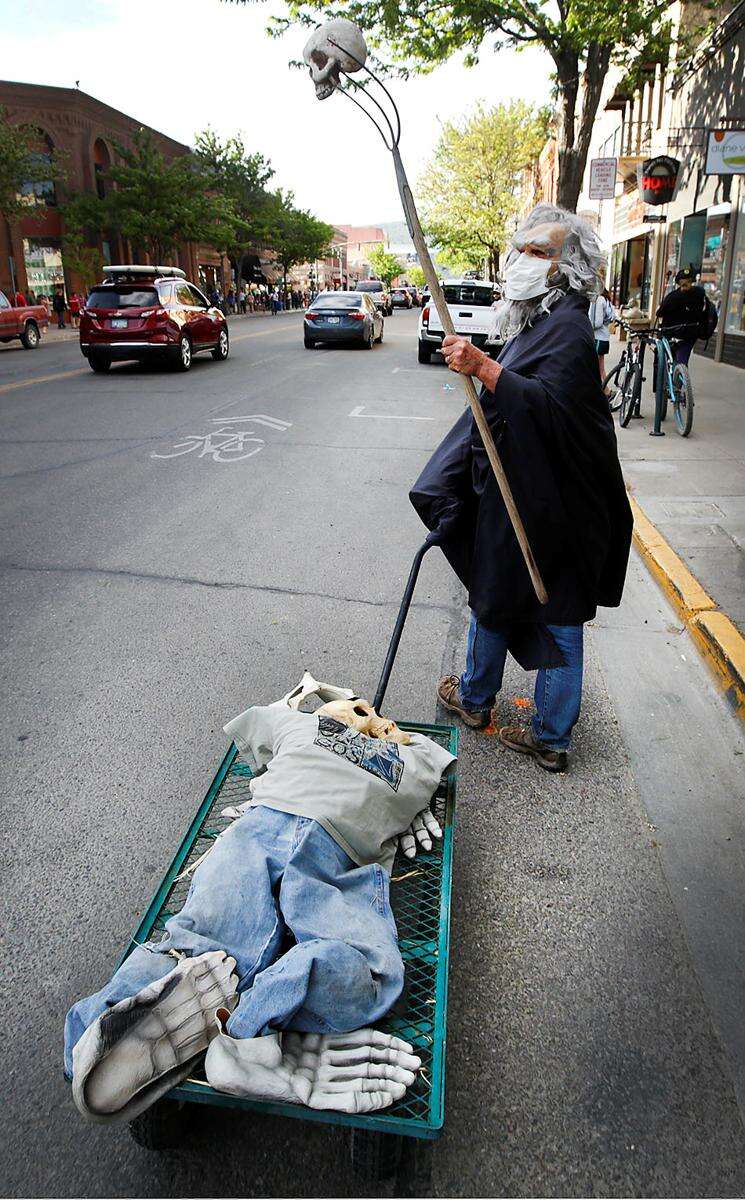 jromeo@durangoherald.com