Matt Steffens and Brice Ward discuss art of roasting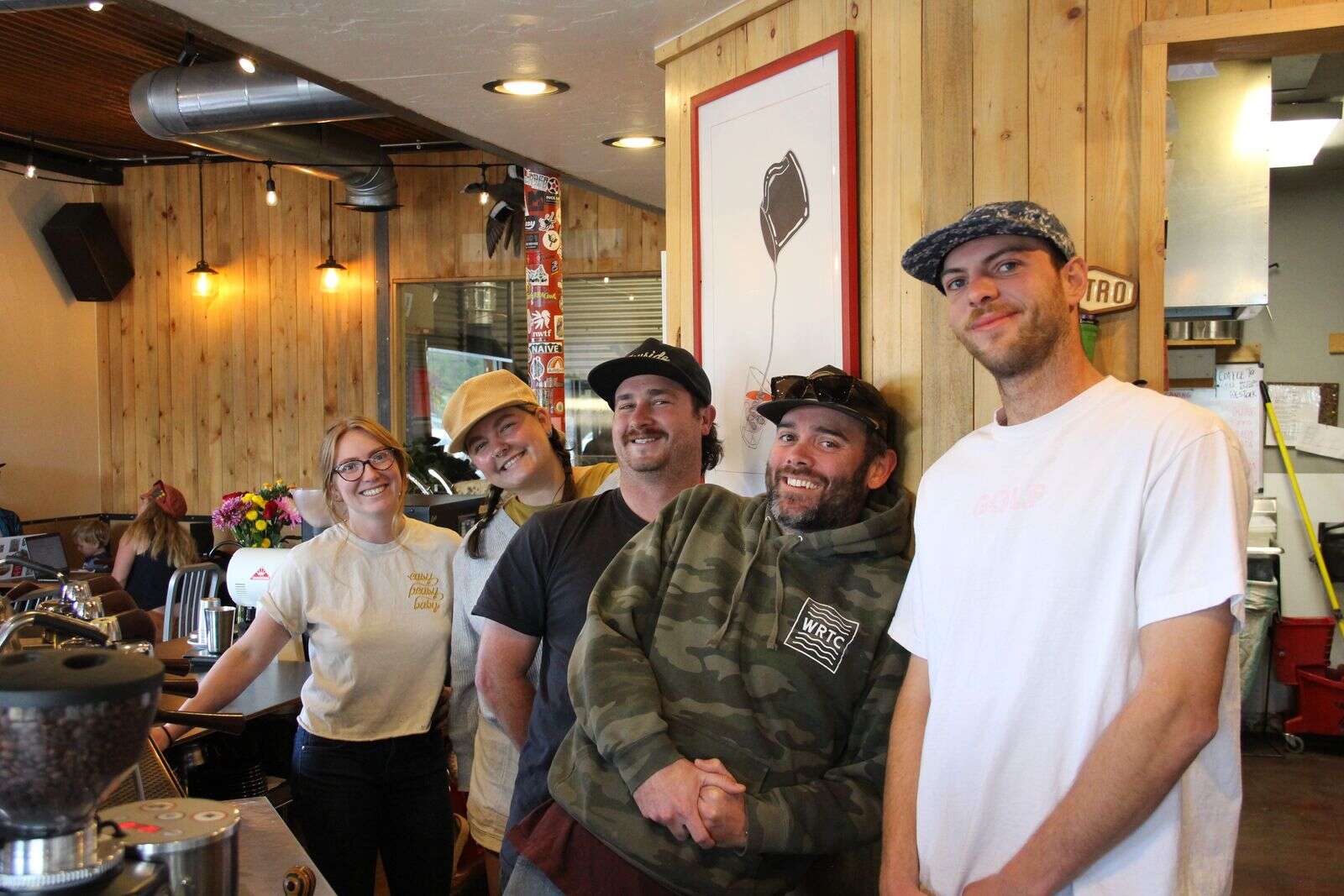 The coffee plant originates from the area of Africa that is now modern-day Ethiopia. The name "coffee" came from a multilingual game of telephone. Proliferation of the bean started back in the 15th century, and by the 18th century, it had gone global.
America's coffee obsession has its roots in the making of the country, with the American Revolution being planned in coffeehouses. To spite the British, coffee was adopted by the American colonies after the Boston Tea Party as the patriotic alternative to tea. Electrification and the Industrial Revolution put a new demand on the workforce that pushed coffee even further into the homes of average people.
Today, coffee shops can be found in nearly every city, and Durango is no exception. From McDonald's drive-thru coffee to specialty single origin, fair-trade brews, this town has it all. As home to a number of coffees shops, anyone who wants to take part in the game must set themselves apart.
Matt Steffens and Brice Ward of 81301 Coffee House and Roasters have done so with their in-house roasting and proprietary blends.
The two are not so unlikely as they both have been in the coffee business for years. Ward's day job was at coffee shops while he was in night school pursing a law degree. Being familiar with Durango from his time racing bikes, Ward found himself leaving Aspen 6½ years ago. He fell on the familiar and started at 81301 Coffee under previous owners Taylor and Sage Anderson.
Steffens, from Albuquerque, made the move to Durango for Fort Lewis College 10 years ago. He said, "90% of my jobs were coffee." The Andersons were looking for someone to take over the roasting, and they asked Ward to become the new roaster. Instead, Ward reached out to Steffens, who was waiting on a job at a hospital.
"He was my sacrificial lamb," Ward said. Steffens agreed to the job. "It worked out well," he said.
As of July 1, 2022, Steffens and Ward, after working together for six years, took over as the owners.
DH: How does roasting your own coffee affect the way you operate?
BW: Moneywise, it's huge. If you're buying beans from another roaster wholesale, it's infinitely more money. We have complete freedom, from green buying all the way to service. If customers wanted something super fruit forward or super dark or whatever, we can facilitate that feeling.
Does being able to change everything appeal to you in a specific way?
MS: It's fun. To be able to experiment with other coffees, different origins or things I don't have, to then go make coffee for someone else. It is a cool experience. BW: We live or die in the roastery.
Does anyone else in Durango roast their own coffee?
MS: There's two other roasters here in town: Desert Sun and Durango Coffee Co. So what separates us from the two other roasters here in town, is we're the only cafe that has their roaster facility also in the same building as the cafe.
Why does no one else have their roastery in-house? Is this a crazy thing to do?
BW: It's a full-time job being a roaster. You might want to own a cafe, but you might not want to be a roaster. I had never considered doing it. It's a lot of investment up front.
Are there unique challenges brought on by being your own roaster?
BW: Espresso machines, grinders, we can take apart with our eyes closed. MS: When it goes into something failing on it, I know a handful of things. But we have a number of people we can be like, 'Hey, we need some help.' BW: We talked to an engineer that had to fabricate a special part for us. This isn't run-of-the-mill stuff.
MS: Raw prices are increasing. BW: Raw coffee is expensive, and it's getting more expensive by the second. MS: Brice and I took over as owners in July, and our raw prices have increased on average by like 25%.
Is the coffee-roasting process difficult?
MS: The actual act of it is not anything hard. But it is a very skilled job. You're using gas, you're changing airflow. There are a lot of variables that go into it that can change coffee for the good or for the bad. Everything that goes into it, the science behind it, why you roast a certain style, is very complicated.
How do you learn about it?
BW: Books. MS: Lots of reading books. BW: Talking to other roasters helps, too. When you talk to other rosters, it's on Instagram. MS: Yeah, that community is real tight-knit. You can pretty much reach out to anyone in the industry at this point.
What are the steps in the roasting process?
MS: Sourcing quality green coffee. Once you have it, you warm up your roaster, figure out your batch size, drop it from the hopper into the drum. BW: Airflow, temperature, time. MS: Voilà, coffee comes into the cooling tray.
How do you know you have done things right?
MS: There's a whole roasting intelligence program I use, so I have graphs showing heat this and that. BW: We just tweaked our Guatemala yesterday. You want it to be as perfect as humanly possible, but if it got that way I don't know I'd be into it. It's always changing. MS: Everytime we get new harvest in, it changes. Size, shape, density – all of that. Does it smell right? Does it look right? Did I develop it to where it needs to be? That's why we go to the cupping table. BW: We do cupping. The whole staff gets around and we taste it. MS: The cupping table is our quality control. Hopefully at the end of the day, and the end of the process, the customer likes it. So if it doesn't sell, we come back to the start.
Will the average person know when you have done it right?
BW: Everyone likes different stuff.
But there's a good roast and a bad roast?
BW: I'd like to think that, too, but there's some people who buy stuff I don't drink. Like a lot of it. MS: Coffee for me is about the experience, the story. If you can know something about a coffee you can always leave happy. We went to Costa Rica and visited the coffee farms we work with. Now we can show pictures, we can talk about it and say to people, 'These are the farmers we are working with.' Coffee is easier sold with a story.
Is there something normal people can get out of an in-house roaster?
BW: We have so many coffees, if you say you like something we can get you close to that. I think that's why an in-house roaster is beneficial. We got light roast all the way to dark roast and a bunch in between. MS: We have 13 different coffees. BW: I can curate how they make their coffee at home, to a blend that would be suitable and most beneficial for them at their house. But since we have 13 of them, I have many options. We drink a lot of coffee. So, we're able to really get very specific on how we grind it, recipes, and I can give that information to them.
Can the taste be influenced? How?
MS: That's the crazy thing. You have so many variables going from here (the roastery), but then once you go out and you start brewing coffee: grind size, water, temperature, time. BW: Technique. MS: That's why so many people ask, 'Why does it taste different at home?'
Are the tasting notes arbitrary?
BW: There are subjective qualities, like the notes you pick up, but there are objective qualities. MS: Mouthfeel, bitterness, acidity. Those should be something everyone can feel. When it comes to tasting notes, your taste buds, how you perceive coffee. BW: You might taste something completely different.
The best cup of coffee is?
BW: The one right in front of me. MS: The one I roasted. I'm not conceited at all.
Which product (besides straight-up coffee) has the best coffee flavor?
BW: Ice cream, Talenti. MS: Talenti is good, the gelato one. BW: I think that tastes like coffee. MS: I would say Cream Bean Berry, coffee chocolate chip, they use our coffee.
cmaker@durangoherald.com