Entrepreneur is launching an LGBTQ establishment and collaborative workspace
Kat Brail is trying to reclaim the meaning of district three.
The representative for Colorado's 3rd Congressional District, Lauren Boebert, is a political firebrand who was widely criticized for her anti-LGBTQ rhetoric after the shooting at Club Q in Colorado Springs in November. And so, Brail says, she is hoping to redefine what people think of when they hear "district three" by opening a bar for Durango's queer community under that name.
Although the concept is still in a fledgling stage, Brail is guided by a captivating vision for what the establishment should be. She wants a space filled with natural light, punctuated with clean, dark wood tones – what she calls an "upscale pub" look.
Ideally, Brail hopes the space can become a sort of hub for Durango's queer community to convene and work during the day. At night, she wants the space to provide an alternative, comfortable locale for that same community to imbibe, relax and have fun.
"I think we deserve the places that we frequent to acknowledge us," Brail said. "Enjoyment of the place as a queer person looks different than a straight person enjoying the space."
The name – District Three – is an act of resistance. In the past, Boebert has taken to social media to espouse ridicule and disparaging statements toward the LGBTQ community. In July, she tweeted that Assistant Secretary of Health Rachel Levine, one of the very few openly transgender high-ranking government officials, was "grooming" children and referred to Levine by the name she used before transitioning, an offense act known as "deadnaming."
Brail considers the bar and its name as a sort of reclamation. She is unable to let her guard down in the way that she would like to at most of Durango's bars, noting that she often feels uncomfortably conspicuous.
To prove that a need and desire for such an establishment exists, Brail is holding a series of six pop-up events to probe community interest and float potential food and beverage menu items. The first pop-up place was held March 22 at EsoTerra Ciderworks; the second will occur at 6 p.m. Wednesday at Bread on East Eighth Street.
Each pop-up will feature drinks, live music and an assortment of appetizers procured by Brail. The events will occur each Wednesday through April 26.
Mocktails and excitement overflowed last week at EsoTerra as supporters of District Three showed up in force to the first event. Brail is encouraging members and allies of the queer community to the pop-ups, emphasizing that District Three will be a space where all are welcome.
"It feels good, it feels comfortable," said Tashi Brundige, a Durango musician who spent part of the evening strumming gentle folk tunes underneath the din of ecstatic conversation. "It feels like people are here for the right reasons."
As Brail scurried up and down the length of the restaurant greeting friends, courting supporters and delivering appetizers, other friends of hers filled supporting roles in the kitchen and behind the bar.
"It's very exciting," said Zaz Zralik while mixing mocktails for an endless stream of intrigued guests. " … I want to have a safe space for queer people and all of our friends in Durango. Especially after a lot of mass shootings around the country, I want to fight back."
At 26, Brail understands why some might question the feasibility of making the concept of District Three a reality. But with a business degree, some experience in the business world, a network of mentors and more than an ounce of dedication, she is confident in her ability to drive the project toward success.
She calls Durango a "mecca for people giving it a go," and says the need for a queer-orient community space is abundant.
Attendees of the first pop-up seemed to agree.
"Having a bar to go to that I feel safe at ... is a very exciting prospect," said Meredith Nass at the event. "There's not a lot of spaces for people like me and my friends to go to."
Brail said safety is a concern, and that is partly why she doesn't want to open a permanent establishment in downtown Durango. Instead, she is looking at locations along north Main Avenue.
"I'm really wanting to honor my word that this is a safe place, and I think that being downtown adds an extra layer of risk," she said.
The ample turnout at the first pop-up is not proof the concept will be successful, Brail said, noting that "people like to party." The question is will they keep coming back.
"The marathon is it could be a fun idea for people, but how long is that adoption? Are you a loyal customer? Or do you just think it was fun for a week?" Brail said.
If the community does continue to show up, Brail hopes to open doors to the public by the end of the year.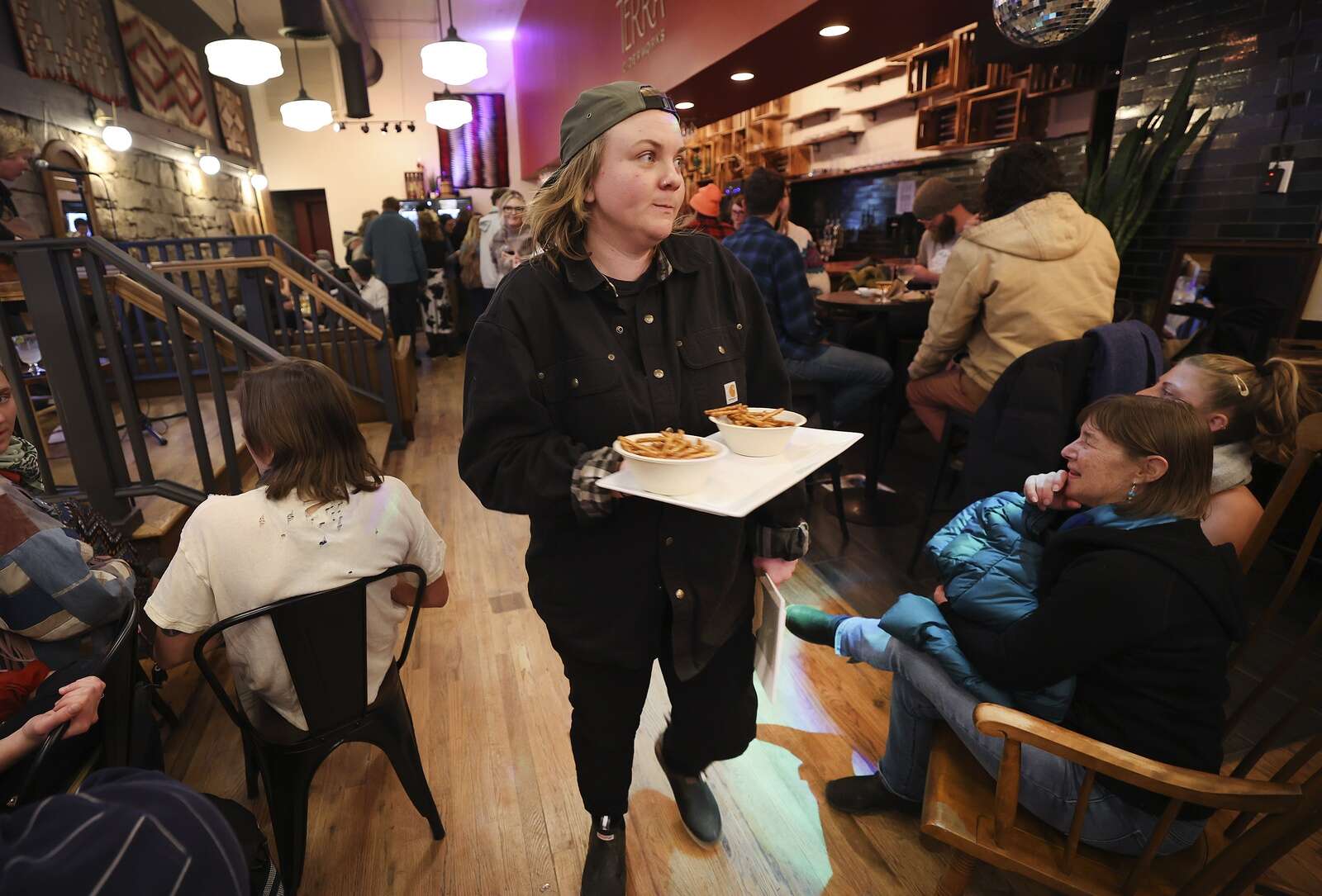 Still, many of the details remain speculative as the pop-ups allow Brail to suss out where the community's interests lie. She said she is open to working with a business partner and is actively pursuing investors to provide the necessary financial backing.
With no experience in the hospitality industry, Brail is leaning on her strong vision and ability to cultivate a sturdy foundation of experts to guide her through the process.
"If we pull off what I'm envisioning and if I maintain what I want and what I see for Durango, it will be well-received," she said.
With dreams for the future that expand exponentially, Brail said she is trying to start small. But, she sees District Three as a critical step establishing Durango's identity as the city continues to grow.
"I see a future in which I want people to be stoked to have Durango as a queer-friendly place," she said. "It's not just a straight white town."
More information can be found on Instagram@districtthreedro.
rschafir@durangoherald.com
This story has been updated to reflect that the pop-up events will run through April 26 and that Bread is located on east Eighth Street, not Eighth Avenue.