'They lived their stories here'
It can be pretty easy to take a place – and its history – for granted.
How many times do you drive down Main Avenue without a thought about the people and places that came before the hustle and bustle and bump-outs that make up our modern-day downtown Durango?
Enter Horsefly History's The Quick & Dirty Tour, which, hosted by owner Laine Johnson, will give tour-goers a new way to look at the streets and buildings that make up downtown.
Johnson, who also conducts the Hauntings and History: Durango Ghost Tour, has been leading both tourists and residents through Durango's history since 2017, and her knowledge is extensive. She brings along a book that contains historic photos of the stops along the tour, which is a cool way to compare the old with the current – be sure to pay close attention to the Strater's history and building surrounding it.
As with the ghost tour, we won't be giving anything away here, except to say that Durango's early years were filled with both dark events (hangings, shootings, etc.) and the positive, optimistic views of the town's founders that got us to where we are today.
The tour meets at the horse sculptures in front of the Durango & Silverton Narrow Gauge Railroad depot – where the town essentially grew out from – and makes its way north to the Jack Dempsey mural on the side of El Rancho Tavern. It's an easy, one-way walk that takes about an hour to an hour and a half. The tour is held during the day, beginning at 10 a.m.
"What I love about the Quick & Dirty tour in general is just being in downtown Durango at that time of the morning," Johnson said. "There's a really good energy about downtown."
One surprise on the tour, which is actually Johnson's favorite part, is the 500 block on Main Avenue (where Nini's Taqueria and Four Leaves Winery are).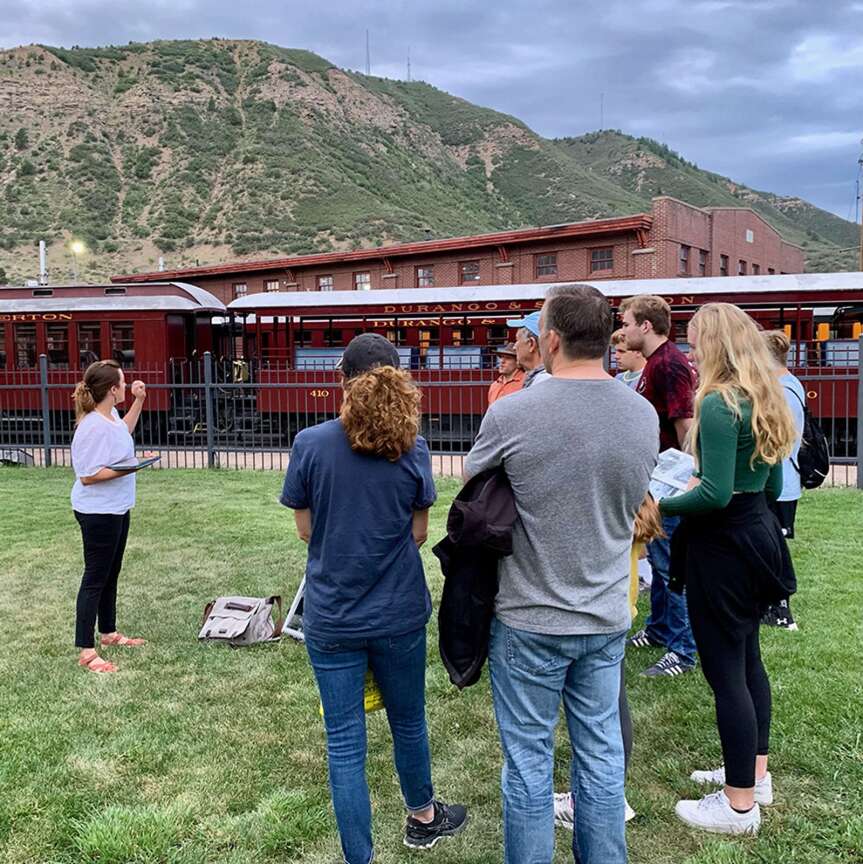 "I think my favorite part is talking about the Italian section of town because that's something very few people know about. ... that there were Italian stores and groceries and businesses," she said. "That there were enough Italians to have their own district."
While The Quick & Dirty Tour is supposed to not just be educational but fun as well, Johnson said it's important that people also take away the idea of how much people sacrificed to make Durango what it is today: "That the overall vision of Durango from the very beginning was to make this a very modern, metropolitan town that would actually really welcome in tourists from the very beginning," she said, adding that by all accounts, we've lived up to their expectations.
"I think that we have fulfilled that vision of the early founders. We are what they always wanted it to be. Also just the Wild West history has really gotten lost for some reason in this town. You go to places like Tombstone, and places like that, of course, it's in your face ... but here, it's an undertone of that. I love that people start to feel connected with these places – not only with the old buildings, but also with Durango as a place itself. And I always say, the more you connect with a place, the more you're going to love it. And the more you love it, the more you're going to want to take care of it. And so that's the end goal of my tours is to give locals, even people who have lived here a very long time, and tourists alike, to have a renewed appreciation for this town and keep in mind the many, many families and people that dedicated their lives to these buildings – they lived their stories here. We have to keep that in mind as we pass by."
katie@durangoherald.com