Where radar is lacking, ground observers help monitor moisture
FARMINGTON – For the last 13 years, Joe Ward has walked out to his backyard every morning at 7 a.m. and inspected a small cylinder for any drops of precipitation. He records each entry online, including the many days there is not a single drop.
Ward is a member of the Community Collaborative Rain, Hail and Snow Network, or CoCoRaHS. Created in 1998 along Colorado's Front Range, the grassroots network allows volunteer observers to measure and map precipitation – rain, hail and snow – in their local communities. The data collected through the network is often incorporated into the U.S. Drought Monitor, especially in the Four Corners with its lack of widespread weather radar.
"I've been recording the precipitation every morning, and I don't believe I've missed a day," said Ward of Farmington . For the days he is out of town, the website or app allows him to enter multiple-day stretches at once.
"The National Weather Service has stations in various places," he said. "But the CoCoRaHS volunteers are everywhere, and you can get a much finer grain of data than with the National Weather Service alone."
The volunteer network has more than 20,000 active observers throughout the United States, Canada, Puerto Rico, U.S. Virgin Islands and the Bahamas. The "citizen scientists" often provide a valuable resource when there is limited radar coverage, said Dave DuBois, New Mexico State climatologist and CoCoRaHS state coordinator.
"Normally, we use radar and airports to track precipitation. There's very little radar coverage in the Four Corners area so we rely on volunteers to help out with that," DuBois said. "You put a point on a radar map and it only represents one small area, we must have more observers representing more areas."
He said CoCoRaHS also allows volunteers to input comments about on-the-ground conditions. If ranchers are seeing their stock tanks dry, grasslands are looking burnt or people are seeing animals they normally wouldn't, that is all information climatologists and meteorologists would like to see in the system.
The program started in New Mexico in 2005, and San Juan County had its first volunteer in 2006, DuBois said. There are now about 20 active volunteers in San Juan County, five in McKinley County, eight in Montezuma County and 20 in La Plata County, DuBois said. He said the program is working to develop more observers throughout the Four Corners, particularly in Arizona and the Navajo Nation.
"If you do this, it's not just a science project," DuBois said. "It goes somewhere. We read it, and it helps us judge where to put the drought line in the U.S. Drought Monitor."
DuBois said while meteorologists and hydrologists appreciate having observers track weather conditions during the monsoon, it is important to track the drought, too.
"If we count the number of zeros, we can track a drought," he said. "It's not only important to know how wet it is but also to know how dry it is."
Royce Fontenot, a hydrologist with the National Weather Service, also said it is important to input the data, even on the days there is no precipitation.
"That zero is important. Having that zero means we didn't get any precipitation," he said. "When looking at a drought, that zero is data, and it's vitally important we get that data," he said.
Fontenot and DuBois said they both consult the CoCoRaHS reports, alongside radar and weather station data when contributing to the U.S. Drought Monitor, making the volunteer network a valuable resource for the area.
Fontenot said the lack of widespread radar is a common challenge throughout the western United States. New Mexico is the fifth largest state in land mass but is 45th in population density, with a little more than 2 million people, he said.
"The biggest limitation is that we don't have the population density so we don't have that station density," he said. "Thunderstorms can easily be missed if you have stations 40 miles apart."
But with the CoCoRaHS system, volunteers can input the precipitation that a station might have missed into the website or app.
Fontenot said that specificity can become especially important when forecasting or detailing a drought.
"Drought is local. If it's raining in Aztec but not raining in Farmington, that doesn't help Farmington," he said. "Rain gauges will help us adjust that radar-based estimate in less than optimal radar coverage areas like the Four Corners."
Ward, who also works for New Mexico State University at its Agricultural Science Center, said on New Year's Day for the last 13 years he sits down and averages his yearly precipitation totals. He said while each year is highly variable, it looks like the average yearly precipitation is slowly declining.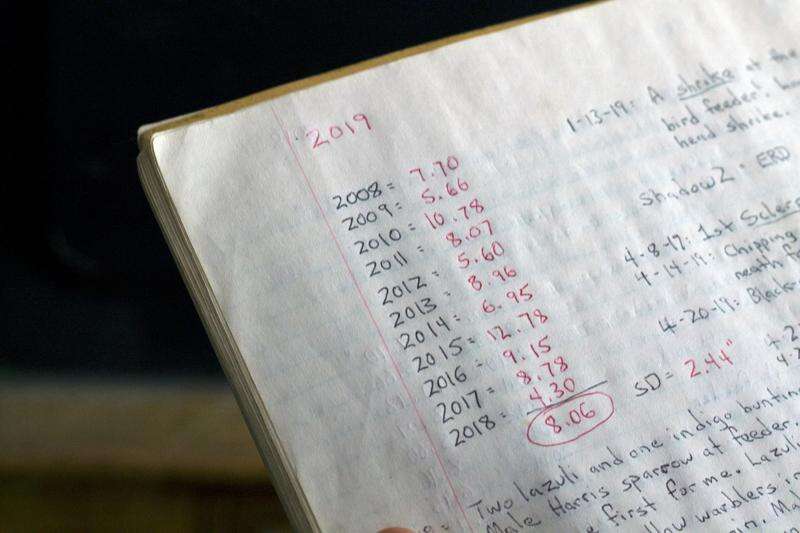 Currently, he has recorded less than 2 inches of precipitation for the first half of the year, one of the lowest amounts he said he has seen for this time of year.
"It's almost the middle of the year, so unless we get a good monsoon season, it's looking to be a dry year," Ward said.
lweber@durangoherald.com