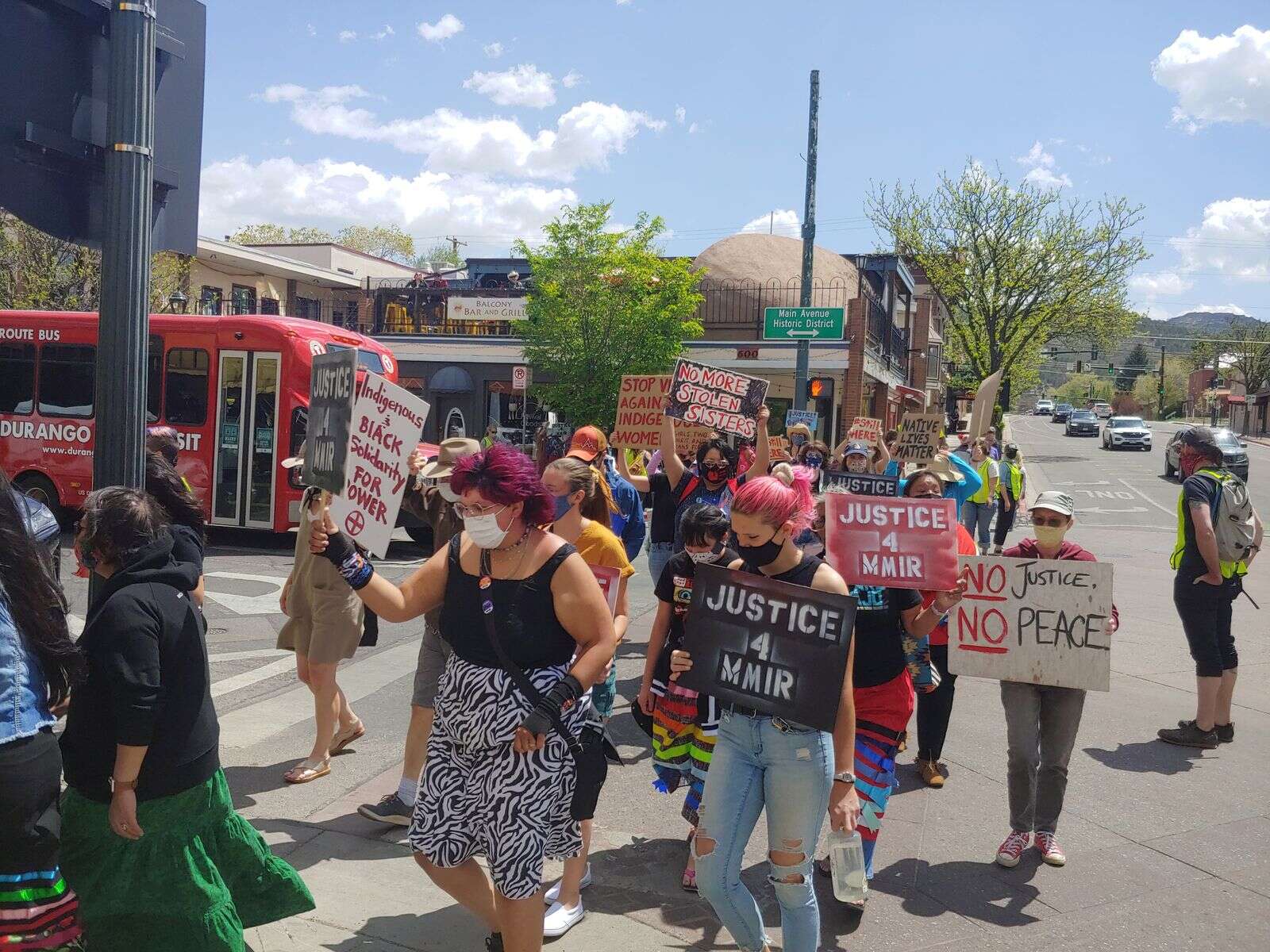 Event Saturday included solidarity walk, speeches, round dances and ribbon skirt contest
A crowd took to the streets and Buckley Park on Saturday to celebrate local Indigenous cultures and bring awareness to the Missing and Murdered Indigenous Women movement.
MMIW or MMIR (Missing and Murdered Indigenous Relatives) highlights the disproportionately high rates at which Native Americans, especially women, go missing or are murdered.
Saturday's Rally & Round Dance for Missing and Murdered Indigenous Relatives began with a prayer at 11 a.m. at Buckley Park, where red dresses had been hung from the trees alongside statistics about murder, missing person and sexual assault cases in and around Indigenous communities.
For instance, one sign pointed out that 86% of Native American women who are sexually assaulted are assaulted by non-Indigenous people. Another said that in 2016, 5,712 missing Indigenous women and girls were reported but only 116 were logged into the Department of Justice database.
According to literature handed out at the rally, 5,295 Native American women and 4,276 Native American men are missing in the United States.
After the prayer, about 60 people participated in a solidarity walk down Main Avenue to College Drive and back, chanting, "We are all one," "No more stolen sisters," "Our voices need to be heard" and "Stand up, fight back."
Food, such as mutton and goat stews, was served at Buckley Park before Indigenous speakers Gina Lopez, Kelsey Lansing and Zhaida Wilbanks spoke about violence against and trauma within their communities, overcoming those statistics and the stigmatization of sex workers within Indigenous communities.
The rally ended with an honor song and recognition, round dances, a ribbon skirt contest, a cake walk and a closing prayer.
Tirzah Camacho, one of the organizers of the rally, said the visibility of the event challenges cultural erasure, which plagues Indigenous communities.
"It's education, it's taking up literal space, it's posturing in a community and showing our value, sharing data around our health issues and our survival issues that stemmed from colonization," she said.
Camacho said the organizers of the rally are "trying hard to challenge erasure and dehumanization tactics that we see in this community – for example, the 'Chief' statue outside Toh-Atin Gallery on West Ninth Street. Imagery like that contributes to how we are seen in the world. When we have epidemics of being murdered and missing disproportionately, there's an absolute connection because of dehumanization tactics, which that sign is contributing to."
Trennie Collins, another organizer of the rally, said the event was also important for the sake of bringing visibility just to the fact that Indigenous people live in the region.
"It's interesting to note that we live in Durango, and there's two prominent Ute tribes here in this area, and a lot of people don't know about them," she said. "And so events like this bring awareness to not only the Missing and Murdered Indigenous Women pandemic that's happening but also that we're still here, we're still thriving and surviving and enjoying our culture and traditions."
The location where the rally was held was notable, she said.
"I don't think we've ever had an Indigenous drum group in Buckley Park before, so I got goosebumps and I was tearing up because this means something," she said. "This used to be my ancestors' land, they used to walk this land; they used to be here nourishing it, and so it brought back a lot of good memories and good energy to me."
Edward Box III with the Ignacio Out and Equal Alliance said the rally was also a good opportunity to educate people about the LGBTQ and two-spirit communities within Indigenous tribes and the issues they face.
"A lot of times there's not safe areas for the (LGBTQ) community and then they end up getting involved with drugs and alcohol," he said. "They need that support and understanding."
Camacho said the rally – which was hosted by several groups including Four Borderless Corners and Four Corners COVID-19 Mutual Aid Network – is planned be an annual event. The organizers are also planning an Indigenous People's Day event at Buckley Park in October.
"We've got a lot of initiatives we're working on, and we're strong and united, and we're not going to stop standing up for ourselves in this community," she said.
ngonzales@durangoherald.com