Subsidized housing helps, but not enough to meet demand
Even though hundreds of apartments are going up in Durango, the need for affordable housing continues to intensify.
"We are having ever-increasing demand," said Elizabeth Salkind, executive director of Housing Solutions for the Southwest.
The city of Durango expects the community to need 200 new homes each year to meet the demand for housing, and in recent years, it has reached that target, said Nicol Killian, assistant director of the city's Community Development Department. Durango has permitted 207 homes on average each year from 2017 through this year, she said.
But despite the new construction, rental prices have not come down, according to Salkind and landlords in the community.
"People with moderate incomes, low incomes in a rental situation are being squeezed out," Salkind said.
A study earlier this year found the cost of renting two-bedroom homes in Durango rose 20% in four years to $1,400 per month, according to Region 9 Economic Development District of Southwest Colorado.
Subsidized housing
Three apartment complexes subsidized by tax credits will help house some residents in need, but Salkind does not expect the units will be enough to meet demand, she said.
"There is still this pent- up need at multiple levels that hopefully we can, as a community, figure out," she said.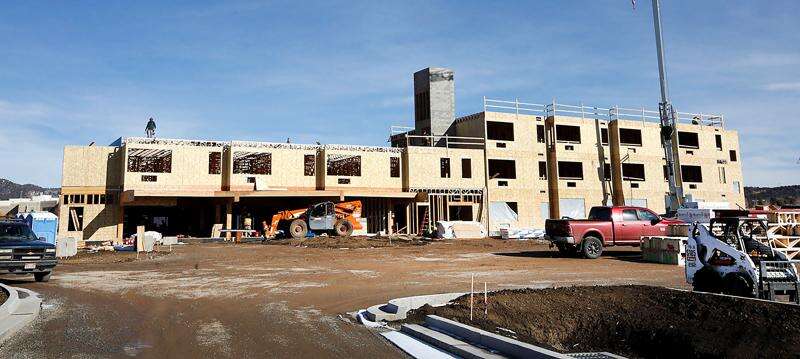 The new affordable housing complexes include 36 apartments near 32nd Street, 53 units of senior housing under construction in Three Springs and a 40-unit complex planned for Durango's west side to serve the community's poorest residents.
The 36-unit complex was the second phase of the Lumien Apartments and opened in October.
Developer Greg Glade with Solvera/MGL Partners said seven of those units remain available to the public for lease and five are available to be leased to those who are homeless. Nine units in the building were set aside to serve residents who are homeless and experiencing disability. Axis Health System is providing services to those residents, Glade said.
Glade expects the housing will help formerly homeless residents to receive other needed help.
"Housing creates stability, it all starts there," he said. "... It's hard to get on your feet when you don't have a stable foundation."
Robbi Lord, a resident at the Lumien apartments, said she has observed the difference the new affordable apartments have made in the lives of residents from all walks of life.
"It's been beautiful to see the joy of people," she said.
Lord, an artist, moved into Lumien about four years ago and found it to be a welcoming and safe community, she said.
"It gives you space to heal if you are ill or if you are sick," said Lord, who has had multiple head injuries.
The Lumien expansion and two other subsidized projects received tax-credit funding in a relatively short window for housing projects, making them unusual, Salkind said. But Salkind doesn't expect the projects to push Durango to the back of the line for funding to build additional affordable housing projects.
"We are going to continue to push for housing and more low-income housing tax credits," she said.
But Salkind is unaware of additional proposals for subsidized affordable housing in the pipeline for Durango.
Market rate housing
Many new multifamily complexes going up in town are nonsubsidized projects, such as Rocket Pointe, a complex of about 190 apartments between Walmart and The Home Depot, and those units slowed the rental market a bit even though rents have not come down, landlords said.
Bill Hermesman, who has owned rental units in town for 25 years, said he noticed a slowdown in demand over the summer.
"This is probably the slowest year I have had in many, many years," he said.
He said he had seven or eight homes over the summer that were not rented out within a month. However, his rental prices have stayed stable, he said.
Hermesman said he expected the impact of Rocket Pointe to be more pronounced.
Landlord Sean Waddell said he noticed a slight slowdown this year, but additional new complexes could have more of an impact on the market.
"Eventually, it's going to affect us. ... We aren't there yet," he said.
Building trends
Former Durango housing developer Emil Wanatka said housing costs are driven by factors beyond the control of the building community.
"It's got so expensive to build that we as builders can't get the product on the ground at a price that is attainable enough for the average American," said Wanatka, who retired about a year ago. Before retiring, he built about 100 townhomes in Three Springs.
Over five years of construction in Three Springs, the sale price for his homes increased by about $100,000, but his profit margin didn't go up, he said. Other costs such as labor, materials and land drove that increase, he said.
He doesn't see factors that could reduce housing prices, aside from a recession, because year after year, builders are not meeting the demand for housing nationally, he said.
"We might be in a new norm," he said.
mshinn@durangoherald.com