River View homeowners take 'control over housing destiny'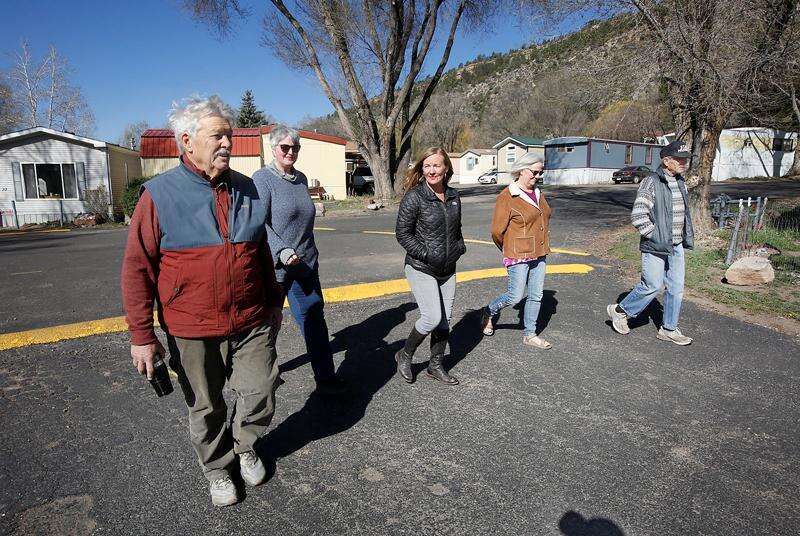 The countdown started Dec. 21, the day residents at River View mobile home park in Durango learned the property was for sale. Residents learned they could make an offer – if they could pull it together in 90 days.
"I think it came as a shock to all of us when we got this notice, especially right up against Christmas," said John Egan, a River View resident of more than eight years. "Frankly, I don't think we knew quite what to do."
Months later, residents are under contract to buy the property, a success that serves as a model for mobile home communities across the state.
Mobile home communities provide affordable housing for 100,000 Coloradans. Residents own or rent their homes, but not the land underneath – which can be a tense setup with landlords. A 2020 law gave mobile home owners the chance to own both, and some communities across the state have jumped on the opportunity.
In Durango, a group of River View residents sought to do the same.
"We pounded the pavement a lot," said Sue Hinkle, a River View resident of three years. "That started right away. Within a week after we got the notice, we were going door to door with a survey."
To make an offer, mobile home residents must meet certain legal requirements under the 2020 law, House Bill 1201. They must form an association of homeowners, secure binding finance commitments and submit a purchase and sale agreement to the landlord.
It was a daunting task, Egan said. The resident group did not know the questions to ask or the steps to take.
Most other residents supported the idea but didn't bet on success. The biggest challenge was the price. At the beginning of the process, residents understood the going rate to be about $13.9 million. They declined to share the final selling price because of contractual obligations.
The La Plata County Assessor's Office said the 2020 assessed value of the mobile home park was about $8.2 million. Strive Communities, the current corporate owner, bought the park for about $9 million in 2018.
There was also another potential buyer, a company in the process of taking over Strive's multistate assets, including River View.
Coral Smith, a River View resident of three years, said she used to tell other residents: "If we don't try, we're never going to succeed or fail."
The longest 10 minutes
Within days of receiving the sale notice, Hinkle contacted Thistle, a Boulder County housing nonprofit, for help.
The nonprofit is certified by ROC USA to help mobile home residents become resident-owned communities. It provides guidance and bundles together financing for residents seeking ownership. That move was critical to their success, residents said.
By January, about a month into their 90 days, River View residents formed a cooperative, required by Thistle to include at least 75% of River View's about 116 households. More than 80% joined, Egan said. The residents in the group, mostly retirees, stepped into leadership roles on the board.
The residents adopted a set of interim bylaws, using a template provided by Thistle, and got a federal tax identification number. Thistle helped them secure financing from local and national lenders through ROC Capital, a community development financial institution that exclusively lends to similar communities seeking ownership.
By late February, with about a month left before their deadline, they were ready to submit an offer.
"I will say, it was incredibly important to us to accommodate the residents' wishes," said Jayson Lipsey, Strive's chief operating officer. "They've truly just done a great job."
One last step: a vote among the Animas View MHP Co-op members. They needed 80% of the co-op to approve any sale agreement. On March 20, the co-op held a party with lawn chairs and pizza to take the vote.
"That was the defining moment. That was what we've been working for since Day 1," Smith said. "It was the longest 10 minutes ever."
The agreement passed with 90% support, board members said.
"It was a really cool moment. ... I got to announce the results, and I said, 'Looks like y'all just bought a trailer park.' Everybody just exploded," Egan said.
Phase 2
River View is the first community that has successfully pursued ownership with Thistle's help under the new law, said Andy Kadlec, the nonprofit's program director.
"I was so proud and happy for this group. We're only here to help – it's really a success for the community," Kadlec said.
Since 2018, Thistle has helped four other Colorado mobile home communities go under contract for ownership, three of which have already closed. More communities want information, and local governments are reaching out to preserve a diversity of housing stock in their areas, he said.
"Other than housing preservation, it's kind of shifting the structure of power," he said. "We're empowering them to have control over their housing destiny."
River View residents expect to close on the deal in June, but challenges remain.
Residents currently pay about $708 per month in lot rent to Strive, but when they take ownership, they anticipate increasing their rent to about $850. That's the "worst case" scenario.
"It's hard," said Dan Hunt, a retired property manager and the co-op's operations manager. "There's some people that think they're going to have to leave."
The board has set a goal to ensure 100% of current residents have the financial support necessary to remain in the park after the transition and rent increase.
They have another 90 days to come up with additional funding, such as grants for site improvements or loan financing, to bring down ownership costs.
"The point of this is to stabilize rents. If we do have a rent bump, it should stay stable for 10 years or so," said Karen Pontius, a retired air-traffic controller and the co-op's secretary.
That would not have been the case if corporate ownership continued, she said. The park was family-owned until 2015 when MHP Funds bought it. Since then, the rent has increased about 102%, from about $350, Pontius said.
But there's a new trend at River View: people coming together to help each other. Some residents have volunteered to contribute to a community rental assistance program, Egan said.
Others have volunteered to do maintenance tasks, to start on grounds beautification projects or to help others fix the exterior of their homes.
"Before now, we were just a bunch of people who lived in a mobile home park," he said. "All of a sudden we have a community here. ... We know each other's names."
Their advice to other residents in mobile home parks: get to know your neighbors, even before a park goes up for sale. For owners: get to know the 2020 law.
"Don't waste a single moment. Stay the course, and just do your darnedest," Smith said.
smullane@durangoherald.com