School board members to interview charter school representatives Friday
Sentiment was fairly evenly split Tuesday at a public forum to discuss Ascent Classical Academies' application to open a charter within Durango School District 9-R.
About 80 parents, teachers, students and alumni spoke at the forum hosted by the school district.
Supporters of Ascent said the charter school offers more school choice and opportunities for families, some of whom currently home-school children, and that a classical education is a better method of learning for children than what is offered in other district schools.
Those against the charter argued another charter would spread district resources too thin, and they questioned why the charter is seeking so many statute and rule waivers in its application to Durango 9-R.
Some critics of Ascent pointed to its connection with Hillsdale College, a private Christian college in Michigan, and said they weren't comfortable with Ascent taking policy, faculty and administrative guidance from the private school.
Those who spoke at the forum had two minutes each to make their case for or against Ascent Classical Academies.
Durango resident Kelly Hegarty said accusations that Ascent is a religious school are inaccurate and called Hillsdale College "a sturdy defender of liberal arts."
"Hillsdale was the first American college to prohibit discrimination based on race, religion or sex in its charter and was the second college in the nation (to grant) four-year liberal arts degrees to women," she said.
She also said Ascent would not drain resources from the school district because nearly 70% of those interested in the charter are from home-schooled and private school families.
Hegarty said home-schooled and private school families would provide hundreds of thousands of dollars in added tax revenue to the school district through state and federal money.
"Ascent will need teachers and staff," she said. "Ascent will add many good paying jobs into Durango."
Most of the students who spoke did not advocate for or against Ascent directly, but opted to share how 9-R classes and activities have benefited them.
Durango High School junior and ex-officio school board member Hays Stritikus urged the school board to reject the charter's application, citing its relationship with Hillsdale College.
Stritikus referenced an email sent by Hillsdale College chaplain to students and faculty in 2015 that called legalization of same-sex marriage "evil" and encouraged prayer for "evil to be destroyed," as reported by WWMT-TV News Channel 3 out of Kalamazoo, Michigan.
"I'm going to be perfectly honest: I do not want a school in our community that receives advice from an organization that describes (same-sex marriage) as 'an evil,'" he said.
He noted that Ascent receives guidance from Hillsdale College on charter school policies, teaching practices and curriculum.
The 2021-22 ACA Charter Schools Family Handbook says that Hillsdale College is the "first and primary source of models, resources, and guidance" on charter school programs, policies and its academic mission.
The handbook also says the decision to implement any strategy, recommended by Hillsdale College or not, is solely up to Ascent and the charter is not required to use strategies suggested by Hillsdale College.
The handbook is available online at https://bit.ly/3tdEBI3.
Derec Shuler, CEO of Ascent Classical Academies, tried to calm qualms expressed by detractors that the charter school might value some cultures or politics over others.
He said classical education is open to all children and ACA wants all children to learn how to communicate "when we talk about what is going on with our society."
"We want them to be able to disagree well," he said. "That's what is important about a classical education."
He said it was "great" to hear from 9-R students and the opportunities they've had in Durango School District 9-R, and said the parents who support Ascent Classical Academies "are simply asking for more choices for their kids to flourish as well."
"We've heard there are waiting lists at every other charter school in the community and there's the question of, does the community need another option?" he said. "Does it need another charter school? Obviously, the answer is a resounding 'yes.'"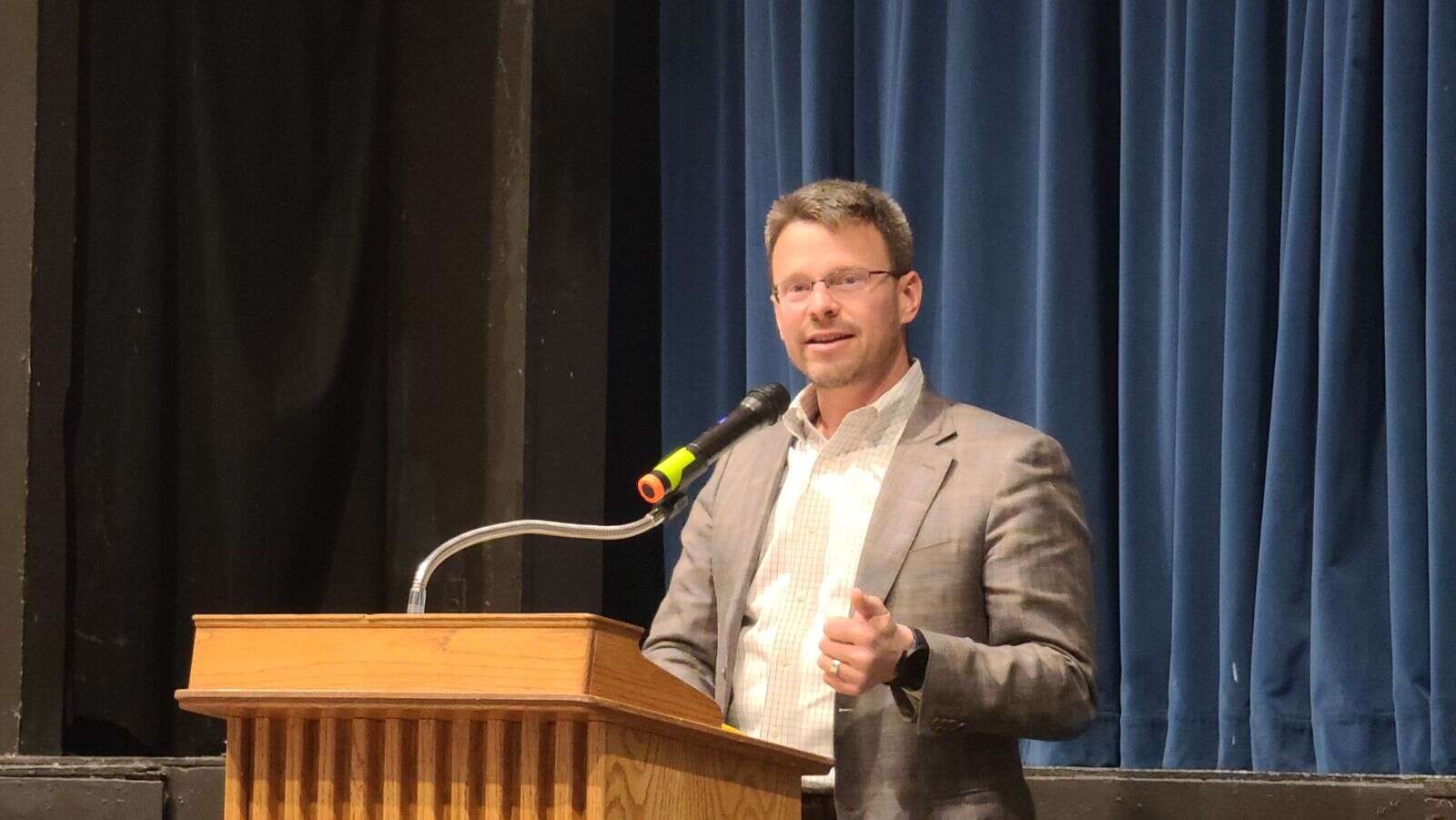 Shuler said Ascent has received more than 600 expressions of interest from families who want a classical education for their children.
He said Ascent Classical Academy Durango would not be a member school of Hillsdale College and called comparisons or connections to it a distraction.
"Members of the school board and the superintendent are well aware that this school is not going to be a member school of Hillsdale College," he said. "We have started three schools at this point and this is a replication of our own program moving forward."
Two of those other Ascent charter schools – Ascent Classical Academy of Douglas County and Ascent Classical Academy of Northern Colorado – are all listed as Hillsdale College member schools on the college's website.
Durango resident Carol Cure raised concerns about state statute and rule waivers included in Ascent Classical Academies' charter application to the school district, including teacher licensing requirements; instructional policies about public health, family life and sex education; drugs and alcohol education; postsecondary and workforce success; and other subjects.
Shuler said every waiver that Ascent requested is available to every school in Durango School District.
"It's not an uneven playing field, it's the same playing field," he said. "But these are normal waivers for any charter school. I urge the board to support this application."
Resident Alicia Drover spoke in favor of Ascent Classical Academies. She said she has two children in the school district and is seeking another education opportunity for her middle schooler who has dyslexia and has trouble expressing herself in writing and orally.
"I'm desperate, you guys, to find something to help my daughter to be able to read and write," she said.
Drover said Ascent's curriculum is "taught in a direct manner," is "systematic" and "sequential."
She said language skills taught by the charter school are used in other subjects, such as science and social studies.
"Ascent raises the bar for all abilities," she said. "The proven classical education is what we need."
She said Ascent Classical Academies won't be the right school for all students, but neither is The Liberty School, The Juniper School or other schools in Durango School District.
The school district announced in May it would review Ascent's charter application after the charter successfully appealed to the Colorado State Board of Education, saying the school district unfairly refused to review the application until Aug. 1.
Ascent's charter application can be reviewed online at https://bit.ly/3aEt2Dz.
The school board will interview Ascent leadership during a public meeting Friday as part of its application review process. The interview will take place from 8 to 10 a.m. at 201 E. 12th St. in Durango.
cburney@durangoherald.com
A previous version of this story identified Golden View Classical Academy as an Ascent school and member school of Hillsdale College. Although Golden View is a Hillsdale College member school, it is unaffiliated with Ascent Classical Academies.