County officials say public health is a concern
Homeless people staying overnight in RVs, vans and cars in the Walmart parking lot are being told this week they will be towed if they don't leave.
The manager of Durango's Walmart location declined to comment for this story. Requests for comment to Walmart's corporate headquarters were also not returned.
However, visiting the site Wednesday, The Durango Herald came into contact with Walmart's manager as he was telling homeless people camping in the parking lot that they had to go.
"Momma" Millie Sanders, who has been homeless in Durango for two years and occasionally stays at the Walmart parking lot, said the manager told her that her car would be towed if it wasn't gone by the end of the day.
Sanders said the brakes of her car went out recently, and she doesn't have the money for repairs.
"He told us, 'It's not my problem,' but that's what we're told everywhere in this town," Sanders said. "Well, whose problem is the homeless? Aren't we supposed to take care of each other? What happened to that?"
Not only does Walmart not allow overnight vehicle parking, which is clearly marked throughout the parking lot, the city of Durango also bans camping in any "public way, public park, public place or public building."
For months, people have been parking and sleeping in vehicles at the Walmart parking lot with little pushback. Sanders said in the past, Walmart officials have asked them to move, but never threatened to tow like they are now.
"They've definitely been there for a while," said Randy Cardwell, assistant manager at Discount Tire Store, adjacent to the parking lot, who estimated up to 15 people stay at the site in the winter and up to 30 in the summer.
Because Walmart's manager declined to speak for this story, it's unclear what prompted the store to more forcibly enforce the no-camping ban.
However, sanitary conditions at the parking lot have become a concern in recent weeks.
Public health concerns
La Plata County Commissioner Brad Blake said he's seen people defecating and urinating in the parking lot. And on Sunday, La Plata County Commissioner Julie Westendorff also witnessed a man defecating in the lot.
"You don't have to look hard to see it," Blake said.
The unsanitary conditions carry several health risks, Blake said. For starters, the human waste could easily enter storm drainages and run into the Animas River. And it could lead to communicable disease outbreaks, such as hepatitis.
Blake said he's brought up the issue numerous times with San Juan Basin Public Health. At a work session Wednesday, Blake once again reiterated his concerns to health department staff.
"They just really aren't interested," Blake said after the meeting. "San Juan Basin Public Health requires so many things of people that are trying to keep up with the rules, yet they do nothing about the people breaking the rules."
Liane Jollon, executive director of the health department, said in an interview after the meeting Wednesday, "We heard our commissioners' concerns, and we are working to evaluate the issue and find potential solutions."
San Juan Basin Public Health will look to other health departments, Jollon said, and research what steps it may be able to take. She said San Juan Basin Public Health can act on a situation only if it's deemed a "public health threat."
"I don't know enough about it right now to tell you if it was a public health issue," Jollon said.
Durango Police Cmdr. Ray Shupe said officers respond to the Walmart parking lot with some regularity to give warnings, and even issue citations, to those breaking the city's no-camping policy.
And on many occasions, officers try to get the homeless the help they need.
"It's not just about ticketing," Shupe said. "We try and work with them to get them what they need. There are resources out there for them."
'What are we going to do?'
Sanders said in her time living homeless in Durango, she's stayed in many places, including the unofficial camp in an undeveloped area north of the Tech Center and just west of Durango city limits.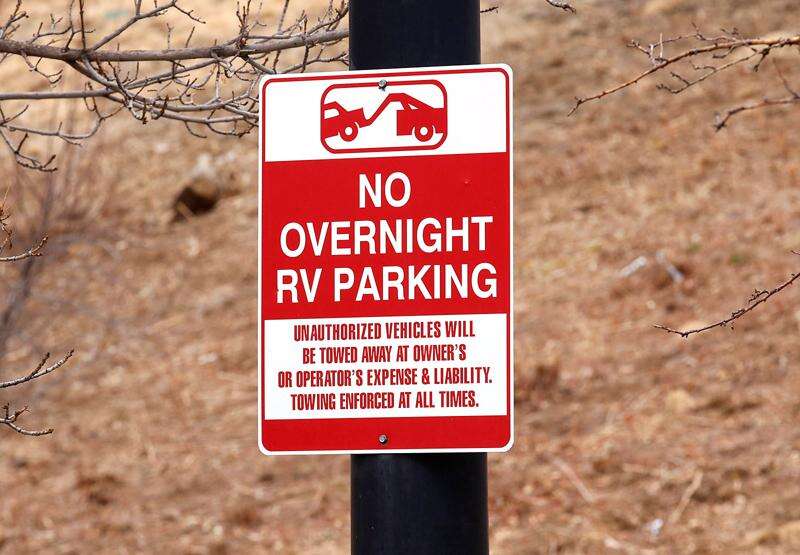 But when the brakes of her car went out, she had few options, and the Walmart parking lot was the closest place to park it.
"We have nowhere to go. Nowhere. What are we going to do?"
Sanders said many of the people staying in the Walmart parking lot share a similar plight. One man, she said, has leukemia and is unable to work. Many others, too, panhandle outside the store.
"We're broken people," she said. "And it's not right to punish broken people."
Cody Walden said he became homeless after he lost his job when the Western Excelsior Corp. plant in Mancos burned down last spring. He's been staying at the Walmart parking lot for the past month or so after the clutch in his car went out.
"I didn't really have anywhere else to go, so I came to Durango to try and get back on my feet," he said. "But it's just too expensive here and there's not much opportunity. It's really tough."
While there are people staying in the parking lot who drink, take drugs and defecate in the open, Walden said that, for the most part, people are there trying to get their lives back in order.
"There's people out here trying," he said. "If you don't bother anyone, and you're working on getting out of here, they should leave you alone. We didn't chose to be in this position."
The recent conflict at the Walmart parking lot is the latest in a series of developments related to homelessness in Durango.
While the city and county had previously pursued establishing a designated homeless camp, they are now looking for other options.
"None are simple, none are inexpensive and none are necessarily going to be accepted by the community," said Elizabeth Salkind, executive director of Housing Solutions for the Southwest. "And that makes for a difficult problem to address."
jromeo@durangoherald.com