Wolverines start strong with four takeaways before Panthers got rolling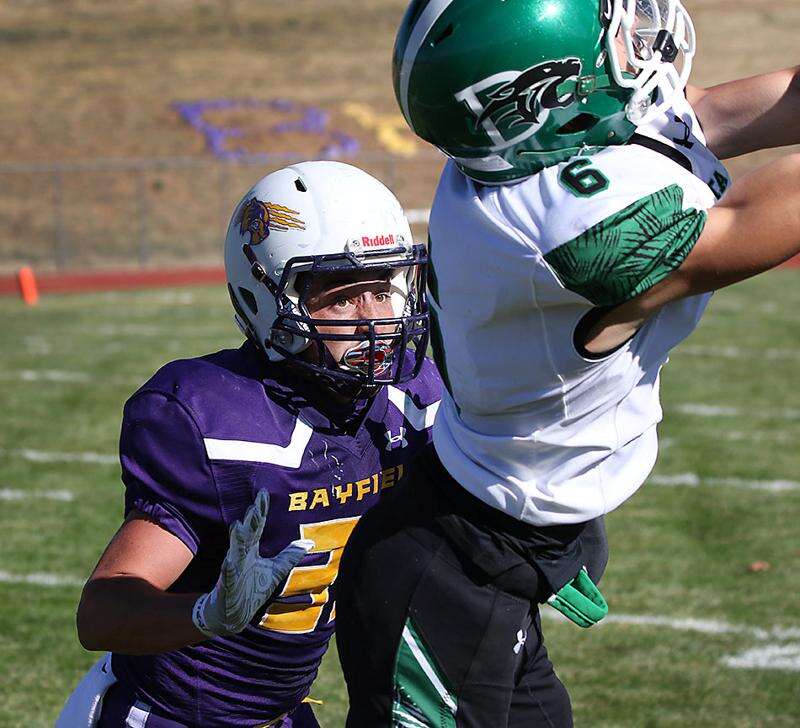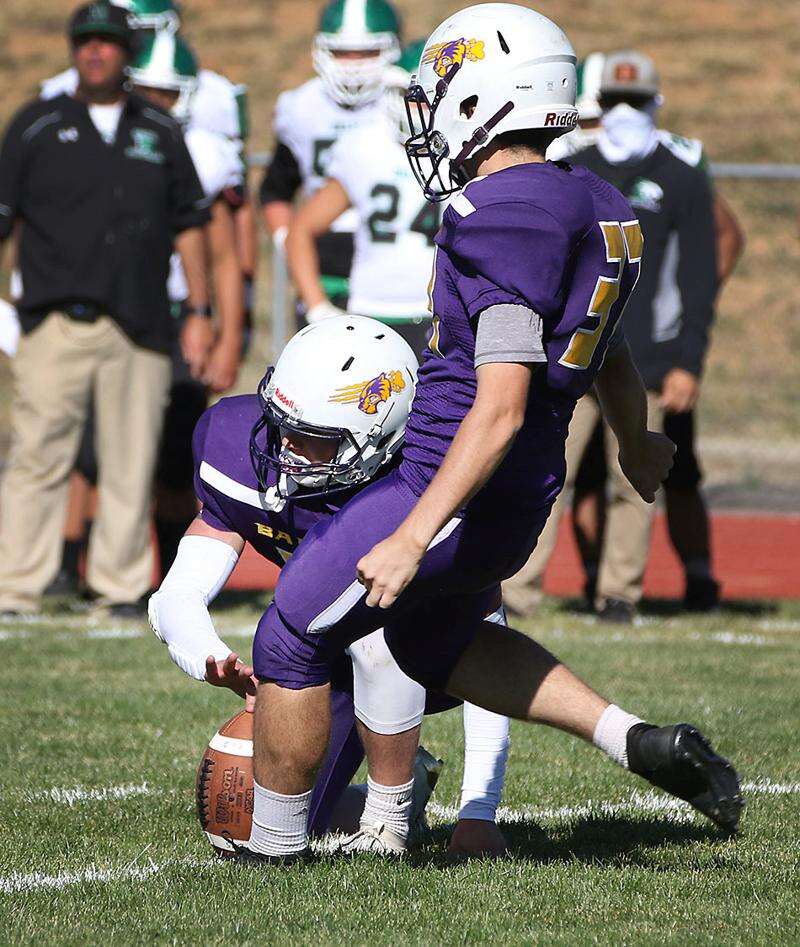 The mighty Bayfield High School defense showed its teeth once more in the first half Saturday. The top-ranked team in the state made all the necessary adjustments in the second half, though.
BHS collected four turnovers in the first half and built a 16-8 halftime lead on Class 2A top-ranked Delta. With the Panthers visibly frustrated after two fumbles and two interceptions, BHS took advantage with 16 points off three of those Delta turnovers.
But Delta (1-0) took over the game in the second half with big plays from senior quarterback Nolan Bynum to secure a 32-16 comeback victory.
"At half, we said that we had to settle down," Bynum said. "We started really antsy and just wanted to drive the ball down the field. Coach sat us down and let us know that we had been in this position before. It was nothing new. He wanted us to slow down, get in a rhythm, and then everything was alright.
Bynum opened the game 6-of-12 passing for 90 yards and two interceptions. Star running back Tim Horn also fumbled twice. But both bounced back in a big way in the second half. Bynum finished 13-of-21 for 248 yards and one touchdown and didn't turn the ball over again. He also ran for 55 yards and two touchdowns.
"I knew we were going to be able to move it if we were able to hold onto it," Bynum said. "I had faith in my running back and knew after that second fumble he got down on himself, but we were there to lift him back up. O-line did an outstanding job creating holes for him, and things were easy from there."
Horn would finish with 161 yards and one touchdown on 24 carries.
"It was stinking difficult to stop him," BHS linebacker Ben Morris said.
Delta's defense also fixed the problems with its run defense and contained BHS quarterback Isaac Ross in the second half. Depth became a problem for the Wolverines with players dealing with cramps.
"Not being able to sustain drives," BHS head coach Gary Heide said of the biggest difference between the first and second halves. "We got a couple of third-down-and-short situations, very makable. We didn't get them, and I punted the ball twice on those fourth downs even though both were short. Those third downs, if we make those first downs and keep those drives going and get the defense a rest, I think it could have been different."
Ross finished 11-of-17 for 111 yards and a touchdown for Bayfield (0-1). Cade Carlson led the BHS rushing attack with 56 yards and a touchdown. Crosby Edwards led the BHS receivers with five catches for 52 yards and a TD. Cael Schaefer added 60 offensive yards split between nine rushes and three receptions.
"We all battled out there, and I am proud of every one of them," Edwards said. "We had some kids step up against a good team. We just didn't have what we had in the first half in that second half."
The Wolverines turned the ball over on downs on their opening possession of the game, but the BHS offense was back on the field in a matter of moments after linebackers Morris and Nick Johnson forced a fumble by Horn that was recovered by Edwards. BHS would march 82 yards in 13 plays and score on a 3-yard pass from Ross to Edwards to make it 7-0 with 3:17 to go in the first quarter. The touchdown was set up after Ross had found Edwards on a deep 33-yard strike earlier on the drive to get BHS into the red zone.
"I've been here for two years at receiver and been waiting to have an offense like this for two years" Edwards said. "The short passing game is really helping us. That first touchdown of the season felt fantastic. Last year, my only ones were against Cortez. To come out here today and make a few big plays and provide for my brothers, it felt great."
Horn would fumble again on the first snap for Delta after the initial BHS score. This time, Zack McSweeney punched the ball free and it was recovered by Bayfield's Morris on the Delta 21. Eight plays later, Bayfield was in the end zone again on a 1-yard TD run by Carlson. He was bottled up on the goal line but extended the ball across the goal line for the score. The extra point was blocked, but the Wolverines led 13-0 in the opening seconds of the second quarter.
"I feel like we did super good defensively," Morris said. "We were shutting them down, and I got that pick. We had a few times where we messed up, but it was a good first half. I think our defense was doing a lot for our offense to set us up pretty good."
Delta's pain offensively continued on its next drive, as Bynum was intercepted by Morris. The BHS linebacker floated back into pass coverage, and Bynum never saw him as he looked to hit an open receiver on a slant pattern. Morris returned the interception to the Delta 17.
"It looked like he thought I was one of his receivers and just threw it right at me," Morris said. "I saw one of my guys blocking a guy out, so I cut in. I got tackled, but it felt good running with it."
The BHS drive only went backwards, but kicker Zane Liddell had just enough leg to make a 40-yard field goal to put BHS up 16-0 with 6:52 to play in the second quarter.
Delta would hold onto the football on its next drive and went 58 yards in eight plays and scored on a 7-yard run by Horn, who set up first-and-goal on the 7 with a 13-yard run on the previous play. Bynum hit receiver Nathan Schamhorst with a pass on the 2-point conversion to cut the Bayfield lead in half with 3:36 to go in the half.
BHS would turn the ball over on downs with 36 seconds to go before halftime with the ball on the Delta 44. Bynum got the Panthers within range, but a last-second pass into the end zone would be intercepted by Edwards as time expired to send BHS into the locker room with a 16-8 lead.
But Delta would outscore BHS 24-0 in the second half. The Panthers came out of the locker room and scored quickly on a seven-play, 80-yard drive that ended with a 10-yard Bynum TD run. The 2-point conversion pass was no good, and BHS still led 16-14.
"That's when all the momentum flipped," Bynum said. "We overcame that adversity and things started to click after that."
Bayfield would go three-and-out on its first possession of the second half. After a punt to the Delta 40, Bynum would need only one play to hit a wide open Colbi Braslin on a 60-yard TD pass. Bynum hit Braslin again on the 2-point conversion pass, and Delta had its first lead of the game at 22-16 with 6:52 to go in the third quarter.
"We had run that play earlier when I got sacked. Braslin told me he was going to take that 50 yards to the house next time," Bynum said. "We came back to it, and sure enough we did."
BHS would get a strong drive together but turned it over on downs on the Delta 24. Bynum and Horn got the Panthers marching once more. Bynum would score his second rushing TD of the game, this time a 4-yard run. The extra point was good, and the Panthers made it a 29-16 lead with less than 11 minutes to go in the game.
After another BHS punt, Delta would make a 32-yard field goal by Jaun Gaucin to double up the Wolverines 32-16 with 5:26 to play.
The Wolverines would mount one last drive in the final five minutes, but the result was a turnover on downs on the Delta 44. Behind the power running of Horn and Bynum, Delta would ice the game.
BHS will try to continue to work on its game conditioning going into a 1 p.m. Saturday game at Lamar next week. Fourth-ranked Lamar secured a 41-20 victory against Elizabeth last week.
"We are getting in football condition. All of our guys go both ways. You can try to get them in condition, but it's different when you get in a football game," Heide said. "We will come back and get to Lamar and play a great game the whole game. I think we have a pretty good football team. We drop a dogfight with Delta here, but if we get to 1-1, I think we will be sitting pretty good going into the last four games."
jlivingston@durangoherald.com