Rye scores five unanswered in win against Wolverines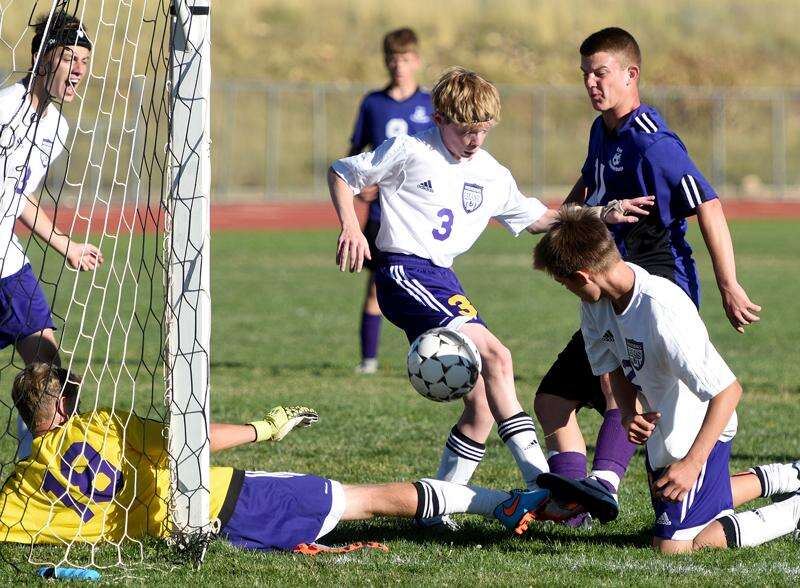 BAYFIELD – Success took the edge off the Bayfield High School boys soccer team.
Rye capitalized on it Friday in Bayfield with a 5-1 win.
The Thunderbolts scored five unanswered goals after going down 1-0 in the 22nd minute.
Berman Abdallah-Boehm finished the attack for the Wolverines after junior captain Finlay Marshall relieved Rye's keeper of the ball and made the pass.
"I was pretty surprised (to win the ball). Our coaches are always telling us 'press the keeper, press the keeper, press the keeper.' The luck was there, and we capitalized on it," said Marshal, son of Brenda and Brian Marshall. "We definitely have some chemistry issues, but it's getting better every practice. I'm sure that goal is going to help us build that chemistry."
Rye (4-3-1) nearly equalized in the 27th minute, but the Thunderbolts' shot went wide left.
They kept pressing, and Rye's Colton Simms tied the game in the 28th minute and put the Thunderbolts up 2-1 in the 34th minute.
That scoreline looked like it would hold at halftime, but stoppage time presented other ideas.
Bayfield inadvertently headed in a Rye corner for an own goal to go down 3-1 at halftime.
"Playing with the lead, they almost got a little overconfident and didn't keep their organization and structure after that goal was scored," said BHS head coach Dave Foster.
Rye remained the aggressor in the second half, as Logan Neumeister finished a bouncing ball in close in the 58th minute, and Auston Gookin scored for the first time this season in the 65th minute.
"I think our young men were just a bit faster than that other team, foot speed, and that helps," said Rye head coach Ben Beck. "They said they were going to step up their game, and they did."
Rye outshot the Wolverines 15-7 and put eight of them on goal compared to six for BHS (0-4).
Four of Bayfield's shots on goal came in the first half.
BHS (0-4) now has scored three goals this season, and all of them have come at Wolverine Country Stadium.
The Wolverines will travel to Crested Butte on Saturday to face a 3-2 Titans team at 9,898 feet above sea level.
"It's always difficult to travel to Crested Butte in one day and come back, so we're leaving at 6:15 in the morning, so that's always a challenge for us," Foster said. "We know Crested Butte is going to play very physical. All week long, we've been talking about the physicality we need to bring. I'm hoping (Saturday) we're going to have a little bit more confidence, get over this and move on."
kgrabowski@durangoherald.com