Hospital staff began meeting about coronavirus in January
FARMINGTON
The meetings began in late January, with eyes on how a novel coronavirus was evolving in China. Early-stage preparations followed, with research to understand the spread of the virus and its potential impact on the Four Corners. And as the situation began to worsen, the meetings became more frequent and more people were added to the mix.
The San Juan Regional Medical Center's Emergency Preparedness Steering Committee, which has met on a monthly basis for the past 10 years, allowed the hospital to have a flexible and rapid response to the unfolding pandemic. The nonprofit hospital is also a highly infectious disease hospital, meaning its staff have received additional training and procedures for infection prevention, containment and control.
"This particular event shows how we were able to roll out and scale up our preparedness structure, and anticipate some of today's challenges," said Dr. Brad Greenberg, head of the hospital's emergency preparedness.
While having an emergency preparedness framework in place is fairly common for hospitals, Greenberg said, "having a large group of folks that have been involved (together) for such a long time is kind of uncommon."
By the end of February, the infection control committee had started looking at the COVID-19 pandemic as a potential threat and began coordinating with the emergency preparedness command, said Dr. Erin Philpott, head of the hospital's infection control. The hospital's CEO and leadership put out a call in mid-March to hospital staff that it was an "all hands on deck situation," she said.
"Everyone has been focused on COVID-19 at some level," Philpott said. "It's a hospital-wide effort to keep it organized and running."
To date, the hospital's coronavirus response command structure consists of 30 to 35 people, Greenberg said. The structure is divided into pods spanning finance, human resources, logistics and more – providing a span of control and communication that is manageable to everyone involved, he said.
One of the first challenges for the response team was how to establish testing for the virus. They created a telephone hotline for virus-related questions, and physicians could arrange to have people come in to get tested via car. By mid-March, the hospital was offering three weekly drive-thru testing days in the parking lot.
"There was a lot of difficulty with testing early," Greenberg said, referencing the nationwide shortage of tests.
Early on in its response, the hospital also coordinated with San Juan County's emergency management team, local law enforcement, first responders and public officials. Together, they formed a joint information center to disseminate information to the public and to have the same kind of messaging.
Greenberg said the coronavirus response has also been a regional effort, involving communication with Mercy Regional Medical Center in Durango, Southwest Memorial Hospital in Cortez, the Navajo Nation and the state of New Mexico.
"We're doing a lot of work and collaboration to make it clear we're working together for the benefit of the Four Corners," he said.
The front lines
Robin Malara, an Intensive Care Unit nurse for the past seven years, said she's known preparations around the hospital's COVID-19 response have been going on in the background since January.
She said staff have been getting daily communication from the hospital's education department and from the physicians in charge of the response as well as information from the hospital's upper management via email or video statements.
"We've been getting more communication as things have ramped up," she said. "It has been changing fast."
One of the biggest changes Malara said she's seen the hospital make is staffing and minimizing exposure to the virus. She said the hospital was divided into separate areas for patients who may have been exposed to the coronavirus and those who haven't been exposed.
The division of the hospital into COVID and non-COVID areas happened in about half a day, Greenberg said. A transition he credits to the flexibility of the hospital's incident command system.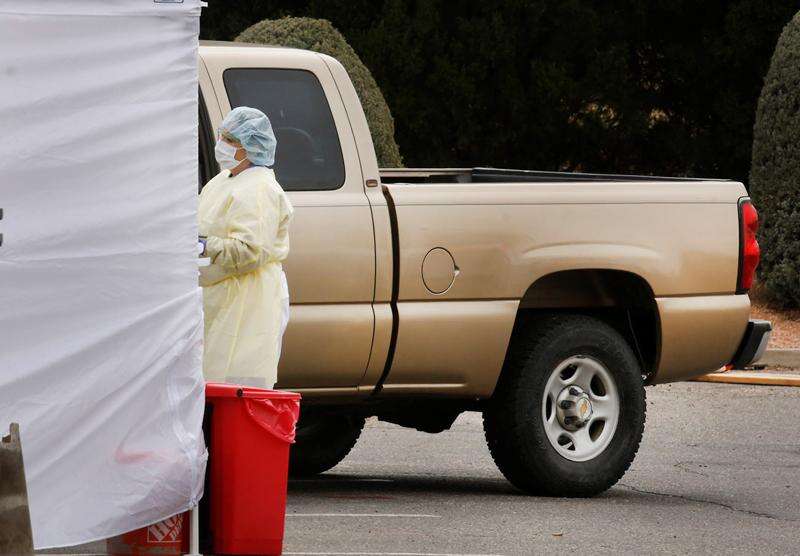 "We can take in information, rapidly adjust and then act," he said.
The hospital has also taken additional steps to ensure staff and frontline workers are well-protected.
"There's a daily check-in when we come into the hospital to make sure we're healthy," Malara said. "They take our temperature and ask about symptoms that are common with the coronavirus."
The hospital postponed elective procedures and limited services because of the pandemic and, as a result, saw a decline in revenue. In response, the hospital announced in early April that senior staff were reducing salaries; select employees would be furloughed; and staff were asked to take voluntary pay reductions.
Community support
Over the course of the pandemic response, San Juan Regional has received an outpouring of support from the community, in the form of donated personal protective equipment, hand-sewn masks, food for medical workers and support staff, and financial donations, Greenberg said.
"The hospital has secured a significant amount of (personal protective equipment)," said Dr. David Devitre, who has worked at SJRMC for 10 years, including in the ICU and emergency room. "I definitely feel well-protected going in and out of the hospital and seeing patients in our PPE."
As of Thursday morning, San Juan County had 339 positive cases out of 2,216 total tests completed with 22 deaths related to the virus, according to the state's Department of Health data. San Juan Regional Medical Center had 21 positive inpatients and had received more than 2,000 calls on its COVID-19 hotline.
Medical professionals at all levels of the hospital emphasized the importance of social distancing to keep the number of cases and deaths as low as possible. Greenberg and others said social distancing has been important in making sure the health care system was not overwhelmed.
"Being on the front lines and seeing what this disease has the possibility of doing to young people in their 30s to 50s, when they die right in front of your face after being stable, minimizing the spread of the disease is very important, especially since we don't have a standard cure, treatment or even vaccine," Devitre said.
lweber@durangoherald.com