Durango's Colorado Highland Helicopters is first operation in the state to receive RECCO equipment
Search and rescue teams in Southwest Colorado and across the state could get a boost with the rollout of new technology in Durango.
Durango-based Colorado Highland Helicopters is the first operation in Colorado to receive a RECCO sensor for helicopter search and rescue operations. The Swedish technology, which allows rescuers to quickly comb areas, will allow the helicopter company to partner with emergency teams in Southwest Colorado to expand and expedite their search and rescue operations.
With the proliferation of RECCO technology in recent years, the new helicopter sensor will transform the reflectors into year-round tools to find missing and injured people in Colorado.
"Historically, this technology has been used by ski patrols or search and rescue teams to locate people who are buried in an avalanche that don't have a transmitting (avalanche) transceiver on them. With the helicopter system, we're now able to use this in really more of a four-season capacity," said Dr. Tim Durkin, a sports and emergency medicine physician and RECCO rescue specialist with Colorado Highland Helicopters.
Colorado Highland Helicopters is only the sixth operation in the U.S. to use the helicopter sensor and one of just 28 worldwide, according to RECCO's website.
The husband-wife team of Brandon and Dayle Laird own and operate Colorado Highland Helicopters, which serves as a flight instruction, search and rescue, and charter helicopter company. The duo have spent much of their careers in search and rescue and aeromedical services, so when Brandon approached RECCO about the technology it was a perfect fit.
"(RECCO) was interested in what we were doing and looking for somebody in our location and specifically mentioned our region and the type of operation we have," Brandon, Colorado Highland Helicopters chief pilot, said.
In the past, RECCO has partnered with government agencies such as the California Highway Patrol and Teton County Search and Rescue. But Colorado Highland Helicopters is the first private company to use the technology.
The RECCO helicopter detector is a large, round and bright red sensor that hangs about 30 feet off the bottom of the helicopter. Introduced in 2016, it is a relatively recent adaptation of the handheld search and rescue technology that was pioneered in Sweden in the late 1970s and early 1980s as a way for avalanche rescuers to find buried skiers and snowboarders more quickly.
RECCO's helicopter detector works by emitting a directional radar signal. Reflectors embedded in clothing or other outdoor equipment return that signal, which is then picked up by the detector. Like echolocation, this back-and-forth guides search and rescue crews to a missing or lost person.
However, unlike an avalanche transceiver, the reflectors are passive and require no power to operate.
Over the last decade, outdoor brands have increasingly incorporated RECCO reflectors into their apparel and gear. Patagonia, Black Diamond, Arc'teryx and Marmot are just a few of the dozens of companies that have incorporated the technology into ski pants, hiking boots, biking helmets, backpacks and even climbing belts.
"It's taken off and what's happening now with the helicopter detector is there's a reborn emphasis from the manufacturers going, 'If they're lost, I want them to be found in some of our gear,'" said Daniel Howlett, director of training and technical support for RECCO in North America.
RECCO even works without the reflectors, said Ron Corkish, president of La Plata County Search and Rescue.
"It also works on large objects that act as a reflector. If you can't find somebody, you might find their snowmobile or you might find a metal shovel that was reflecting the signal," he said. "RECCO is a great device."
The helicopter detector requires two people to operate – the pilot and a sensor operator – which is in part why Durkin, a longtime doctor and wilderness medicine specialist who served as La Plata County Search and Rescue's medical director until last year, has partnered with the Lairds.
Brandon will fly while Durkin runs the sensor, which gets louder the closer the helicopter gets to the person. Durkin can offer medical care if necessary, though ideally they would have a third team member to help with any medical care.
Using the RECCO detector, the team can cover 1 square kilometer every six minutes. Fuel is the only limiting factor, allowing Colorado Highland Helicopters to serve the entire Four Corners and much of the state of Colorado, Brandon said.
That will make a difference for local search and rescue agencies in Southwest Colorado.
In January 2022, Colorado Parks and Wildlife released a backcountry search and rescue study. The authors' top recommendation was to increase the strategic use of helicopters to make search and rescue operations more effective and efficient.
"It's just such a good tool that can really cut down on the time it takes to find a missing person and that's what I'm excited about," Howlett said. "Being a rescue specialist my entire life and an avalanche forecaster, it's a really big deal to be able to save 50 people from going out looking for somebody."
The ability to quickly comb a large area limits the number of rescuers needed in the field, reducing the risk for search and rescue personnel. It also allows rescuers to find missing or injured people faster and, if needed, get them the care they need.
"We can hopefully have a better success with a lower risk profile," Durkin said.
The RECCO helicopter detector also serves an important function by preserving the capacity of Flight For Life and other aeromedical resources. In his work in rural hospitals, Durkin said there were times where he would be caring for a dying person who needed medical evacuation, but all of the helicopters in the region were occupied. With the RECCO detector, Colorado Highland Helicopters can serve as the backbone of aerial support rather than pulling in Flight For Life for nonmedical search and rescue missions.
Without the medical outfitting of Flight For Life, Colorado Highland Helicopters' AS 350 Helicopter can also fly longer and carry up to five search and rescue or medical personnel to drop them at the scene.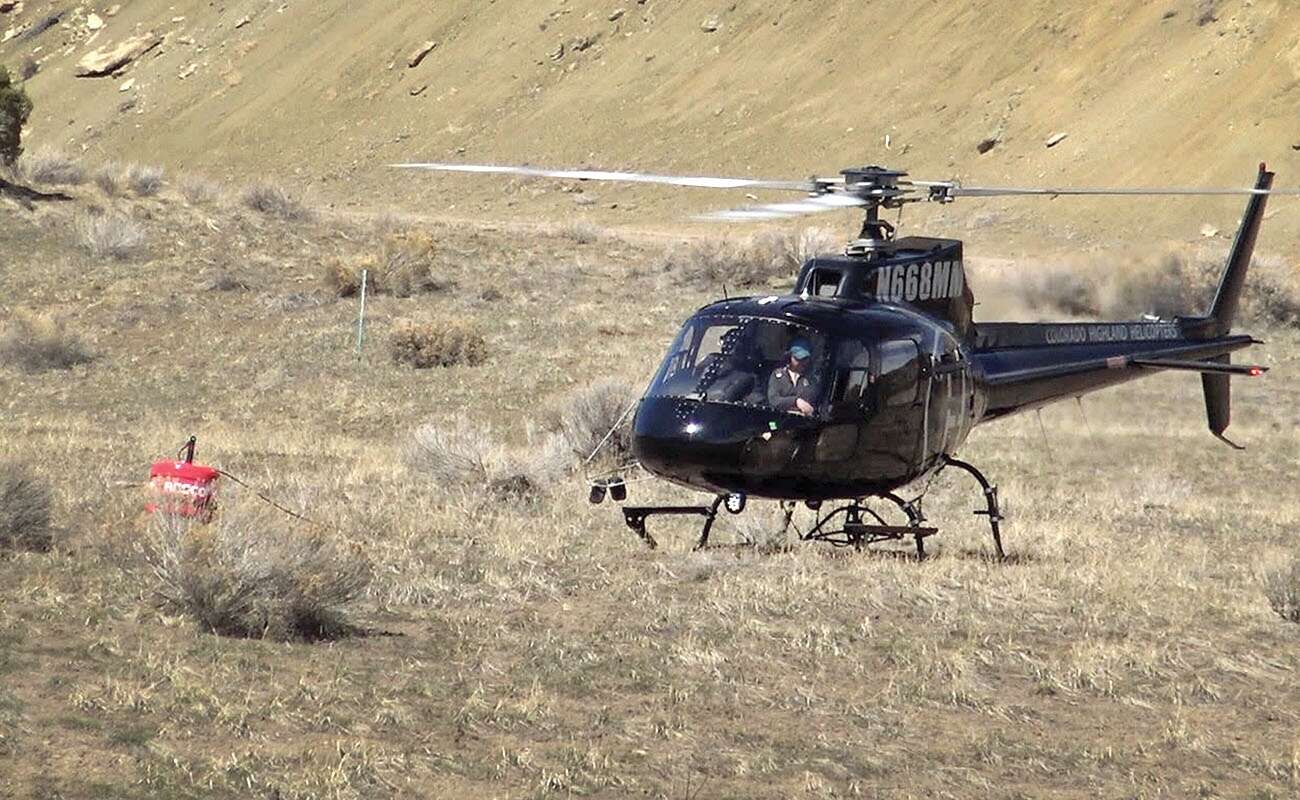 "When you get up to those higher altitudes, a couple 1,000 (less) pounds starts to make a really big difference in what you can do," Dayle Laird, a critical care and flight paramedic, said.
Arguably the greatest advantage of the RECCO helicopter detector is the ability to use the technology across all four seasons.
Colorado Highland Helicopters conducts six to 10 search and rescue operations each year, and they happen predominantly in the summer and fall related to hunting, Dayle said.
Corkish likewise said the majority of La Plata County Search and Rescue's missions take place in the summer and fall during hunting season.
But the handheld RECCO detectors La Plata County Search and Rescue use are designed specifically for avalanche rescues in a relatively small and known area, and those who recreate in the summer and fall typically don't take a safety device like an avalanche transceiver.
With reflectors now being incorporated into camouflage hunting apparel and more summer and fall outdoor clothing and gear, the RECCO helicopter detector becomes a year-round tool for search and rescue agencies.
"Because it's able to detect so many different types of equipment and clothing, and people engaged in all different types of outdoor recreation, (it) provides more versatility from a search perspective," Durkin said. "Any of these situations where (search and rescue) is not dialed in for a person in a red jacket standing on top of a mountain waving, then this gives them a lot of power to locate people."
La Plata County Search and Rescue has not explored using RECCO during the summer and fall, but Colorado Highland Helicopters' detector is at least another device search and rescue can use during avalanche season, Corkish said.
"Any resource to assist with finding avalanche subjects is going to be a benefit," he said.
Corkish, Durkin and Howlett clarified that a RECCO reflector does not replace an avalanche beacon, and those who choose to recreate in the backcountry during the winter need to carry an avalanche beacon as their first line of defense.
RECCO is a companion technology that aids winter search and rescue efforts and expands search and rescue's arsenal during the other three seasons, Howlett said.
Colorado Highland Helicopters has worked most closely with Telluride and Dolores County in the past. The outfit has yet to run a mission with its new helicopter detector, but it will be ready when local search and rescue agencies decide it's time to use the technology. The Lairds' and Durkin's hope is that having a RECCO helicopter in Southwest Colorado will make a difference and save lives.
"No one ever thinks they're going to get hurt or lost, but it happens every week," Dayle said. "This really changes the ballgame."
ahannon@durangoherald.com