Durango cycling star in elite form heading to Tour de France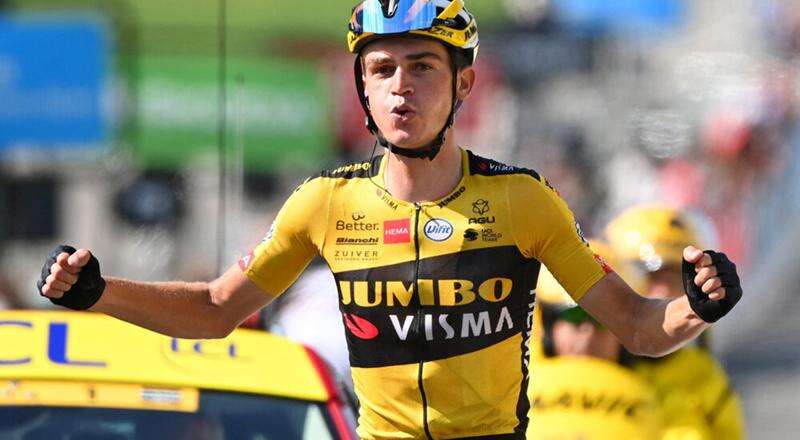 In a sport in which so much is determined by circumstances, everything aligned for a special day Sunday in France for Durango's Sepp Kuss.
The 25-year-old professional road cyclist for Team Jumbo-Visma had four strong days at the Critérium du Dauphiné going into Sunday's final stage. On Stages 2 and 3, he had climbed brilliantly in support of team leader Primož Roglic to help the Slovenian star to the overall lead after a stage win Thursday and a second-place finish Friday.
But chaos would ensue Saturday, as Jumbo-Visma riders were involved in a crash. Steven Kruijswijk, who is expected to be a team leader along with Roglic at the upcoming Tour de France, had to drop out with an injured shoulder. Kuss and teammate Tom Dumoulin would help Roglic finish the stage in 10th, but Roglic would not start Sunday's final stage as a precaution ahead of the Tour.
That allowed Kuss, Dumoulin and young star Wout van Aert, who won the opening stage of Dauphiné, to ride for individual results Sunday on the 95½-mile route in Megève.
Kuss took full advantage, as he gave maximum effort from the opening mile and made a pair of big attacks on the final two climbs of the day. Four riders were able to go with him on his first move, but nobody could stay with Kuss on the final climb for the last 6.25 miles. He would ride solo to the finish line in 3 hours, 58 minutes, 39 seconds.
That was 27 seconds ahead of Colombia's Daniel Felipe Martinez of EF Pro Cycling, who would go on to win the general classification in 21:44:58, 29 seconds ahead of France's Thibaut Pinot.
"After (Saturday), I felt strange when I woke up (Sunday) morning," Kuss said in a Jumbo-Visma news release. "We were all shocked by what had happened to Primož and Steven. But the switch in mindset also gave us the opportunity to race aggressively (Sunday), and we did. It was one of the toughest days on the bike. It was full throttle from the start. I had seen that everyone was riding on their limits. It was a bit of a poker game at the end. I waited for the right moment and then went all in. It was still a long way, but it luckily worked out well."
Kuss dedicated his sixth stage victory of his World Tour cycling career to Durango cyclist Benjamin Sonntag, who was killed while riding his bike when he was struck by a motorist March 4. Kuss grew up a mile from Sonntag, and the two regularly shared the road together.
"Also want this day to pay tribute to Ben Sonntag, who was killed by a motorist this past spring," Kuss said in a post to Instagram. "The Durango community and myself are always thinking of you, Ben. #LiveLikeBen."
Sonntag's girlfriend, Sarah Alsgaard, said Kuss' win would have made Sonntag proud.
"Ben would have had a permanent grin on his face to hear of Sepp's success," Alsgaard said. "It brings tears to my eyes that Sepp dedicated the win to Ben. Sepp and his parents were always dear to Ben. The dedication reminds me Ben's memory lives on in remarkable ways. It speaks to the person Ben was and the impact he left on those who were privileged to know him."
Kuss finished 10th overall after his stage win, 2:55 behind the winning time. The total result was big for Kuss in the leadup to the Tour de France, which will start Aug. 29 after it was postponed during the summer because of the COVID-19 pandemic. Kuss is set to make his Tour de France debut after he has completed the Giro d'Italia and Vuelta a España previously in his career.
Sunday's stage win was Kuss' first since Stage 15 of the Vuelta last year in which the young American proved his skills could translate in Grand Tour racing. Kuss also improved upon last year's finish at Dauphiné, as he had placed 26th overall after a fifth-place finish on the final stage a year ago.
This year's Dauphiné was shortened from eight stages to five. The final four days featured big climbs, and that gave Kuss his chance to shine. The hope is that his form last week translates to three weeks of racing at the Tour de France beginning in less than two weeks. If Roglic is to win the yellow jersey, many believe it will be Kuss that is the difference for the Jumbo-Visma team.
Jumbo-Visma team leaders have said Roglic's Tour de France preparations should not be changed because of the crash. He is expected to contend for the yellow jersey after a win at last year's Vuelta backed up his third-place finish at the Giro. Kuss has served as one of his key support riders, and Roglic praised Kuss' efforts last year at the Vuelta and again after the first three stages of Dauphiné.
Van Aert also praised the work of the team-first oriented American from Durango.
"I am glad Sepp finished it off," Van Aert said. "He is a great guy who is always ready to help everyone and does not hesitate to do the work that needs to be done. This victory is well-deserved."
Kuss said it was extra special to have his girlfriend, Noemi Ferré at the finish line Sunday to celebrate his special win. Now, the final preparations for the Tour can begin.
"Sunday was a beautiful day for me. I've been training very hard for this lately also to be ready for the Tour," Kuss said. "This is a confirmation that things are going in the right direction. The team is very strong. Anyone on the team can win. It is a privilege to be able to ride for this team and to get my chance now and then."
jlivingston@durangoherald.com