After extra-inning win against Pueblo East, Silver Knights dethrone top-seeded Demons
One team goes to the state tournament, the other sees its season end. The importance of every pitch, swing and throw across the diamond are amplified when a regional championship is on the line.
"This is the toughest day of the year," Durango High School head baseball coach Rob Coddington said. "Anybody who has been on this day in any program knows that this is the toughest day of playoffs of the year. You can play that other team you face 10 times and who knows how it comes out, but the result is the result when it's just one game."
For the Class 4A top-ranked Durango Demons, it was simply a hard game Monday. Less than 24 hours after finding out the two teams that would visit Walden Memorial Field for the 4A Region 1 tournament, Durango High School took its home field expected to get past No. 16 Severance in the regional championship to punch its ticket to the eight-team state tournament.
But the Silver Knights had other ideas, especially after coming back from a 4-1 deficit in the regional semifinal against Pueblo East to win 5-4 in eight innings only minutes earlier.
Severance, a first-year program at a school that opened in 2019 outside of Windsor in the northeast corner of the state, carried momentum from the walk-off win against Pueblo East and rolled through Durango 6-1 in the championship game.
After a nearly 400-mile bus ride on less than 24 hours notice from when brackets were announced Sunday, the trip home was set to be a long celebration for the Silver Knights (14-4).
"To get a walk-off win that first game, it was huge going into the second game. Adrenaline is a big thing," Severance head coach Kevin Johnson said. "We knew we had a great group of kids, and we didn't get to play last year, but this group has played together since they were kids. It's very satisfying to see where they are right now."
Coddington said the Demons could only tip their hat to the Silver Knights for winning two ball games on a 95 degree day in Durango.
It was Severance junior Carson Fagan who came on to pitch and close out the first game against Pueblo East to earn the victory, while sophomore catcher Ty Adam had the bases-loaded single in the bottom of the eighth inning to drive home the winning run.
Fagan returned to the mound to start the game against DHS. He earned his second win of the day, as he held DHS (14-3) to only one hit through 5 1/3 innings. He struck out five and walked two.
"I was feeling good. When we walked it off in the first game, I knew we had a lot of momentum carrying over, especially when I got settled," Fagan said. "The first game, I came in cold from shortstop and had a rough first inning but settled down after that. That second game, I was confident coming in knowing I had a really good slider to keep guys off-balance. We could start guys with fastballs, sliders, changeups and keep throwing them off. And I knew I had a good defense behind me."
Gage Mestas would take the loss on the mound for the Demons. The senior allowed seven hits and walked two but struck out eight through his five innings of work. He allowed four runs, but only one was earned.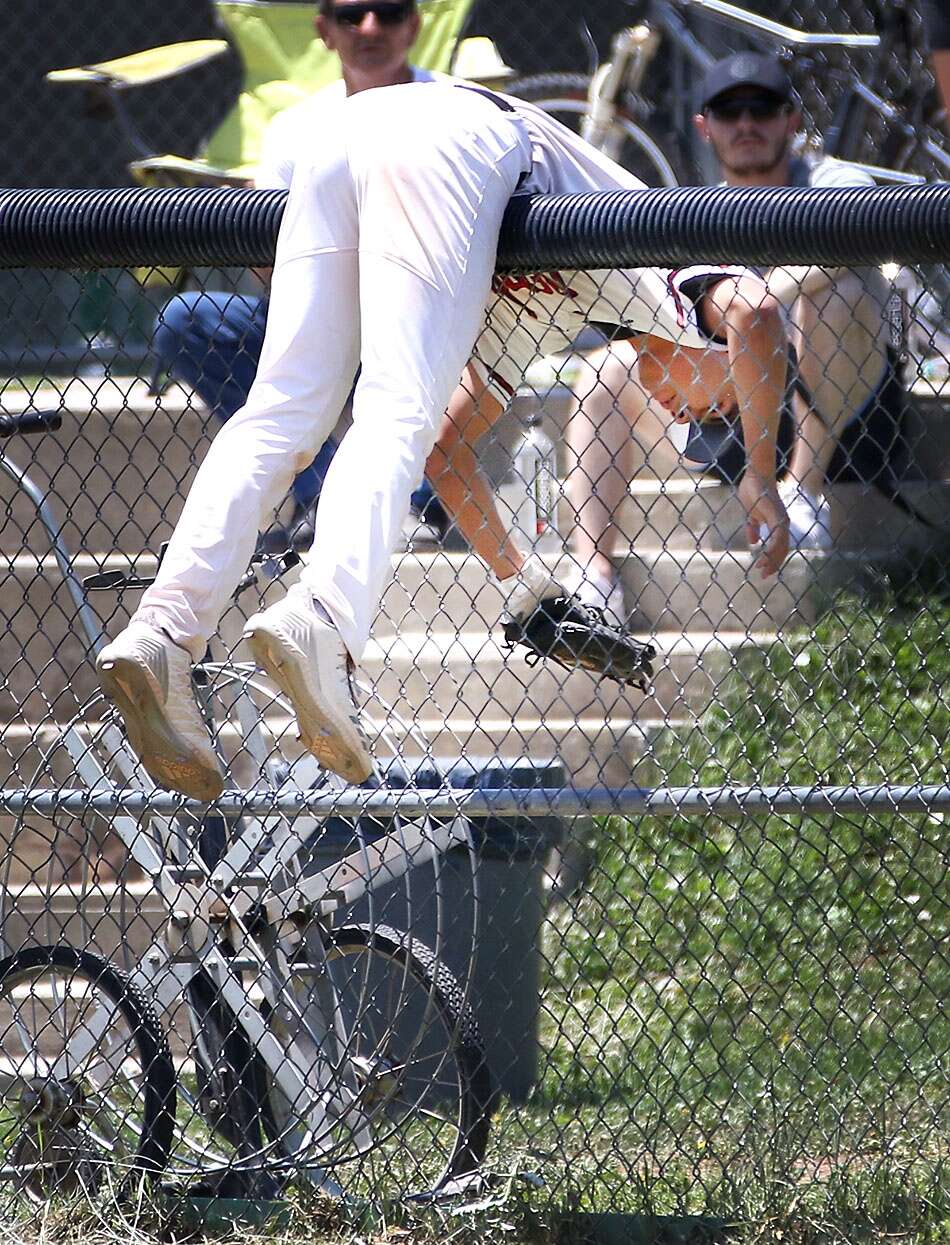 DHS gave up one run in the second inning. Severance's Brycen Farris led off with a single, and Adam drew a walk before Dillon Jost worked a long at-bat to a walk after fouling off numerous pitches. With the bases loaded and one out, nine-hole hitter Austin Neeley hit a ground ball deep in the hole to shortstop. Unable to turn a double play, DHS settled for an out at first while Farris came in to score the game's first run.
The game remained 1-0 going to the fourth inning, which would be the key frame of the game. Severance junior Tyler Hansen led off with a double before Mestas got the next two Silver Knights to strike out. But Mestas walked leadoff man Camaron Christensen to continue the inning.
Mestas would get three-hole hitter Joe Tamburro to roll a soft grounder to shortstop, but it became a challenging play for Cal Walsh, who tried to throw off-balance and across his body to first to get the final out of the inning. Hustling hard out of the box, Tamburro forced a tough play, and Walsh's throw got away from Durango first baseman Thomas Barnes. The throwing error allowed Hansen to score and the other two runners to advance another base each.
It set up Fagan with two runners in scoring position to help his own cause. He delivered, as he drove a pitch on a 3-1 count to left center field for a two-run single that gave his team a 4-0 lead.
"Right before I stepped in the batter's box, I thought of my buddy who passed away in a car accident two months ago. I pointed up at the sky and talked to him and said, 'Miguel, help me get a hit here. Nothing special, just help me get a hit,' and he did," Fagan said.
The Demons looked to answer back in the fifth inning after Jack Benner drew a one-out walk, as Hansen had replaced Fagan on the mound after Fagan struck out Barnes to start the frame. Mestas then singled before Walsh drove a pitch to center field for a single of his own.
Coddington waved Benner around third base and sent him home. A good throw from Severance's Christensen from center made it a play at the plate, but Benner appeared to get under the tag of Adam, the 6-foot-7 catcher who was blocking the plate. Still, Benner was called out by the home plate umpire, much to the disbelief of Benner and Coddington. Both argued the called adamantly, but there was no changing the umpire's mind. Instead of a 4-1 game with runners on first and third and one out against a new pitcher yet to record an out, Severance had two outs and another wave of momentum.
"Baseball is all about momentum. You try to take a gamble sometimes and try to get that momentum. Sometimes it works, sometimes it doesn't," Coddington said. "We've been kind of living a charmed life all year and everything has kind of going our way. Credit our kids who battled their tails off all year. There was still a lot of positive talk in the dugout all the way through the seventh inning – just part of the game."
Hansen would hit Durango power hitter Elias Fiddler with a pitch to load the bases, but clean-up man Jordan Stanley would strike out swinging on a 2-2 fastball to end the inning.
DHS was able to get within 4-1 with a run in the sixth inning. Niko Mestas singled with one out and came around to score on a throwing error by Severance third baseman Nolan Hertzke on a ball hit by Noah Pritchard, who went all the way to third on the error.
But Hansen was able to strike out Durango pinch hitter Ben Finneseth looking with a couple of pitches out of the strike zone before getting Benner to fly out to center field to end the threat.
Severance put the game away in the seventh. Fagan led off with a double and scored when Hertzke belted a Walsh fastball over the left field fence for a two-run homer to make it 6-1.
DHS ended the season with three losses in its final four games, all coming after the school year had ended during a season delayed because of schedule alterations all year caused by the COVID-19 pandemic. It started June 5 with a doubleheader loss at Fruita Monument that cost the Demons a league championship, as one win in the two games would've given DHS its first league title since 2012.
After the game Monday, Coddington credited the team's large class of nine seniors for a special season coming off the 2020 cancellation.
"Super talented group of guys who have given a lot to Durango HIgh School," Coddington said. "They've provided the Durango community with a lot of positives in football, basketball, tennis, baseball, whatever it was they did. This is a really cool group of kids, and they will be missed."
And after breaking the team meeting, Coddington kept the six returning varsity players in the outfield for an extra message.
"Gotta grind and gotta work. I hope this leaves a taste in their mouth that they don't like, and I hope they come to work to improve," Coddington said. "I think it's going to be competitive. There's a lot of young guys who want to make the baseball team, and hopefully they all grind over the next year to get it done."
For Severance, it is on to the eight-team Class 4A state tournament, where it will be double elimination beginning Friday at Runyon Park in Pueblo.
"This feels good. We were right there for basketball, too, but we couldn't quite put it together," Fagan said. "To be back here for state for baseball now, it's a big one for us. It's getting our first one out of the way with plenty more to come for our school."
jlivingston@durangoherald.com