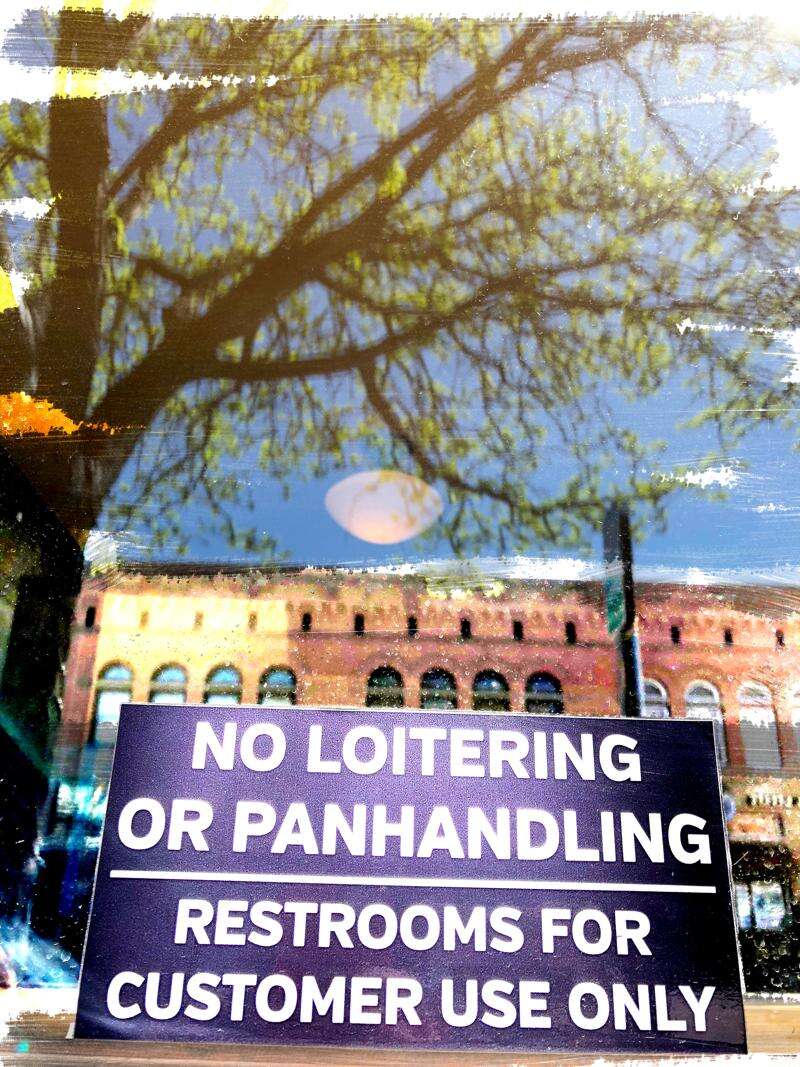 Mahatma Gandhi said, "The true measure of any society can be found in how it treats its most vulnerable members." The city's sit/lie ordinance has been repackaged as a safety/accessibility ordinance to address "tripping hazards," while treating everyone fairly by "targeting no populations."
No known complaints have been made about the elderly or families blocking the sidewalks. Virtually all local press on the topic, and comments by ordinance supporters, undeniably target the homeless and panhandlers. The commentary focused on "being afraid" or "uncomfortable" by people exhibiting "bad behavior," not tripping hazards.
Supporters recounted stories of those who drank from open containers, were publicly drunk, urinated, engaged in physical fights, used or sold drugs, and harassed others for money. All such conduct is already unlawful; this ordinance won't correct that behavior. Apparently, an enforcement problem exists. Do we need more foot patrols, or more funding to hire more police? Or does the Durango Police Department have higher priorities? Those are different issues. Sitting cross-legged against a wall, not impeding foot traffic, and asking for money in public is lawfully protected free speech under the First Amendment.
City officials hope the issue will be managed voluntarily by asking violators to leave. This approach has not succeeded so far. If the offender does not voluntarily leave, they will be ticketed. If they have no money to pay the ticket, what is the point? Will they be jailed if the fine is unpaid or there are repeated offenses? If so, we've just added another duty to law enforcement without revenue to fund it. The parameter is limited to downtown, so it is a "not in my neighborhood" non-solution. What prevents the sitters and people lying on the ground from moving to 3rd Avenue, Camino del Rio, North Main, Crestview, our parks, or one step outside any boundary? Or worse, dispersed throughout all of our forested areas? The Tempe, Arizona, ordinance, under which the Durango ordinance was modeled, has only shifted panhandling to parks. The ordinance does not address the root causes of homelessness and poverty: housing, jobs and social services. A broader approach should be developed collaboratively community-wide to address homelessness, jobs and social services with innovative solutions. Other communities near and far have done so.
Denver (after a major pushback to Mayor Hancock's clearing out tent cities) created programs that hired 62 homeless people for entry-level jobs, such as replacing old light fixtures with energy-efficient lights and park maintenance.
Denver also built tiny home villages for the homeless, providing dignity and community, while saving costs of incarceration, social services programs and medical expenses.
Job programs such as the Women's Bean Project (creating soup mixes with layers of beans, vegetables and herbs, plus learning to market them) provides training and income to former felons, victims of domestic violence and recovering addicts, helping them learn to succeed in jobs.
Durango's Community Compassion Outreach collaborated with Fort Lewis College engineering students and the University of Denver Center on Poverty and Homelessness to build moveable PVC pipe housing shelters, less costly than tiny homes, to create homeless communities.
Two Cortez organizations obtained grant funding to build a homeless shelter with transient residents on the first level, and $200-a-month apartments on the upper floors for transitional housing tenants.
The residents will be offered life skills training; an employment services agency next door will assist with job skills and placements.
Two Sante Fe organizations seek to create a 400-bed facility modeled after a 1,500-bed San Antonio Haven for Hope facility that led to $90 million in savings over seven years, reducing homelessness by 80 percent.
Las Cruces, New Mexico Community of Hope offers tents, facilities and picnic areas for 50 people and enforces a no drugs, drinking or fighting policy without fencing.
The "We Are All Homeless" movie brought to Durango a few months ago emphasized the plight of the homeless and poor. One model was a church that provided housing and services to those in need.
Preventing sitting on sidewalks will have nominal, if any, impact. A coalition of nonprofits, churches, government, schools and community leaders can weave compassion with innovation to generate longer-range solutions.
Let's put this ordinance aside, roll up our sleeves and think smarter and broader. That's what Durango does.
Lynne Sholler is a Durango attorney with Sholler Edwards, LLC.