In social media post, Jamison McMaster recounts being hit with a rock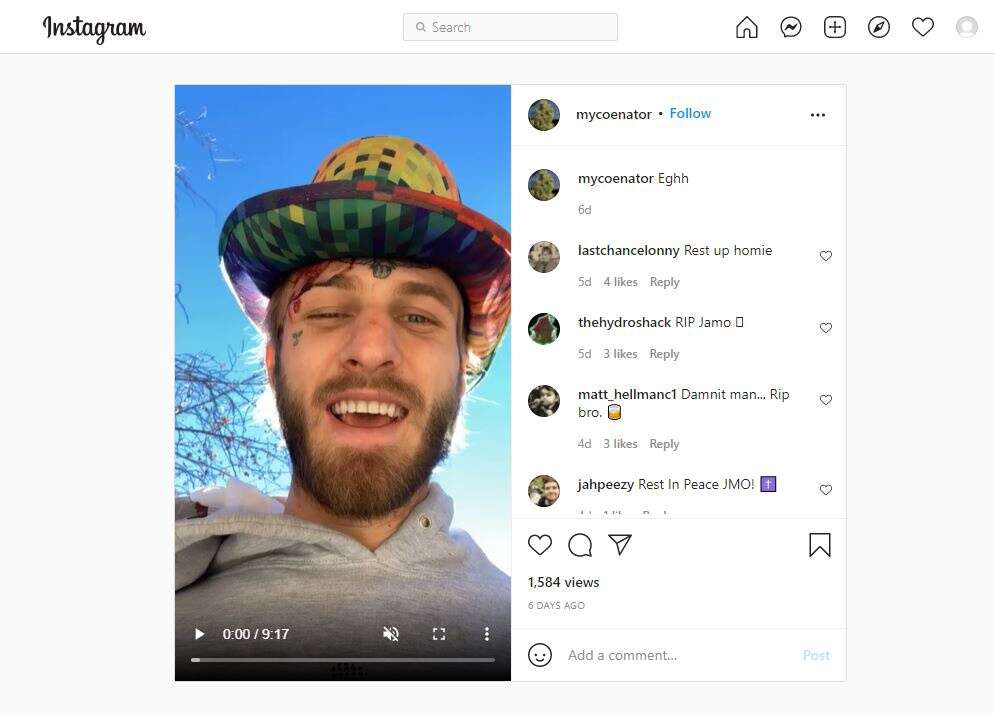 A 9-minute video recorded hours before a shooting death last week in southwest La Plata County suggests a fraught relationship between the victim and the alleged shooter.
The profanity-laced video was recorded by Jamison "Jmoe" McMaster on Nov. 22, the day of his death. The Instagram Live video briefly shows Nicolo "Nico" Tonelli, 24, who has been arrested on suspicion of second-degree murder. It also shows William "Willie T" Thurlow, one of the two men who allegedly witnessed the shooting death.
In the video, McMaster, 27, is seen with a large gash on his forehead and dried blood on one side of his head. He also has a tattoo of a mushroom in the center of his forehead. He explains the cut by saying, "Nico smashed my head with a rock last night."
In the video, he says two or three people tried to subdue him, "even though, like, I didn't punch anybody first or anything like that. I was just trying to talk."
He tells viewers that he asked people at the house that evening to line up so they could all say something nice about each other. He also wanted them to say one nice thing about him, "because I knew the nice thing about me was going to be hard for them. But they, of course, didn't want to do that."
One viewer apparently asks McMaster why he "is cool" with getting hit by a rock, and McMaster explains Tonelli is his "brother" and that they've gotten into a lot of fights.
"I've definitely never, ever hit him first. He's always been the one to hit me first. But I don't back down worth a (expletive). Yeah, getting hit, that hyped me up. Obviously, when he hit me with a rock I saw stars, but I didn't get knocked out," he said.
Early in the video, McMaster points the camera at Tonelli, who appears to swipe at the phone, possibly knocking it out of McMaster's hand and cracking the phone screen.
McMaster then asks Tonelli if he's going to give him his weed (marijuana) back, but Tonelli gives no audible reply.
McMaster then points the camera at someone he identifies at "Willie T" and asks him where the weed is. "Please leave me alone. You're being a bully," the man responds, as he sits on a porch with his head in his hands.
"I'm not trying to be a bully," McMaster says.
According to the La Plata County Sheriff's Office, Thurlow was one of two men who witnessed the shooting death.
In yet another encounter, McMaster confronts a third person seen walking up to the house who he identifies as Michael.
"Say what's up to Instagram Live," McMaster says. "That's what a thief looks like in denial."
The two men have a heated exchange about who owes whom money.
One viewer apparently comments that McMaster's story about getting hit with a rock doesn't make sense. In response, McMaster says he has a "traumatic brain injury," and may not be making perfect sense.
McMaster also talks about his plans to go to Africa and China with the goal of helping to save the world.
"I still don't know exactly what I'm talking about," he says.
Based on an arrest affidavit that included interviews with Tonelli and the two witnesses, Tonelli raised a 9mm Glock pistol and shot McMaster in the driveway of the home at 712 Dream Catcher Lane, southwest of Durango.
The two witnesses immediately left the property. None of the three men notified law enforcement about the shooting. But one of the witnesses called a man in Mancos and told him what happened. That call was made about 12:40 p.m., according to a call log.
A caretaker showed up about 3 p.m. and found Tonelli at the scene and McMaster dead, laying face down in a Dodge Durango. The caretaker called 911, according to the arrest affidavit.
One of the witnesses to the shooting said people at the house the previous night broke up a fight between Tonelli and McMaster, and it appeared Tonelli had bashed McMaster in the head with a rock before the fight was broken up, "because Jmoe had a major cut on his head."
In an interview with investigators, Tonelli said he and McMaster had a contentious relationship that involved physical altercations. He told law enforcement that on the morning of the shooting, he retrieved a handgun, tried to get McMaster to leave the property, and as McMaster turned and advanced toward him, Tonelli fired the weapon in the upper chest area.
Tonelli said he shot McMaster in "self-defense." He acknowledged McMaster was unarmed.
Investigators reported finding a digital recording device that had been wired to a security system that had been removed.
"After Nicolo shot Jamison, he never called for help," the affidavit says.
shane@durangoherald.com