Snow deters some teams, crowds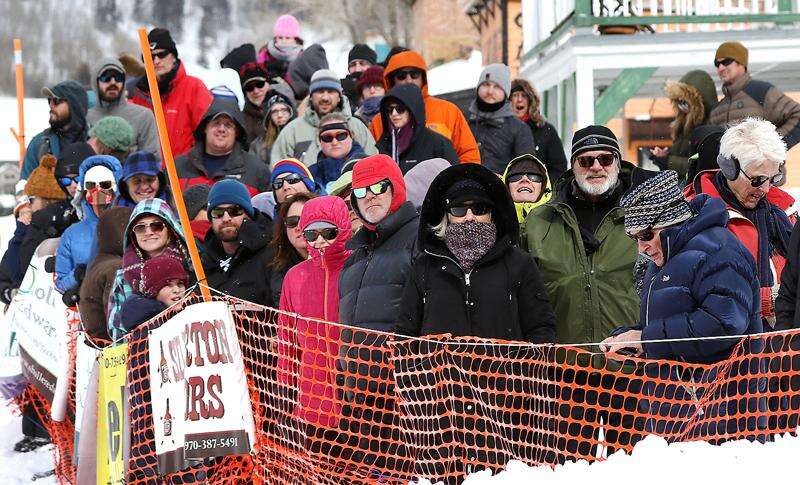 SILVERTON – Skijoring races in Silverton on Saturday drew skiers, riders and eager observers despite low temperatures and snowy roads.
As icy winds blew, riders on horseback raced down Blair Street pulling skiers on tow ropes. The skiers collected rings, navigated gates and hit jumps.
"It's crazy. That's partially why we do it," said Greg Dahl, a skier.
For skier Daniel "Thunder Dan" Pierce, 52, adrenaline, camaraderie, horses and cowgirls keep him competing in races across the state.
Silverton Skijoring was canceled last year after insurance issues arose from an incident during the 2017 race. Three people were injured when a low-flying drone spooked a horse.
Attendees were pleased to see the event, now in its 10th year, return after the hiatus.
Leah Deane and her friends celebrated the return of the races with a Kentucky Derby themed watch party, complete with mint juleps. The group gathered round a fire pit on a platform made of snow and cheered the riders and skiers on with bells.
"It's so much fun. How is this not in the Olympics?" Deane said.
Silverton business owner Darlene Watson was also pleased to have the event and the accompanying crowds back following last year's cancellation.
"Our economy was really hurt by it," said Watson, owner of the Bent Elbow Hotel, Restaurant & Bar and Silverton Grocery.
The contest attracted 17 teams on the first day of the two-day competition. Race organizers had expected 60 to 70 teams, but teams were deterred from attending by recent snowstorms, said event organizer Pete Maisel.
"It was super challenging with the weather we had," he said.
The races typically draw thousands of spectators and the event is known by locals as Silverton's winter 4th of July. But the attendance was hurt by weather and the closure of Red Mountain Pass on U.S. Highway 550 Friday, he said.
Florida resident Andy Ozolnieks said he followed a snowplow over the passes because he was curious about the event.
"It they had an inner tube, I'd try it," he joked.
mshinn@durangoherald.com
Silverton Skijoring results
Open class
1st place:
skier Tyler Smedsrud and rider Savannah McCarthy
2nd place:
skier Greg Dahl and rider Carissa Dahl
3rd place:
skier Greg Dahl and rider Jeff Dahl
Sport class
1st place:
skier Daniel Pierce and rider Tim McCarthy
2nd place:
skier Rob Conaty and rider Jade Neves
3rd place:
skier Duffy Counsell and rider Ashley Tippetts
Novice class
1st place:
skier Nate Rock and rider Kimber McConnel