Checkered Future blends beer-making techniques to create something new
Ska Brewing Co.'s new flagship IPA, Checkered Future, hopes to unite modern hazy IPA drinkers and classic West Coast-style IPA drinkers through a blend of old and new brewing techniques.
"When we were making this, we thought we love hazy IPAs, but we kind of miss that classic pine and citrus in more traditional IPAs. So, we wanted to try and bridge that gap," said Dave Thibodeau, co-founder of Ska Brewing.
Ska wanted to combine what it has learned from heavy experimentation with hazy IPAs over the past few years with tried-and-true hot-hopping methods for classic IPAs.
"If you're boiling beer, that's called the hot side, then once you've cooled the beer down and added yeast to it, that's called the cold side," Thibodeau said. "Classic West Coast IPAs add a lot of hops on the hot side, and the later you add hops in the development process on the cold side the more aroma you get."
One of the big lessons Ska learned from its experimentation with hazy IPAs is that if hop varieties are added to the fermenter in the presence of yeast, the hops can develop new characteristics.
"What happens is it transformers the hop oils," Thibodeau said. "It's actually called bio-transformation. In a nutshell, that is the transformation of hop oils in the presence of yeast."
Checkered Future adds classic varieties of hops on the hot side, and new varieties of hops on the cold side. Newer hops include strata and Azacca hops, and classic hops include centennial hops.
"We have all of those tropical aroma notes that you get from newer hop varieties, and added a little bit of a citrusy bitter back bone you get from more classic hops," Thibodeau said.
He said Checkered Future has an aroma of strawberry and mango on the nose, and a balanced orange-like taste on the pallet.
"Upon pouring, you get tropical notes, and then when you drink it, you get some of that familiar pine and citrus that brings you back to maybe what got you into IPAs in the first place," he said.
Thibodeau said Checkered Future has been in the works for the past year, and he can see a lot of breweries moving toward a mixed-style for IPAs in the future.
"I think you're going to see more breweries learning and going in that direction in the next couple of years, regardless of what they call it," he said.
The new brew launched Tuesday with $2 pints and live music from local musician Rob Webster.
"This Checkered Future is flavorful," said Ska patron James Mirabal at the launch party. "It's got some citrus and fruit, but what I like most about it is that the sweetness and fruitiness doesn't linger. You get all those flavors, and then you get a nice hopped finish on it."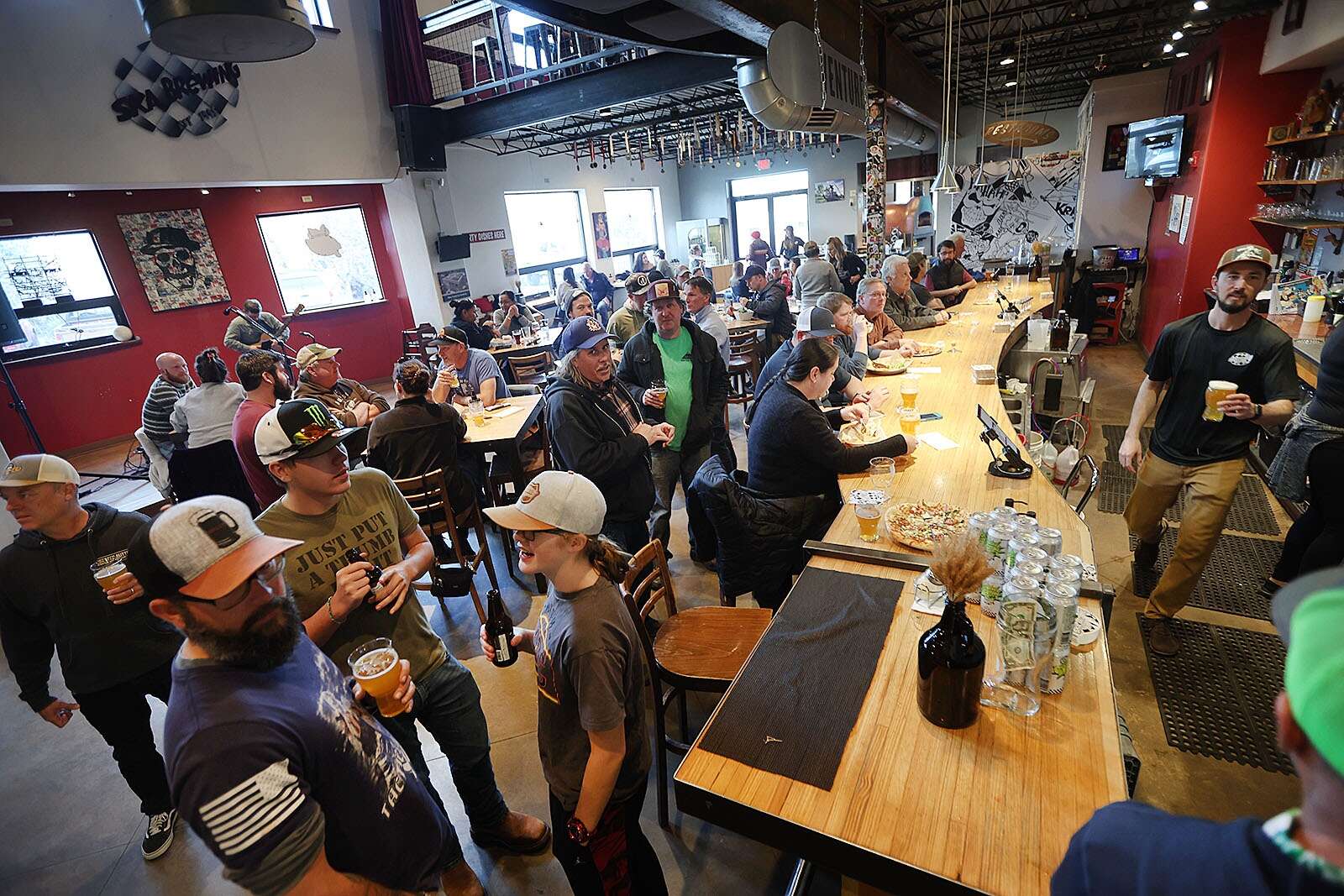 "I'm not an IPA drinker, so it's got just the right amount of hops for me," said Ska patron Charley McNeil at the launch party.
Thibodeau said the Checkered Future name comes from the term checkered past.
"A lot of us have done things in our past that we might not be proud of, or might not have been the best decisions. And I'm pretty sure moving forward we're not going to make the best decisions either," he said. "Therefore, not only do we have a little bit of a checkered past, but also a checkered future."
Checkered Future is now available in stores and at the brewery. Thibodeau said Checkered Future will be a year-round beer that will be available in all of Ska's markets.
njohnson@durangoherald.com