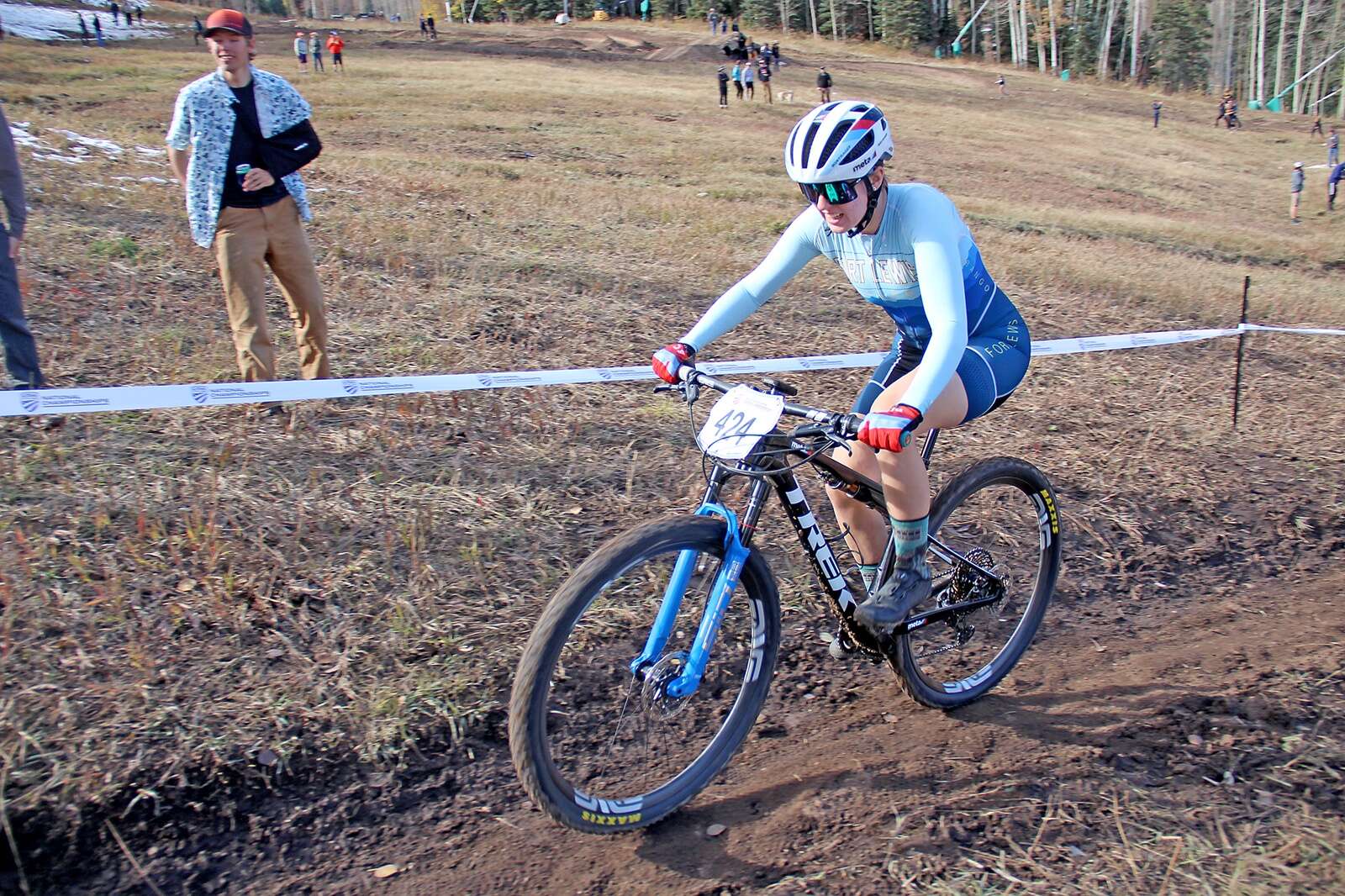 Farmer ends college career with two podium finishes
Fort Lewis College had a strong showing at the USA Cycling Collegiate Mountain Bike National Championships Thursday through Sunday at Purgatory Resort to finish second in the varsity team omnium standings.
Colorado Mesa University, however, had the team title all but wrapped up before the final race, the team relay, on Sunday. Mesa then went out and won that race to put an exclamation point on its national championship.
Colorado Mesa finished first in the team omnium standings with 712 points, followed by Fort Lewis (620) and Brevard College (600).
"I think we did really good for how young our team is," said FLC head endurance coach Chad Cheeney. "I was proud of them all."
While Mesa had an 80-point lead heading into the team relay, there was still plenty at stake in the team race. Fort Lewis led third-place Brevard College by just 14 points, and there was a three-way tie for fourth place between Lindsey Wilson, Marian University and Lees-McRae College.
Toby Hassett raced the first leg for Fort Lewis, followed by Natalie Quinn and Ruth Holcomb. The Skyhwaks were in fifth after the first three riders, trailing Brevard, but then Cobe Freeburn made up the difference, passing three of the teams ahead of Fort Lewis on the final leg to finish second in the event and lock up a second-place omnium result for the Skyhawks.
"It can be pretty stressful watching riders go by, but I think he was pretty confident in his speed to catch the three ladies ahead of him," Cheeney said.
Freeburn completed his 1.6-mile loop in 7 minutes, 30.7 seconds, which was the third fastest leg in the race, and helped FLC finish 2:35.7 ahead of Brevard.
Hassett completed his leg in 8:48.2, Quinn raced the loop in 9:03.6 while Holcomb recorded a 9:40.6 lap.
"We picked the four based on their speed (Saturday)," Cheeney said. "They haven't been the fastest all year, but they seemed like they were on fire."
Brevard finished third in the team relay to lock up the final podium spot in the omnium race.
Lindsey Wilson, meanwhile, finished fifth in the team relay, behind fourth-place Milligan College, but ahead of Less-McRae in sixth and Marian in seventh to finish fourth in the final team omnium standings.
The downhill finals also took place on Sunday, and William Farmer led the Fort Lewis contingent with a third-place finish. Fiona Dougherty, led the FLC women in the downhill, despite crashing and having to hike back up to the trail, with a sixth-place finish.
Because of snow and ice and mud on the original trail, the downhill course had to be modified for the championships.
"It was on a blue trail, which is a nontraditional downhill trail," Farmer said. "I have an enduro racing background, so it suited me pretty well."
Even with the altered course, Farmer told himself the race wasn't going to be won on the corners, so he had to survive them and make the time up on the straightaways.
While Farmer, a true downhill racer from Farmington, was aiming for the top step of the podium, he was content to place third in 5:30.22. Two cross-country riders finished ahead of him, Bravard's Tyler Clark (5:28.27) and Tyler Orschel (5:28.61). Owen Clark, also from Brevard, placed fourth in 5:36.24, while Colorado Mesa's Matt Sterling, who competed in the UCI World Cup this season in downhill, finished fifth.
Farmer also reached the podium in the dual slalom with a fourth-place finish. Farmer had a comfortable lead in the third-place race, but had a "mental mistake" and missed the final gate, so he ended up taking fourth.
"I kind of surprised myself in the dual slalom," Farmer, a senior at FLC, said. "I feel so blessed and fortunate to make two podiums; I'm pleased to go out with a little bang."
The dual slalom finals began on Friday, but were suspended after it got dark outside, despite several lights shining on the course.
"The lighting was definitely tough to work with – all the righthanders had shadows," Farmer said. "The dirt was also firming up and was almost frozen, which was another challenge, but I wanted to keep going."
The dual slalom was suspended until Saturday, and when it resumed, Sterling won the championship, beating his teammate, Joye Cameron, in the finals.
Olivia Armstrong of Marian beat Mesa's Sarah Smith in the varsity women's dual slalom finals to finish first.
Erica Leonard of Brevard, meanwhile, won the women's varsity downhill race in 6:20.98, finishing 0.54 second ahead of Mesa's Tai-Lee Smith and 3.51 ahead of her teammate, Rachel Pageau.
Dougherty finished 0.27 second away from the podium in sixth place.
Samantha Fanion (14th, 6:51.35) and Barb Edward (15th, 6:51.63) also had their best results of the year for Fort Lewis.
"It was cool to see them out-perform their entire season," Cheeney said.
The short-track cross-country races were also contested on Saturday, and Mesa had a strong showing with four of the top five women and three of the top five men to distance themselves from the other teams.
Fort Lewis freshman Natalie Quinn finished third in 30:49 to lead the Skyhawks. Quinn also finished third in the cross-country race on Friday.
"She crushed it," Cheeney said.
Colorado Mesa's Madigen Munro, however, won her second championship in 29:20 and was joined on the short-track podium by her teammates Ruby Ryan (second, 30:45), Lauren Lackman (fourth, 31:02) and Katie Clouse (fifth, 32:00). Munro also won the cross-country title while Lackman went on to win the varsity women's omnium crown.
Orschel won the varsity men's short-track title in 28:41, adding to the cross-country title he won on Friday, propelling him to the omnium title. His Brevard teammates, Tyler Clark and Owen Clark, finished second and third in the omnium standings.
Hassett led Fort Lewis with a fourth-place podium finish in the short-track race in 30:33.
Mesa's Torbjorn Roed (30:07), Daxton Mock (30:31) and Scott Funston (30:33), however, claimed the other three spots on the podium.
"They're awesome," Cheeney said about Mesa's team. "They're a chiseled program and have some of the top stars in the country. We have more depth, but they have more firepower."
With only being to have six athletes race in each event at nationals, for instance, Cheeney said Fort Lewis had another five to 10 men who could have placed in the top-20 in the cross-country race, but didn't get picked to race.
Fort Lewis, with 130 athletes on its cycling teams, also the largest squad in the nation. Cheeney said the next biggest team has about 50 members.
"That alone makes the kids so fast," Cheeney said about the team's internal competition.
The coach also said hosting the national championships was "really cool."
"We really wanted to show off our awesome downhill track; we just got snapped with a storm at the wrong time," Cheeney said. "It was a pity it couldn't have been less chaotic for them, but we were-super stoked to showcase Purgatory and Durango's cycling culture — the trails and crowds and passion for cycling – and I think that came across."
The team also enjoyed racing in front of a home crowd.
"Being from Farmington, this feels like a home track to me, and it was special to have my family come up and experience this with me," Farmer said. "Having all of my friends and family cheering me on made it more special."
Farmer said he didn't start racing bikes until after high school, but coach Cheeney encouraged him to check out the Fort at a Ska Zia Town series race. Biking was what brought him Fort Lewis, he said, and a bachelor's degree was the cherry on top.
"I'm super-happy I stepped out of my comfort zone," Farmer said. "It was the best thing I could have ever done."
In the club competition, Colorado School of Mines won the Division II team title while the University of Colorado finished one point ahead of California Polytechnic- San Luis Obispo to win the Division I crown.
The club national champions included Utah State's Trevor McDonough and Mines' Gabriella Dube in both downhill and dual slalom.
Short-track titles went to Cal-Poly's Calder Wood and Brittany Parffrey from the University of Texas-San Antonio. Mines' Keegan Pelton and Mckenzie Steiner of the U.S. Air Force Academy claimed the cross-country titles.
Cal Poly, meanwhile, won the team relay, finishing just over a minute ahead of CU.
Podium and FLC Results:
Varsity men's short-track cross-country
1. Tyler Orschel, Brevard College, 28:41
2. Torbjorn Roed, Mesa, 30:07
3. Daxton Mock, Mesa, 30:31
4. Toby Hassett, Fort Lewis, 30:33
5. Scott Funston, Mesa, 30:33
8. Guy Leshem, Fort Lewis, 31:29
10 Cobe Freeburn, Fort Lewis, 32:44
11. Sam Brown, Fort Lewis, 32:57
17. Kellen Caldwell, -2 laps 22:48
19. Nathan Colavolpe, -2 laps 23:16
Varsity women's short-track cross-country
1. Madigen Munro, Mesa, 29:20
2. Ruby Ryan, Mesa, 30:45
3. Natalie Quinn, Fort Lewis, 30:49
4. Lauren Lackman, Mesa, 31:02
5. Katie Clouse, Mesa, 32:00
6. Ruth Holcomb, Fort Lewis, 32:35
8. Michaela Thompson, Fort Lewis, 32:37
9. Madelyn Roberson, Fort Lewis, 34:08
13. Olivia Gordon, Fort Lewis, 36:00
14. Aleah Austin, Fort Lewis, -1 lap, 29:30
Varsity men's downhill
1. Tyler Clark, Brevard, 5:28.27
2. Tyler Orschel, Brevard, 5:28.61
3. William Farmer, Fort Lewis, 5:30.22
4. Owen Clark, Brevard, 5:36.24
5. Matt Sterling, Mesa, 5:36.57
14. Ethan Wright, Fort Lewis, 5:51.80
17. Shane Ellis, Fort Lewis, 5:56.10
20. Cole Fiene, Fort Lewis, 5:57.49
28. Daniel Johnson, Fort Lewis, 6:12.98
49. Luke Villars, Fort Lewis, 6:45.08
Varsity women's downhill
1. Erica Leonard, Brevard, 6:20.98
2. Tai-Lee Smith, Mesa, 6:21.52
3. Rachel Pageau, Brevard, 6:24.49
4. Jazlyn Smith, Mesa, 6:26.36
5. Olivia Armstrong, Marian, 6:29.07
6. Fiona Dougherty, Fort Lewis, 6:29.34
14. Samantha Fanion, Fort Lewis, 6:51.35
15. Barb Edward, Fort Lewis, 6:51.63
19. Kaia Jensen, Fort Lewis, 6:55.01
25. Mckenna Merten, Fort Lewis, 7:16.99
27. Kelsey Ent, Fort Lewis, 7:19.58
Men's varsity dual slalom
1. Matt Sterling, Mesa
2. Joye Cameron, Mesa
3. Grant Lampson, Lindenwood
4. William Farmer, Fort Lewis
5. Tyler Clark, Brevard
Women's varsity dual slalom
1. Olivia Armstrong, Marian
2. Sarah Smith, Mesa
3. Erica Leonard, Brevard
4. Emily Harris, Lindsey Wilson
5. Rachel Pageau, Brevard
Varisty Team Relay
1. Colorado Mesa, 33:10.6
2. Fort Lewis, 35:02.7
3. Brevard, 37:38.4
4. Milligan, 38:36.9
5. Lindsey Wilson, 38:42.4