Dem focused race on the future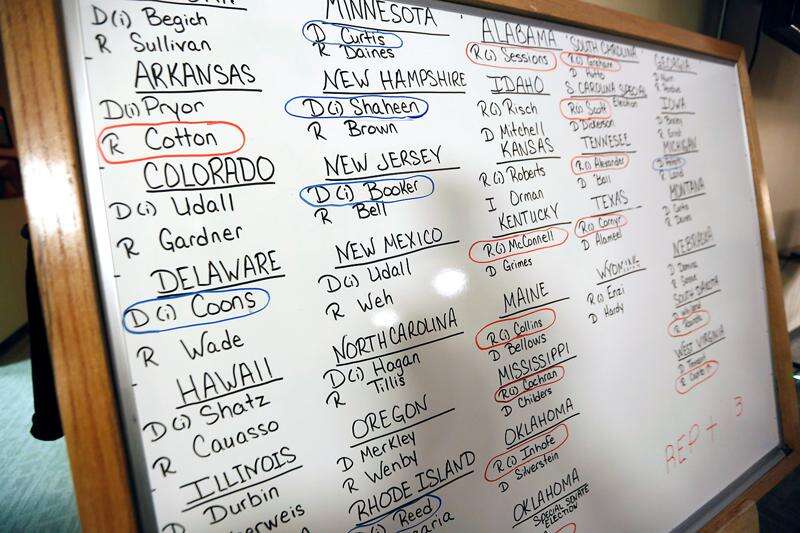 There's a new sheriff in town. According to the La Plata County Clerk & Recorders Office end of the night unofficial results, Deputy Sean Smith decisively defeated five-term incumbent Duke Schirard in the race for La Plata County sheriff.
With 22,993 votes cast, 12,303 – 55.5 percent – went for Smith, while 9,869 – or 44.5 percent – went for Schirard.
Smith's victory marks a dramatic shift for the La Plata County Sheriff's Office, which is set to undergo a change in leadership for the first time in two decades.
In an interview Tuesday night, Smith said he was "excited" to win. "It feels pretty good. We fought for the last year and three months for this. I have to give it up to my family – it's been challenging for my wife and my kids, but we were stepping up for what we believe in and it looks like the hard work paid off."
Schirard could not be reached for comment on Election Night.
Smith congratulated Schirard on his long career in law enforcement. "I thank him for his 20 years of service. I just thought it was time to go in a new direction."
The race was one of the most exciting and hard fought this fall. Schirard ran on his experience, casting Smith as an ambitious upstart.
Smith, meanwhile, sought to frame the race as about the future.
The campaign was rough on Schirard.
First, Schirard faced criticism when an email he wrote denouncing Durango went public.
In the email, Schirard said, "The demographics of downtown Durango has changed so drastically in the 42 years, I have lived in La Plata County that I don't even recognize it or want to go downtown. Every day at noon I sit in Colorado Trading Co. on 8th Ave. and visit, most days with John Malarsie, Tom Price and others. We are disgusted and as upset with the situation as you or anyone else. (sic)
"This is purely a reaction from your liberal, democratic, gun hating, pot loving, abortionist, Obama supporting socialist who have taken over Durango City government and want it to be Aspen south." (sic)
Then the campaign seemed to take a self-destructive turn when Schirard told The Durango Herald's editorial board and three of its news staff members that he had threatened Smith and Durango Police Department's Sgt. Geary Parsons with a summons for discussing allegations that Schirard had physically beaten two former wives.
In terms of issues, guns – historically an area of political strength for Schirard – loomed large in the campaign.
Schirard repeatedly burnished his long history as a proponent of relaxed gun laws in La Plata County, saying in the 1980s, he was issuing concealed-carry permits when no one else would.
At candidate forums, both men boasted about all the guns they own, agreed the Second Amendment conveys to individuals the constitutional right to bear arms, appreciated concealed-carry weapons, deemed 2013's gun-control legislation largely unenforceable and lauded the 10th Amendment, which limits the powers of the federal government to only those delegated to it by the states.
But sharp differences also emerged between the candidates.
Schirard is a proud member of and donor to the National Rifle Association and its lobbying wing, the Institute for Legislative Action.
Smith said he is not an NRA member because he doesn't agree with all of its political positions.
The candidates' differing views of the role of the sheriff marked the largest philosophical cleavage.
In the past, Schirard vowed he wouldn't enforce Colorado's new gun laws, which mandate background checks for all gun sales and limit the capacity of ammunition magazines to no more than 15 rounds, because, in his opinion, they violate the Constitution.
Smith meanwhile said it's the sheriff's job to enforce all laws. If elected, Smith said he wouldn't consider himself the final arbiter of a law's constitutionality. He said it is legislators' job to pass legislation, and the Constitution provides a remedy for people who object to laws legislators pass: judicial review.
cmcallister@durangoherald.com