Plot beside Riverview Elementary serves as learning space for students, growing place for visitors
After nearly two years, the SOIL Outdoor Learning Lab and community garden opened at Riverview Elementary School on Saturday to a crowd of spectators with short speeches from the men and women who contributed to the project.
The outdoor garden for students districtwide, residents of Durango and everyone else who cares to visit is the culmination of a vision thought up by Charlie Love, Riverview Elementary science teacher, and elevated by donors, sponsors and the kids of Riverview.
But the gardening space is far from finished. Although the ribbon-cutting ceremony on Saturday celebrated the opening of the space, the project is still in its first of six construction phases.
About 24 education garden beds, 50 community garden beds and four wheelchair accessible garden beds are already in place, with more wood materials for additional beds scattered about the plot.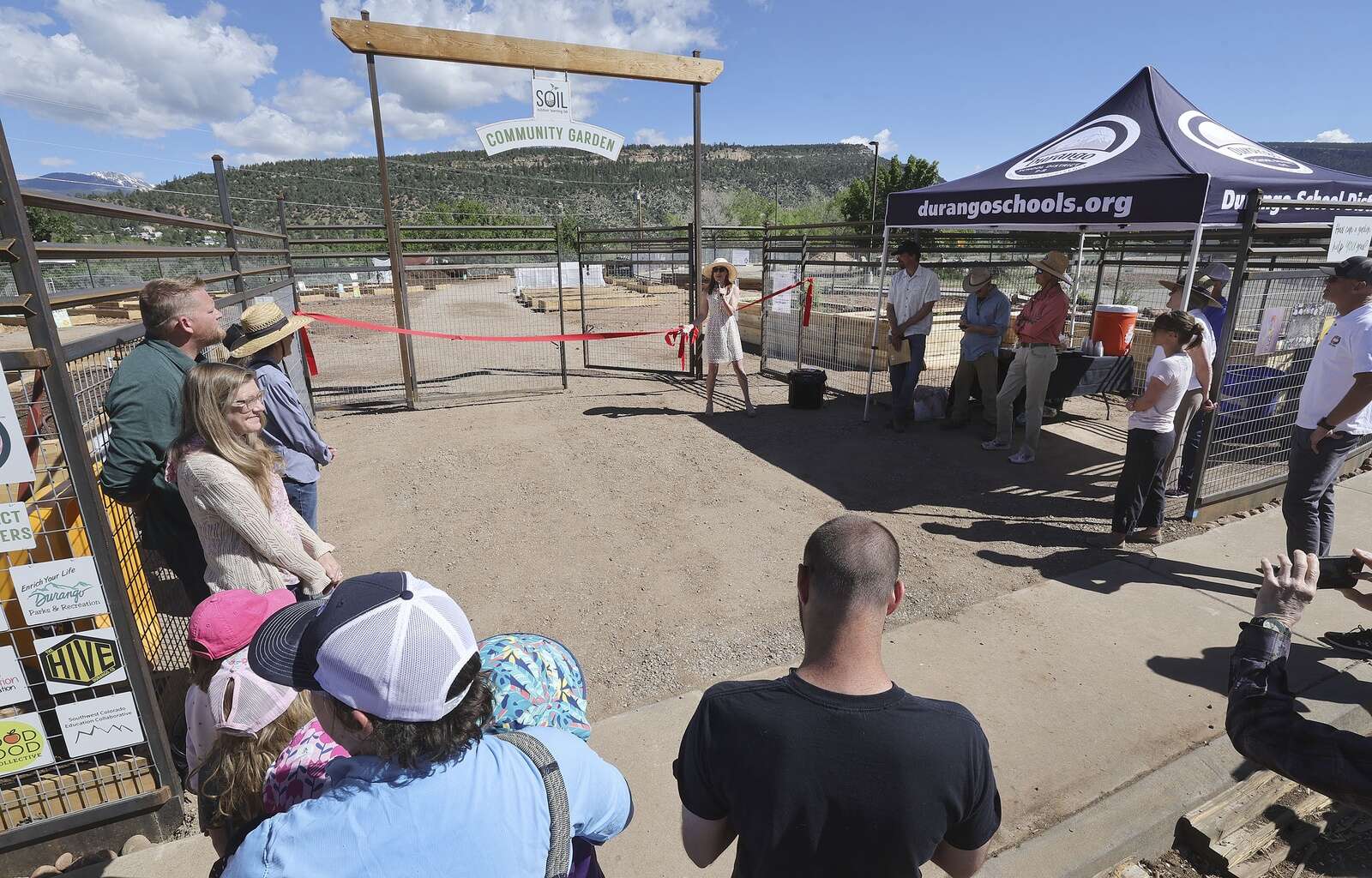 The next phases of the project will bring about a soil shed for advanced composting, soil analysis and demonstrations; an amphitheater and event space with a solar pavilion featuring EV charging; a grow dome for year-round gardening; a food forest for edible fruit and an agriculture lab; and an education center for more indoor growing space, a commercial kitchen, classrooms and community events.
"The SOIL Outdoor Learning Lab is on a mission to enrich the lives of every person who lives in or visits this community," Love said. "You don't have to rent a garden plot to enjoy the space. You can learn new things by attending a workshop or engaging with an education station. Just immerse yourself in nature, spend time with loved ones, meet new people, and the list goes on."
Phase 1, which includes education plots, family and individual community garden beds available for rent through the city's Parks and Recreation Department, still has a way to go, but is expected to be completed this year. And Love is shifting back into fundraising mode to push through the final steps of the first phase.
He said the project is just getting started and he is accepting ideas and suggestions from the community, which can be sent online at soillab.org.
"Altogether, let's learn from the rich agricultural history of our region that spans back thousands of years, leverage available modern technologies and ideas, and innovate together to grow an inspired community and a sustainable future," he said.
A 'world class' culmination of culture and ideas
Rod Barker, who donated six figures to the SOIL Outdoor Learning Lab and community garden project, said the project holds huge potential. The community is on the right trajectory to turn it into a world-class facility.
He said entertainment is another cultural influencer, and the garden space at Riverview Elementary is an amalgamation of food, entertainment and community involvement.
He envisions bringing top-of-the-line chefs to the planned community kitchen to teach local cooks and families how to up their culinary game; and he said the educational opportunities afforded to students inspire them to someday open their own business in Durango to apply their skills and interests unlocked by the garden.
Darren Parmenter of CSU Extension said anything can be taught in a garden, from the process of planting seeds to picking fruits and vegetables.
Karen Cheser, superintendent of Durango School Dsitrict 9-R, said the garden space bolsters education, eco-stewardship, equity and economy.
She said the Southwest Colorado Education Collaborative brings together all nine school districts in the Southwest Colorado Region 9 and focuses on career paths for students.
The garden contributes to those efforts, she said.
"We're a village. So why not provide the opportunity for all of our students in all of our school districts – from Ignacio to Montezuma, Cortez, to Dolores, to Pagosa Springs – to also enjoy and to add to the experiences that we have here," she said.
cburney@durangoherald.com
An earlier version of this story gave an incorrect first name for Rod Barker, who donated six figures to the SOIL Outdoor Learning Lab and community garden project.