The skating ranger at 11 Mile State Park says recreation is changing and that skating outdoors should be accommodated – when the conditions are right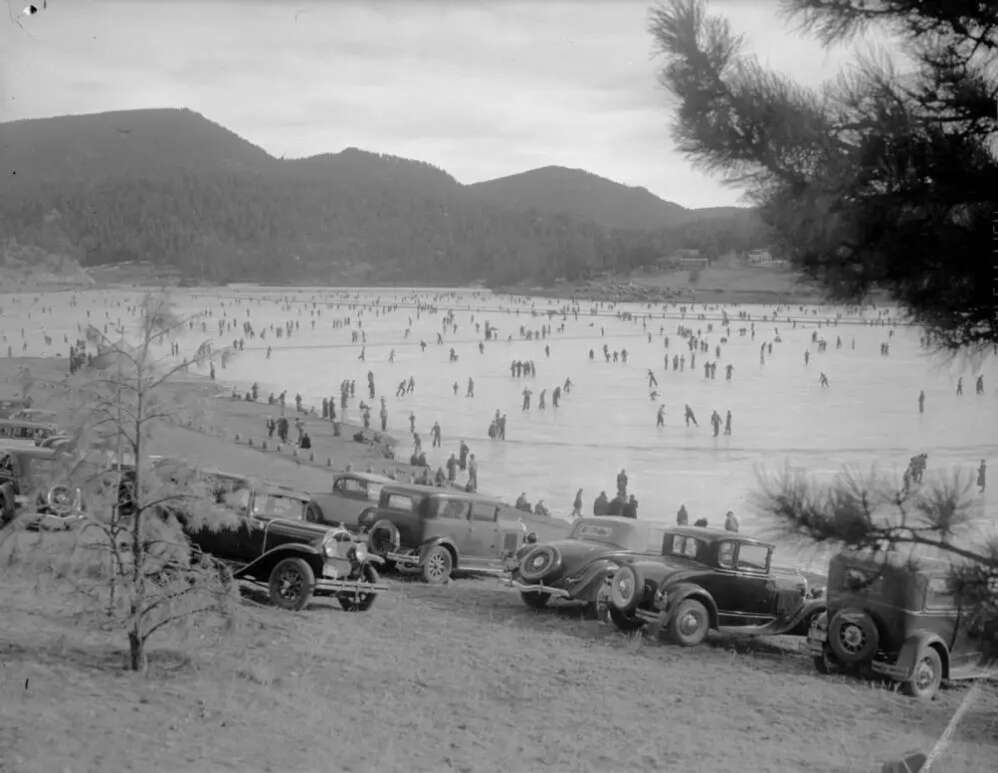 After an especially nippy weekend in December 2021 turned the lake at Eleven Mile State Park into something resembling a polished glass table, Kelli Lewis felt a tickle from her days playing hockey.
Lewis, the ranger at the high-altitude park, strapped on a pair of skates, gliding around a surface so clear that she could stare down to the bottom. And then she found a way to justify it: She could patrol all the anglers ice fishing for whoppers much more efficiently on skates than on a snowmobile. Lewis became the Ice Skating Ranger.
Lewis represents some new thinking among those in charge of keeping people safe in wild areas. Ice skating is dangerous, and for many years, places wouldn't allow it. But now there's a compromise being struck. Many places at mile-high elevations still don't let people glide across their frozen lakes and ponds, but it's encouraged in areas with consistently bitter-cold temperatures and, therefore, more solid ice. Eleven Mile even hosts occasional events to promote ice skating, including some that loan skates for free.
"Recreation is changing," Lewis said. "We should be encouraging people to get outside and utilize the resource."
Interest in wild ice skating is building, especially at Eleven Mile, where Lewis became a local celebrity after Colorado Parks and Wildlife sent out a tweet showing off her skills.
"I think we are finally reaching a crowd that wants additional things to do in winter," she said.
Meet Ranger Kelli at Eleven Mile State Park. She has started using ice skates as an efficient way to conduct her patrols on the ice and getting out there to talk with ice anglers. pic.twitter.com/T3JXTv87pP

— CPW NE Region (@CPW_NE) January 15, 2022
Skating when conditions are right has long been allowed on Evergreen Lake, owned by the city of Denver and managed by Evergreen Park and Recreation District. But now Denver is contemplating renovations at its Echo Lake Mountain Park on the way to the Mount Evans summit and may include skating.
It's still not a good idea on most days to slide onto your local lake. Most municipalities, even Denver, don't allow it, including Fort Collins and Greeley.
"Except for this cold, snowy winter, we typically don't have sufficient temperatures conducive to safe, ice-based activities," said Justin Scharton, superintendent of the natural areas and trails division for the city of Greeley,
It not only needs to be well below freezing for the ice to reach the recommended thickness of at least four inches, it needs to stay that cold and that doesn't happen often enough.
Even with some areas relaxing their regulations a bit, they do so with hesitation and don't necessarily want it advertised with the same vigor as Eleven Mile, which is at an elevation of 8,600 feet, a climate that tends to have sustained colder temperatures than the Front Range. It's up to rangers to set guidelines for their state parks, and some are tolerant of it but don't like their guests taking risks on ice.
"There is a difference between what is encouraged and what is legal," said Joey Livingston, the statewide public information officer for CPW.
Keep in mind that ice fishing and ice skating are different things. More state parks allow fishing and not ice skating, which sounds strange, but Livingston has an explanation: One of the trickiest things about ice is it's not the same in every spot.
"Generally with ice fishing, you trek out slowly and stay in one area that you have checked is safe," Livingston said. "With wild ice skating, you generally trek out farther, and it can be harder to determine ice conditions all over."
It's not much different from backcountry skiing, in fact, and the varying snow conditions on every mountain are why search and rescue teams exist. Falling through ice can be just as deadly as getting caught in an avalanche.
This is why Lewis recommends scouting a lake first, or talking to an expert such as her who knows the lake well from the patrols. She knows the unpredictable parts of the ice.
"It's different with every lake," Lewis said.
Even with her knowledge, she typically wears a life jacket that inflates when it hits the water or, as a backup, when you pull a cord. "You don't even know it's there," she said.
State parks, including Golden Gate Canyon west of Denver and Highline Lake near Loma, should have up-to-date information on whether ice skating is reasonably safe with the current conditions. Eleven Mile always does, Lewis said, and Evergreen Lake has a hotline.
It was bitter cold back in the day
There are black-and-white photos from the Denver Public Library that show residents skating at Evergreen Lake in the 1930s. Greeley has photos of residents skating back in the old days on Glenmere Lake, the park at the heart of one of the city's most historic neighborhoods. This demonstrates more than the fact that things were a little less restrictive back in those days. The climate has changed.
Temperatures fluctuated back then too, but it's harder these days to find sustained, bitter-cold weather for thick, supportive ice. As proof, Evergreen Lake was closed on Feb. 21 because of a relatively warm spell before old man winter got cranky again. In theory, it will reopen for skating March 1.
"The ice can be really unreliable," Shannon Dennison, Denver Parks and Recreation's director of Mountain Parks, said of frozen ponds.
This is why Denver wants to do more with Echo Lake. The lake sits in the Mount Evans cirque and is a popular stop along the Mount Evans Scenic Byway, which peaks close to the summit of one of Colorado's most popular 14ers.
"It's farther away," Dennison said, "but it's a spectacular setting with more reliable ice."
1. The ice should be at least six inches thick and clear. You can dig holes in the ice to measure it.
2. The ice thickness and condition can vary around a lake.
3. Ice near a structure, such as a dock, and surrounding a branch or another object will be thinner and probably dangerous.
4. Ice near moving water will be thinner and probably dangerous as well.
5. Wear an inflatable life jacket, aka a "float coat."
6. Keep your pets leashed, and avoid the temptation to attempt to rescue dogs that fall through.
7. Never go alone.
8. Bring an ice pick, a rope and a whistle.
9. Look out for cracks, aka pressure ridges, and cloudy ice. Both are dangerous.
10. Ice in the center of the lake will be stronger than ice at the shore, so make sure you're off the ice by noon if it's warmer to avoid getting stuck.
11. Check with a state park office or other recreation departments up-to-date reports on ice conditions.
The city wants to renovate the lodge and bring public ice skating as part of a hope to offer more winter recreation opportunities, Dennison said. The city could also offer tubing, cross-country skiing and other activities. Residents have told Dennison that they want a chance to ice skate, she said. If it's feasible, the likely time frame would be for skating to be available in three to six years. Part of the issue is ensuring there's a shelter there, whether that's the lodge or another place to go, for the public to warm up or take cover from a sudden storm.
"I can't guarantee it will happen," Dennison said. "But there's most definitely an interest there. We're pretty confident we can do it, but the question is what's the best way to do it."
Natalie Magee's gateway into wild ice skating was on Evergreen Lake, a place so unlike her home state of Alabama that it called to her and her family on Christmas Eve. It was the first time she'd ever skated outdoors.
"I was kind of terrified," Magee said. "There were no handrails."
She was comfortable on the ice indoors, as she'd skated many times, but she couldn't believe anyone actually did that beyond the sort-of-wild confines of Evergreen.
Instagram led her down a rabbit hole, and she began to follow other wild ice skaters.
"I thought it looked like the coolest thing ever," she said.
She is now 41, seven years later, and posts on TikTok about her yoga retreats, hikes (including some sketchy routes up the 14ers) and wild ice skating. She also works as a flight attendant.
She's hardly an expert, but she has skated on a few frozen lakes in Rocky Mountain National Park, including Sky Pond, and a few in Grand Junction, where she lives with her husband. Hiking and skating, she said, adds an extra element to the adventures she's grown to love.
"You can see right down into the bottom of the lake," she said. "I enjoy that."
The Colorado Sun is a reader-supported, journalist-owned news outlet exploring issues of statewide interest. Sign up for a newsletter and read more at coloradosun.com.