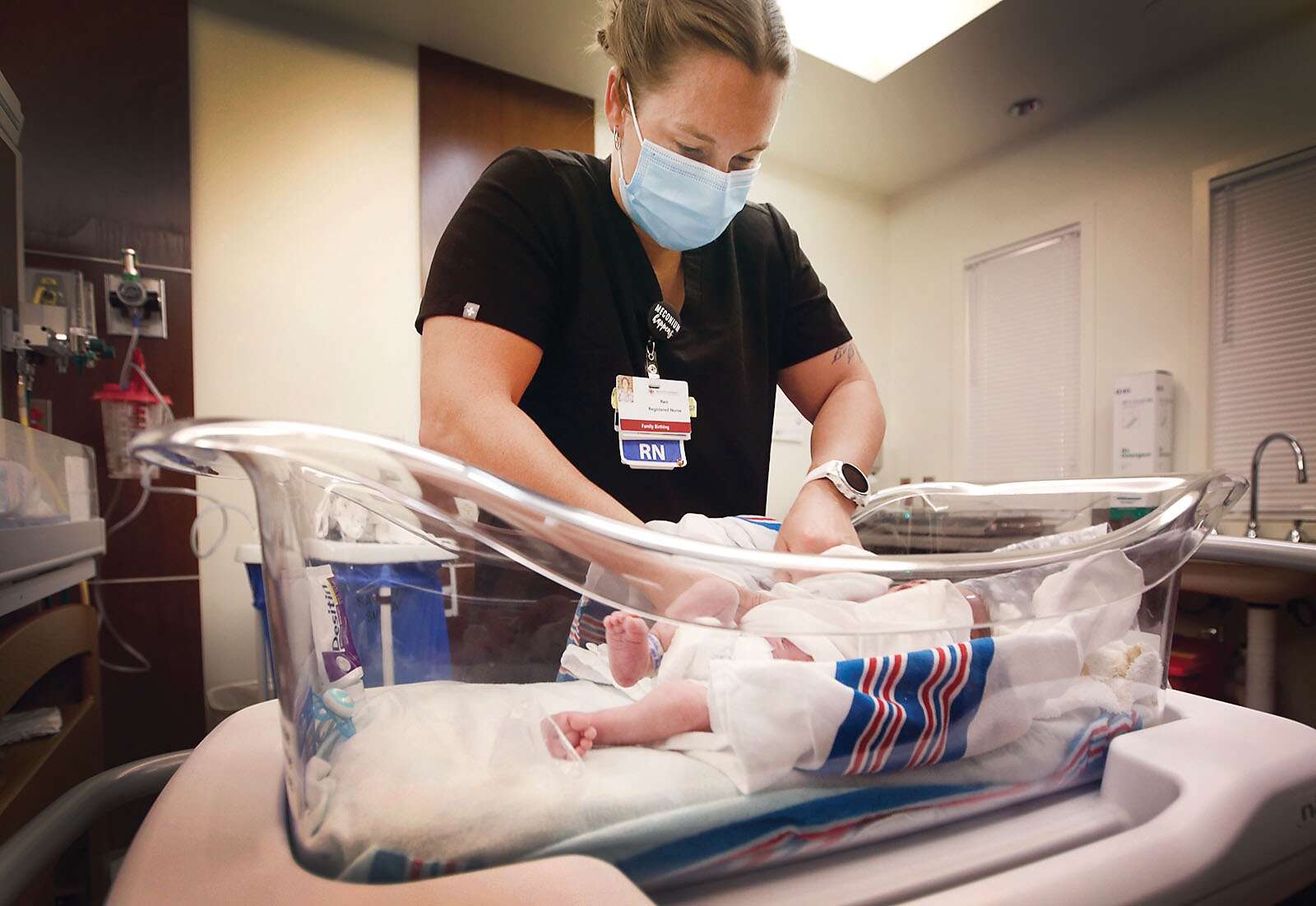 Hospital cites cost of center and falling demand
Southwest Health System on Wednesday announced that it would temporarily close its birthing center, raising fears among residents and physicians that the decision could put the health of women and infants at risk.
Southwest Memorial Hospital's birthing center will stop taking new patients at 7 a.m. June 28 and close on July 1, according to a news release from hospital public information officer Chuck Krupa.
No date to reopen the center was given.
Shirley Jones, who chairs the board of directors of Southwest Health System, attributed the closure to finances and demographics.
"We hope to evaluate and resume this service," Jones said in the news release. "Based on financial and staffing needs, we had to make this difficult decision to pause services."
The news release claimed that the hospital faces contributing factors of reimbursement cuts, an older population and low demand for obstetrical care, a decline or "trend in low birth volume" and difficulty in recruiting obstetricians or physicians with obstetrics training.
About 50 people attended a protest at the hospital on Friday, carrying signs with phrases like, "We need a birthing center here," "Keep our babies local," and "Care close to home, unless you are a woman." It was organized by former Southwest Health spokeswoman Lindsay Yeager.
And on Monday, Dr. Erin Schmitt and Dr. Jessica Kaplan, obstetricians and gynecologists at SHS, expressed their concerns and frustrations.
Both doctors said they fear for women in Montezuma County who rely on the hospital and birthing center for their care, adding that the closure creates life-threatening conditions for expectant mothers and other women.
They added that they were not given adequate notice about the closure, and found out without being asked for advice or any other guidance. Now, they only have three weeks to help patients find care in other facilities out of town.
"It is a true emergency. This is really dangerous for women in this area because we don't have the capacity to deal with it here," Kaplan said. "We're leaving our already overburdened colleagues and emergency department and EMS to deal with obstetrical emergencies and complex situations that they're not trained to deal with. There definitely are going to be patients for certain who deliver or who have emergencies that aren't going to be able to be treated in time."
The doctors also rebutted the claim that demographics such as an older population and lower demand for a birthing center could be blamed.
Schmitt said Southwest Memorial delivers about 200 babies a year, and Kaplan provided numbers for the past five years. According to hospital records, 168 babies were born at the hospital in 2018, 147 in 2019, 149 in 2020, 166 in 2021 and 140 in 2022.
These numbers, she said, have been too stable to say the birthrate in Cortez has declined.
Schmitt acknowledged that while there have been discussions for years about the financial stressors facing the hospital, women's care has always been a priority for the hospital and its staff.
"The administration has assured us that women's health is a priority here because there's kind of this mantra in health care that where the woman chooses to get health care, the family will follow," Schmitt said. "So, even though we've had financial troubles throughout the years, they always wanted to protect women's health. And that was always a priority."
Schmitt said she is "devastated." She doesn't understand how the hospital could veer away from women's health, especially since birth numbers are steady and growing.
She also raised concerns about labor emergencies and women who might not be able to make it to Mercy Hospital in Durango in time to give birth.
"How are they going to get patients to Durango, and what is the cost? Do you think labor and delivery is an expensive unit to keep going now? What are the helicopter and the ambulance fees going to be bringing all these patients up to Durango? How are we going to cover that?" Schmitt asked.
"We don't have enough at nurses now to take care of ... the patients we have in our community," she said. "What are we going to do when these women come in and labor?"
Schmitt and Kaplan also cautioned that tubal ligations, which are not offered at Mercy Hospital, will become limited in Cortez. According to Kaplan, because most tubal ligations take place immediately after childbirth, fewer tubal ligations will be provided in Cortez.
"There will now be no area in the Four Corners region where women can go to receive this. And if they want a tubal done at the time of their delivery, they would have to travel in Colorado potentially as far as Grand Junction," Kaplan said.
The hospital, meanwhile, has begun to reach out to the community at large.
Krupa sent a follow-up news release to The Journal on Friday, saying that the closure was a "difficult decision that was not made easily."
The news release noted staff shortages contributed to the difficulty, and they had considered the impact closing the center would have on expectant mothers.
It said that a labor and delivery unit was expensive and must be staffed 24 hours a day, all week, with a team of specialized nurses, physicians and assistive services.
"SHS has experienced staffing shortages within these areas, which has required travel nurses and locum physicians to meet the requirements to maintain this service," the news release said. "These shortages have certainly contributed to the overwhelming financial burden."
On Friday, Krupa said he hoped the birthing center's nurses and doctors would be willing to accept alternate positions in the hospital.
"Their skills and compassion for our patients and high-quality care, will be beneficial to our patients and the community for years to come while continuing to reduce the financial burden we are experiencing with traveling nurses as well as locum physicians," he said.
While the hospital won't be provide prenatal care and assist with births, Krupa noted that they would still offer other services for women in the area.
"SHS Southwest Medical Group (SMG) plans to continue the Women's Health Clinic where Drs. Schmitt and Kaplan practice. The Women Health Clinic will continue to offer OBGYN services such as well-women exams, pelvic exams, Pap tests, cancer screenings, testing for sexually transmitted infections (STIs), family planning birth control, prenatal care and issues with menstruation or menopause. Gynecological surgeries and procedures will continue to be offered at Southwest Memorial Hospital," he said.
SHS hospital plans to host a meeting at Southwest Memorial Hospital's ambulance bay on Thursday, June 15 at 6 p.m. During that time, citizens may address the hospital's board. Those who wish to attend can RSVP by emailing lallen@swhealth.org.