Frosty Hesson to share stories from new book at Maria's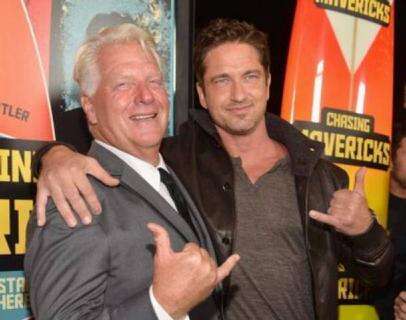 Opening the pages of Making Mavericks is like taking a foreign trip for many readers, especially those unfamiliar with the California surfing scene of the 1960s.
This memoir by Frosty Hesson – a truly unique man who is equal parts child, adult, slacker, hard worker, teacher, coach and mentor – is at once fascinating, heartwarming and heartrending.
Hesson opens with the story of Jay Moriarty and how he met the precocious 12-year-old who was destined to become a world-famous surfing star. Then Hesson takes readers back to his own youth and describes how he terrified his parents at the age of 3 with his total lack of fear and attraction to water.
Growing up in the 1950s, Hesson had an unsettled childhood. His hardworking father struggled to provide for the family and drank too much. His mother suffered from severe health issues and migraines. She was on various painkillers and often was out of it. Despite these challenges, both parents passed skills, attitudes and expectations that helped Hesson grow up sensitive, independent and tenacious.
As Hesson grew, his involvement with water sports expanded. He started swimming at 3, but years later when he joined the high school swim team, he discovered he wasn't that good competitively. He was determined to become better and began observing team members and other coaches, always looking to improve his time and technique. Coaching at that time was not very advanced, and cross-training to improve breathing and style was unheard of.
When he got to college, Hesson became a goalie on the water polo team. Unlike competitive swimming, water polo was a true team sport, and Hesson's worldview was expanded to consider what his contributions to the unit involved. In 1963, he discovered surfing on a family trip to the beach. He was enthralled, and for him, there was no going back.
While Hesson was in high school, his father had a stroke, and Hesson began giving swimming lessons to younger students to help support his family. He started to pass on some of his own training ideas to his students. He discovered a book by Dr. Maxwell Maltz that introduced him to the power of visualization. He took this concept and added the mental exercise to his training arsenal for himself and his students.
Hesson's wide range of experiences includes learning the construction trade to support his family, skiing and the distinction of becoming one of the first to surf the break at America's most challenging big waves at the Mavericks. The Mavericks are close to San Francisco and Half Moon Bay and were not even really discovered until 1990. The region boasts waves that range from 20 to 80 feet high. The big waves only form in the winter and were long considered unsafe to ride.
In Making Mavericks, Hesson treats readers to an up-close and personal introduction to surfing. He shares the secrets of how to surf successfully and offers insights into the rarefied world of big-wave riding. He describes how the sport evolved from the early days when only few people were tuned in to surfing and there was little if any money to be earned by the enthusiastic participants.
Hesson's relationship with Moriarty began when the youth approached him at the beach and asked for help to learn how to surf. This began a relationship that evolved from a casual encounter to a lifetime (Jay's) of coaching, mentoring and, finally, a father-son connection.
Moriarty was religious in following Hesson's lessons and achieved greatness in the surfing community. Tragically, he died deep-diving the day before he was to turn 23.
Moriarty was more than an athlete; he was generous, good-humored and enthusiastic in his sport. Hesson believes "it's easy to make a good athlete. It's very hard to make a good human being."
Despite, or maybe because of, Hesson's less-than-traditional approach to life, he comes across as a deeply caring man who feels driven to share his views about living as a fully realized human. The epilogue contains some of Hesson's life lessons that he shares with others.
Hesson is just one of many from the surfing community who want everyone to "live like Jay." This memoir is a thought-provoking and inspiring read.
sierrapoco@yahoo.com. Leslie Doran is a local freelance book reviewer.
Making Mavericks by Frosty Hesson with Ian Spiegelman, Skyhorse Publishing, 320 pages softcover, $16.95. Hesson will speak and sign copies of the book at 6:30 p.m. Monday at Maria's Bookshop, 960 Main Ave. For more information, call 247-1438 or visit www.mariasbookshop.com.