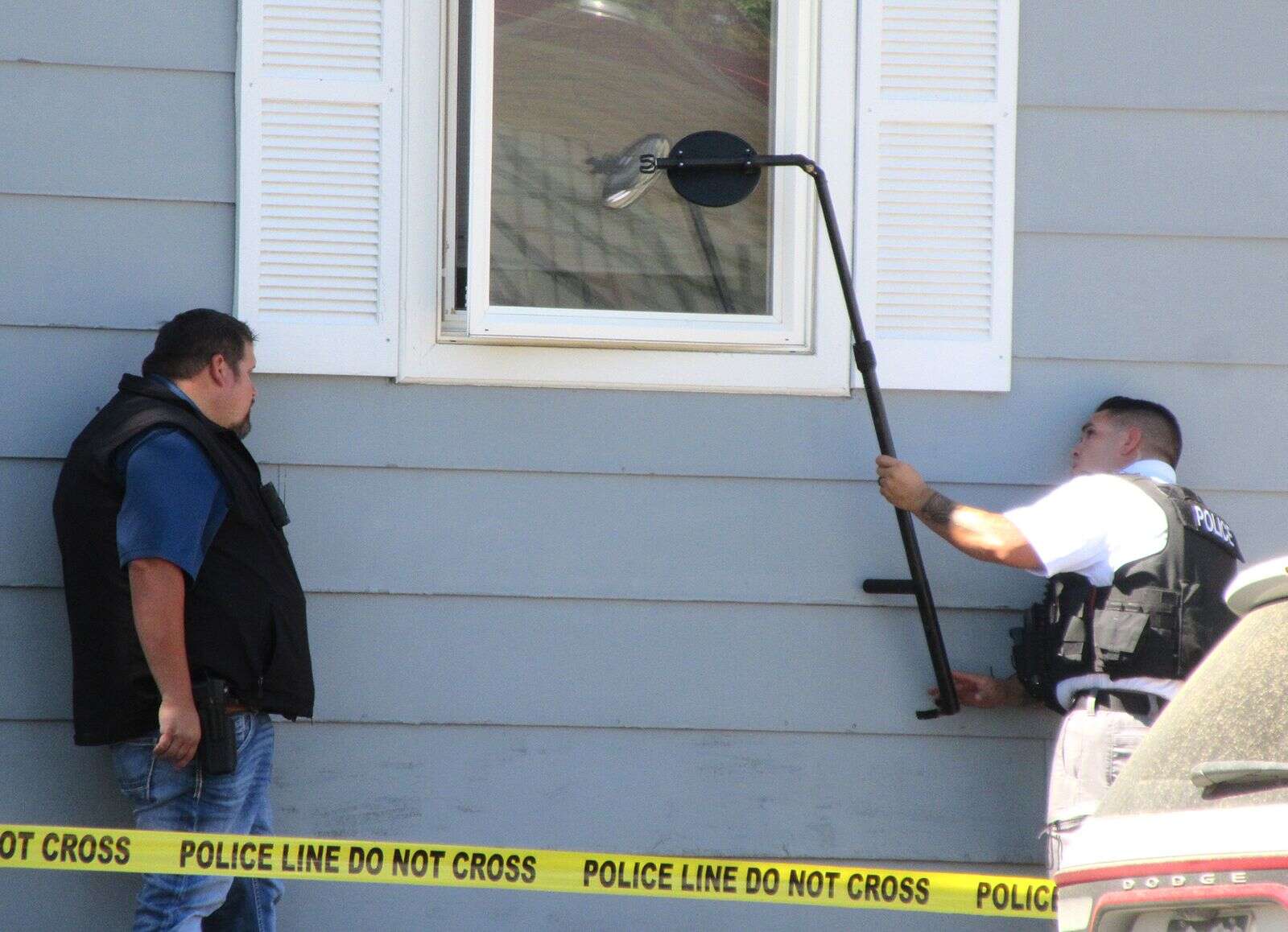 Incident caused five-hour standoff at residence and triggered evacuation of Kemper Elementary
The Cortez Police Department has obtained an arrest warrant for a man being investigated for a shooting that injured a woman at a residence Wednesday on Montezuma Avenue and prompted the evacuation of Kemper Elementary.
Gerardo Arturo Federico, 43, is accused of violation of a protection order and possession of a weapon by a previous offender, according to the arrest affidavit.
As of Thursday, Federico had not been located, said Cortez Police Department Chief Vern Knuckles.
Assistant District Attorney Will Furse said Thursday that formal charges against Federico would include first-degree assault, violation of a protection order and possession of a weapon by a previous offender.
Federico is a suspect in a shooting that injured an adult female outside the residence, the affidavit says. The incident triggered a five-hour standoff and the evacuation of nearby Kemper Elementary.
The school was put on lockdown, then evacuated at 1:30 p.m. Students were led out on foot and walked east on Montezuma Avenue to the Cortez Public Library, where they were picked up by bus or parents.
East Montezuma Avenue was closed until 5:25 p.m. from Park Street to Harrison Street.
Based on the investigation and witness accounts, police believed Federico was still in the house, on the northwest corner of North Adams Street and East Montezuma Avenue directly, west of the school. Police tape surrounded the home and was strung across North Adams Street.
Police surrounded the home, and officers standing at the open front door repeatedly called for Federico to come out with his hands up.
A five-hour standoff ensued as they tried to persuade him to leave the house. After several hours, pizza was delivered to police officers at the scene, and was offered to the suspect inside as well.
After several hours, they still had heard no response, and further investigation led police to question whether Federico was in the home, Knuckles said.
During the standoff, the Cortez Police Department twice sought a search warrant to enter the home and look for the subject, but both requests were denied by Montezuma County Judge JenniLynn Lawrence, according to Assistant District Attorney Will Furse.
Judges consider arrest warrants submitted by law enforcement officers based on sufficient probable cause.
According to the arrest affidavit, police initially responded to 546 E. Montezuma Ave. after reports of an altercation and shooting. A female was shot in the leg.
The gunshot victim left the scene in a car driven by another female. The car was pulled over at by Cortez police officers at Empire Street and North Mildred Road. Medics were called to the scene, and the injured woman was taken to Southwest Memorial Hospital, police said Wednesday.
At first, Federico's estranged wife claimed she was the shooter and the gun accidentally went off during the altercation. She later changed her story and said Federico was the shooter, according to the affidavit.
Another witness said the victim also identified Federico as the shooter, the affidavit stated. Protection orders prohibit Frederico from having contact with his wife. They also state he cannot possess a firearm.
During a media briefing at the scene Wednesday, Knuckles added that a 9mm handgun had been retrieved from the house's yard.
Communication from the schools
The situation at the scene and communication from the Montezuma-Cortez RE-1 school district evolved quickly, beginning just before noon Wednesday.
The school first went into lockdown about 11:20 a.m., according to a news release from Lis Richard, assistant superintendent and safety officer for the school district.
The original news release from the school district, emailed at 12:10 p.m., said nobody was allowed to enter or leave the school building.
"The incident was quickly resolved, staff and students are safe, and Kemper is now in full operation," it said.
However, a news release from the district, emailed at 1:44 p.m., said the school went back into lockdown at 12:15 p.m., and that students would be dismissed at 2 p.m. from the library. Parents who picked up children would need to show identification, it said.
A large contingent of local first responders were at the scene, including the Cortez Police Department, Montezuma County Sheriff's Office, Colorado State Patrol, Cortez Fire Protection District, and Southwest Health System and Ute Mountain ambulances.
The DA's office released the following statement regarding the case:
"If you have any information on this case, or the whereabouts of Gerardo Arturo Federico, please contact the Cortez Police Department at 970-565-8441. Do not attempt to apprehend this person yourself; this individual is considered to be dangerous and may be armed."
School officials did not respond to questions from The Journal about how the school day went Thursday or Friday.
Kemper Elementary School Principal Kathleen Nelson deferred all questions to Superintendent Risha VanderWey.
VanderWey did not respond to requests for comment Thursday or Friday, including an email that included questions about how school proceeded after Wednesday's incident, how the shooting was explained to Kemper students, how students were briefed at other schools in the district, and whether counseling was offered.