Uncertainty is the only path forward for many camp inhabitants
Purple Cliffs residents were nervous and distraught Friday as eviction hung over their heads, as did a survey drone deployed by La Plata County Sheriff's Office. With just 72 hours to clear out their belongings, one key question remained on many people's minds:
"Where am I supposed to go?"
Most people living on the cliffside hadn't yet answered that question Friday, said Erik Carney, a Purple Cliffs resident.
He said the Purple Cliffs homeless camp was a "saving grace." He moved to Durango from Montrose about a month ago because he was looking for a place where he could safely get back on his feet without being bothered by police. Purple Cliffs was a place for him to get his bearings, but that is changing.
He said the only people he knows in Durango also live at Purple Cliffs. And for people like him, uncertainty is the only path forward.
"Where are we going to go? What do they expect us to do? People like me, I don't know. I've been freaking out. I don't know what to do," he said. "It's like no matter what, (I) just can't catch a break."
By 9 a.m. Friday, several La Plata County Sheriff's Office deputies had gathered on east La Posta Road (County Road 213) out of sight of the Purple Cliffs homeless camp. In another hour they'd walk through the campsite to pin notices on tents, shelters and fences warning residents to vacate within 72 hours.
In June, La Plata County set Friday as a self-imposed deadline to close Purple Cliffs. The announcement took city of Durango officials by surprise. The two governments held joint meetings to identify a new temporary or permanent location for a managed camp, but no workable solution was hammered out.
Rachel Gallegos, who has lived at the cliffs for about a month, said Purple Cliffs saved her and her boyfriend. She is originally from Pagosa Springs and moved to Durango about a year ago. Rent is "so expensive," she said.
"We had nowhere to go and they truly, really helped us a lot," Gallegos said. "If it (Purple Cliffs) gets shut down it's going to be bad. All the homeless people here are going to be on the streets in town and it's not going to be good."
About 50 people were living at Purple Cliffs as of Sept. 16. That was down from about 180 people living there during the peak summer season.
She said nobody knows what to do, including her and her boyfriend, and with winter on its way, people are "freaking out."
Joe Brady, a resident of the cliffs of 3½ years, said the rights of Purple Cliffs residents are being violated with the closure of the camp, the seizure of property if people don't vacate and the lack of alternative shelters. When people die this winter from exposure, he said, responsibility will lie with local leadership.
"The winters are brutal here. People will die," he said. "... There are people who will die of exposure and the blood will be on the hands of those who will do this without a plan, a proper plan to fall back upon. And this is what this is boiling down to."
Royce Cowan, a Durango native who found himself living in Purple Cliffs because he couldn't find an affordable apartment that would also accommodate his three dogs, said the city and county should at least tell residents where they can go.
"They're pushing people out of town," he said. "I'm from Durango. Where am I supposed to go? I grew up here. This is my hometown."
Brady said Durango is "expensively brutal."
"There's a push to move the fringe out of places that they don't want people that don't have any money to stick around," he said.
He compared Durango to what Telluride has become – one practically needs a credit check just to walk down the street, he said.
"We're not trying to be bums out there. We're not trying to be transient," he said. "We work. It's just an expensive town to live in. It's unrealistic."
Kathleen Van Voorhis, community strategy director for Project Moxie, was on-site Friday with other Project Moxie members and members of Axis Health System to provide medical aid and keep residents informed about law enforcement activities throughout the morning.
She advised residents that law enforcement cannot rummage through their belongings without permission. When she noticed the survey drone buzzing above the camp, she sighed.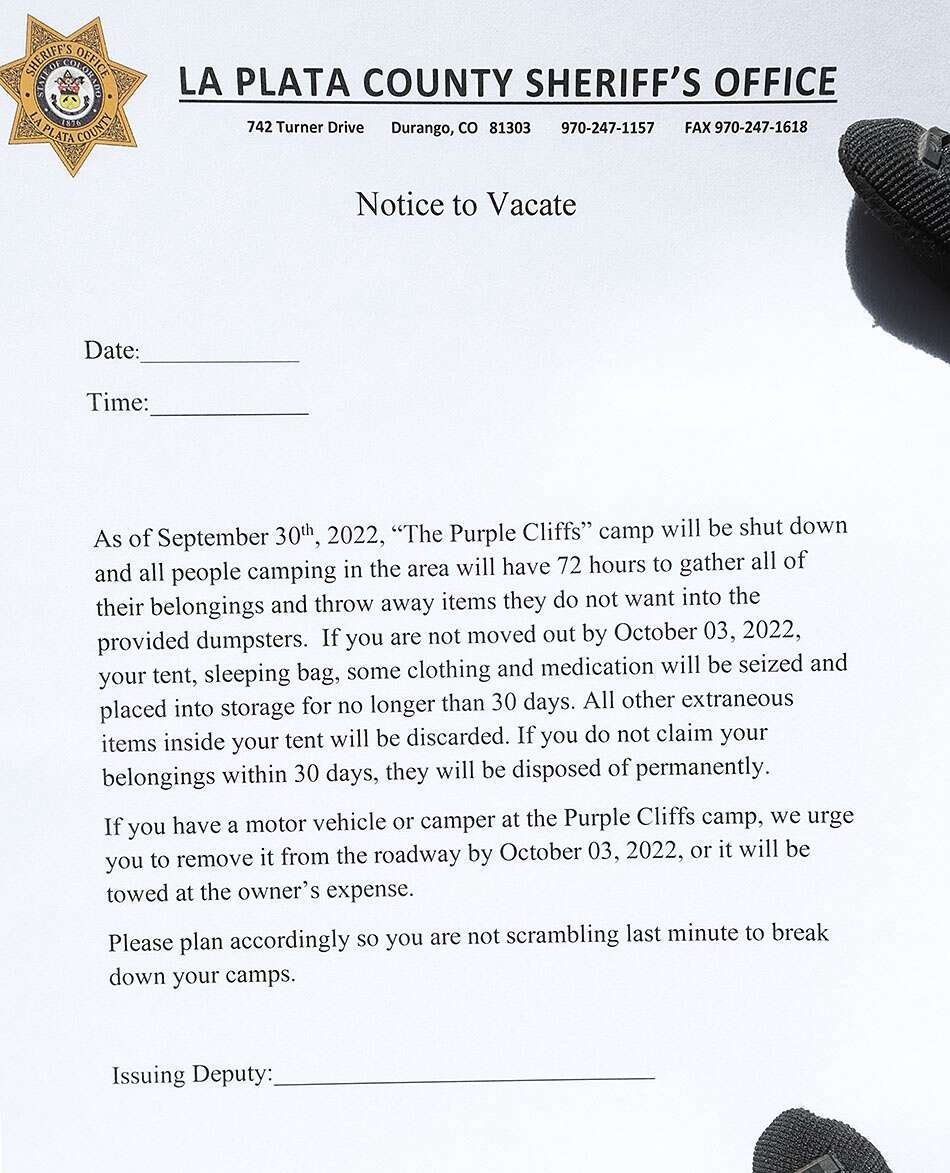 Van Voorhis, who is nationally certified to provide trauma-informed care, said the closure would be better served by people out of uniform.
Most residents would probably say they are happy to move to another campsite if they are no longer welcome at Purple Cliffs – but they need a place to go, she said.
She said law enforcement and people in uniforms can be triggers to veterans.
"We do have a population of vets and brain injuries that are still out here," she said. "Either that or people who served their country and are easily triggered because of the horrific wars in Afghanistan and Iraq that they witnessed."
She said it would probably have been better to not fly drones during the procedure. Veterans who might not necessarily have a support net had made a peaceful home out of Purple Cliffs.
"If you trigger them, just like anybody else – if you piss somebody off enough that you hit a trigger point – it's human nature (to have a reaction)," she said.
'Wrong as a legal matter ... terrible policy ... and completely cruel'
Annie Kurtz, staff attorney for the American Civil Liberties Union of Colorado, said La Plata County and the city of Durango risk legal liability by displacing Purple Cliffs residents for sleeping outside or in rudimentary shelters when they have nowhere else to go.
"The government is essentially deliberately indifferent to the real harm from just pushing people out, tearing down their homes, without giving them any place to relocate to safely," she said. "The local government exposes itself to liability for violating people's civil rights and constitutional rights under both the state and federal constitutions."
She said federal courts have found similar actions by other cities to be unconstitutional.
Local governments sometimes seek quick solutions to issues with homelessness, such as the nonnegotiable closure of Purple Cliffs, Kurtz said, and those solutions end up doing more harm than good.
Such solutions turn to "policing first approaches that criminalize homelessness," she said. In turn, racial disparities are exacerbated and people are traumatized; they lose their belongings and ID's and become disconnected from services. The end result is often more homelessness, not less of it.
Kurtz said the ACLU's position on the Purple Cliffs closure and lack of action from the city is this: "This is wrong as a legal matter, it's a terrible idea from a policy standpoint and it's just completely cruel. Especially as we are just heading into winter."
A sense of community
For some unhoused residents at Purple Cliffs, the homeless camp offered something they hadn't found elsewhere: The sense of a tight-knit community.
Carney said people at the camp like to watch out for each other. The community doesn't have a designated leader and so they take care of each other. Carney's favorite thing to do is help people, or "do the heavy lifting," he said.
On Friday morning, Van Voorhis was bandaging Carney's right hand. He said he had smashed several fingers while helping a friend move boxes from the cliffside to a truck parked on La Posta Road. As Voorhis worked on his injured hand, Carney snacked on a bagel. He said the bagel was probably the only thing he'd eat that day.
"We like to help each other out. We watch out for one another," he said.
Carney said he plans to keep in touch with the friends he made during his short stay at Purple Cliffs.
Brady said Purple Cliffs is "exemplary" compared with other camps across the country.
He said there was one incident in which a stranger, not a resident of the camp, brandished a gun at residents. The residents ended up disarming him.
"There's a group of people up there that depend on each other now after a certain amount of time," he said. "It's just human nature."
Brady said he understands sheriff's deputies and law enforcement tasked with clearing out Purple Cliffs are just doing their jobs, but if residents' rights are being violated and they have a leg to stand on, Brady will stand on it.
"At least tell us where we can go," Cowan said.
cburney@durangoherald.com