Against mountain backdrop, former CIA agent weighs in on national issues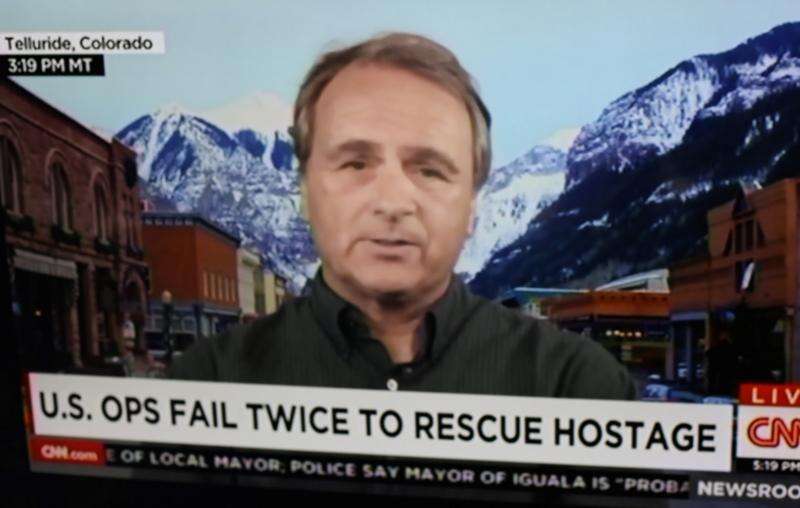 Telluride, a mountain town of 2,400 known for its winter sports and summer festivals, has been a destination for outsiders.
But since last week, it has been the point of origin of world-news commentary that keeps outsiders glued to the local Telluride TV media center.
There, CNN national security analyst Bob Baer, who has a home in the region, has provided insight into the report on CIA interrogation of suspected terrorists, the failed Navy SEAL rescue attempt of an American photojournalist in the Middle East and the transfer of Guantanamo Bay detainees to Uruguay.
Baer's voice could be coming from anywhere. But a recently purchased green screen cyclorama, a device that inserts a background separate from what is being filmed, shows Colorado Avenue with 10,033-foot Ajax Peak in the distance.
The iconic background scene demonstrates that Telluride can provide professional broadcasting services on short notice, said Katie Karow, executive director of Telluride TV.
Baer approached the station about enhanced facilities, Karow said. The media center's previous direct-feed capability was too slow for CNN.
The recent expansion of its quarters in Telluride High School gave Telluride sufficient space to install the green screen, a TriCaster that permits multicamera shoots, and an LTN Global Communications video transport, Karow said.
CNN suggested LTN because it provides a high-quality feed without delay, Karow said.
The new equipment accommodates the needs of Baer, who has been broadcasting about four times a day, and offers professional communication services to celebrities living in or visiting the area and film crews that come to shoot, Karow said.
"It means that anyone who needs this type of service can enjoy all that Telluride has to offer, book the studio for an hour to be broadcast and then return to what they love about this town," Karow said.
daler@durangoherald.com