Durango transplant seeks to become the go-to website for secondhand adventure trip toys
Chap Grubb's idea to create an online exchange for used outdoor gear came about 2½ years ago when his wife asked him to clean out the garage.
Getting rid of his accumulation of 20 years of equipment from backpacking, rock climbing, cycling and other pursuits seemed overwhelming.
"What am I supposed to do with all this?" he asked himself.
Grubb and his wife, Samantha Grubb, were living in Taos, New Mexico, at the time when the idea for his business, Rerouted, sprouted from his garage cleaning chore.
Grubb realized no great, smoothly-functioning website existed to easily buy and sell used outdoor gear.
"It was going to be difficult to be able to sell it online," he said. "And even if I did, it was going to take driving, meeting strangers, doing all sorts of inconvenient stuff.
"I'd spend a month of my time make 250 bucks off of a whole garage full of gear. It just wasn't worth my time, energy or effort," he said. "Then it's like, 'Well, great. My other choice is the landfill.' And that seems outrageous; it's perfectly functional gear."
The experience led him to take the first steps to create Rerouted, an online exchange that would easily link buyers and sellers of used outdoor gear.
Rerouted not only aims to serve individuals looking for used gear, but also to provide the best online option for used gear stores across the country, like Durango Outdoor Exchange.
In 2019, Grubb said he tried to sell his toys at rock climbing and skiing events, basketball tournaments, basically any sporting-related gatherings across the West, but it took COVID-19's arrival in March 2020 for him to realize the answer: It wasn't a physical interaction or even a warehouse-type business where he should store and sell the used gear.
"I realized the problem was so much bigger than just my garage," he said. "Everybody has used gear sitting around, and it's so hard to get any real value in reselling it. There's no way to make it cost-effective and efficient for the seller."
Instead of the flea market model, what was needed was an easy-to-use website that provides shoppers with accurate specifications about the used gear and sellers with an easy-to-use platform to sell their no-longer wanted gear.
"Essentially, we want to be the Shopify for used outdoor gear stores," Grubb said.
Elizabeth Marsh, director of the Southwest Colorado Accelerator Program for Entrepreneurs, said Rerouted is a scalable solution to a problem that many people can identify with – either finding specific outdoor gear they need, or finding a new home for equipment clogging their garage.
"SCAPE is impressed by the experienced and dedicated team of Rerouted, and their understanding of the market and how to be a valuable platform," she said.
About two months ago, Grubb and his wife moved to Durango, where they plan to locate Rerouted as its permanent home. The prime reason Grubb chose Durango was to participate in SCAPE.
Rerouted currently has 10 employees, largely for developing the technology – refining and streamlining entry of outdoor gear on the website.
Grubb said SCAPE has been especially helpful in boosting the firm's technology capabilities. Also, the ability for the company to make pitches to regional investors will aid its growth, and it is something that would have been difficult for Rerouted to organize on its own.
"Last month, we literally listed our house in Taos to move here because of SCAPE," he said. "They said, 'Do you want to be part of our program?' We said, 'Sure thing; we'll move up to Durango.'"
Marsh said SCAPE was introduced to Rerouted by a partner group, the New Mexico Angels, a group of statewide investors in startups.
"Chap relocating his business to Durango is a great testament to the entrepreneurial community," she said. "Business founders are looking for industry advisers, active investors and local resources to help them succeed and we are honored he saw the offerings of Southwest Colorado as conducive to his needs."
Seasoned business executives offering mentoring in areas from finance to marketing and technology are a big reason startups find SCAPE valuable, Marsh said.
SCAPE has seen its mentor network and its investor network grow by 25% per year, Marsh said.
Rerouted has an early version of its website up, and it is currently offering listings of used gear for free without taking commissions on items sold. But as the website is refined and a good inventory of gear is registered, Rerouted will begin charging a 10% commission on sales.
Grubb said the problem with selling used outdoor gear is that the buyer wants specific information about skis or a kayak or rock-climbing gear.
Grubb wants Rerouted's website to house a database of outdoor gear so a seller can enter an item, its make and model, and Rerouted's software will automatically provide accurate specifications and details about it for sellers.
Selling used clothing online, Grubb said, is fairly easy – take a picture of it and let people know its size.
But with outdoor gear, detailed information readily provided with a photo ensures confidence with buyers that they are getting the right product with the right performance attributes to meet their needs.
Rerouted currently has an "uploader" with which sellers can enter detailed information about their used gear.
Eventually, Grubb wants Rerouted's uploading software to recognize makes and models to automatically provide detailed product specifications to minimize data entry for a seller.
"Right now, we're having all of our users upload as much information as they can get, then we're going and we're filling in what we can. In the long term, the software will do that for us," he said.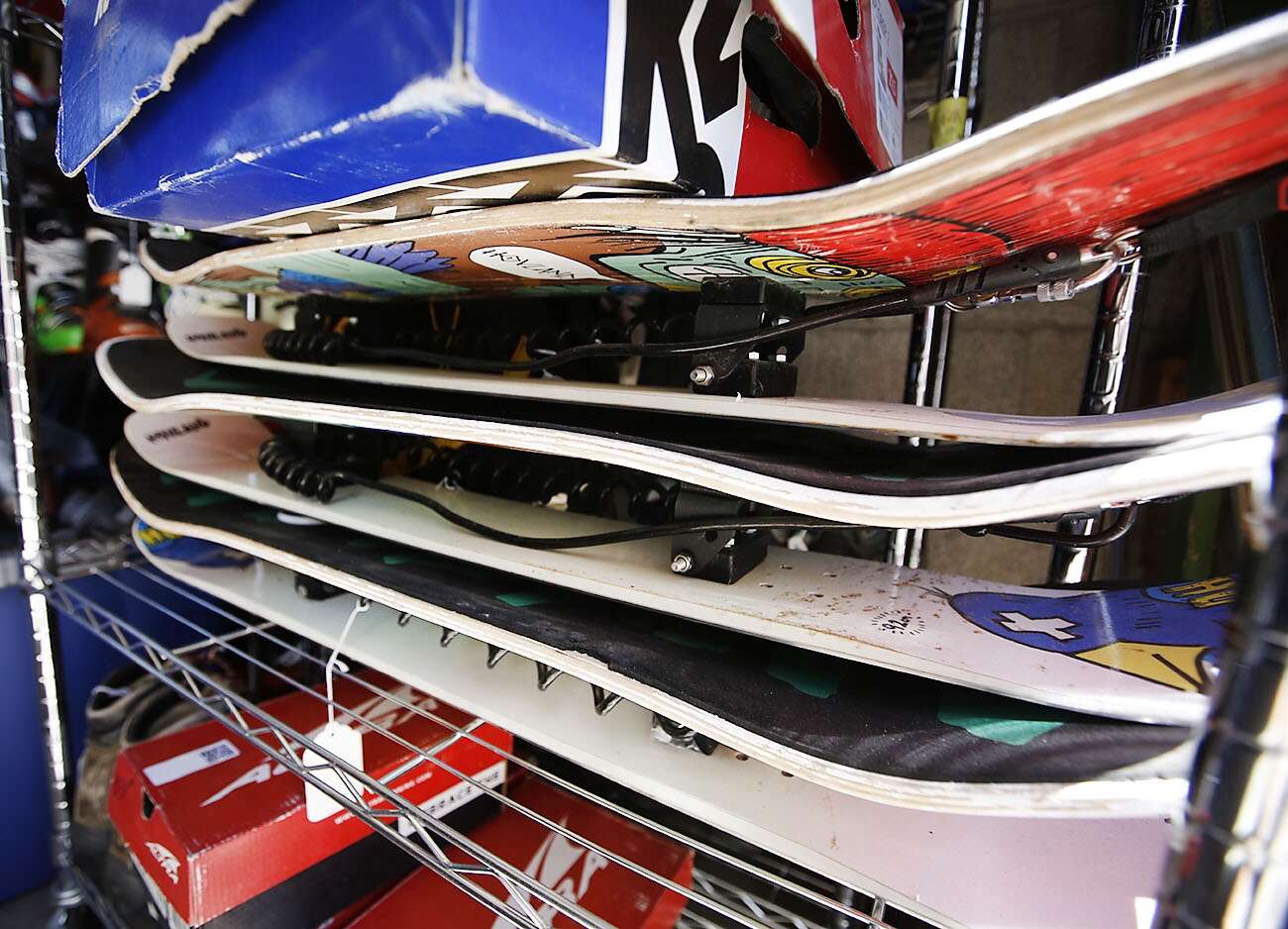 As more gear is entered into Rerouted's website, Grubb wants the software to be able to recommend a price for an item based on past sales.
"As more and more gear goes through our system, the more and more we will learn, and we can say: 'Hey, guess what you don't need to price. We can tell you how much this is going for,'" he said.
"You can take a picture of the item and maybe check a few boxes, and we can tell what make and model it is, what its weight is, what the dimensions of it are. We can kind of fill in all these information gaps."
Currently, Rerouted is emphasizing individual listings on its website. But it also would like to begin working with used outdoor gear stores across the country – to boost their online sales.
Grubb said most used gear stores currently sell only a small portion of their items online. He wants Rerouted to provide a platform that makes it efficient for them to use and worth listing even if they pay a 10% sales commission.
"The whole idea is empowering any person or any business to easily sell used gear on the internet," he said.
"The Catch 22 is building the information, to get more people using the site so we learn more and more – so we get people what they are looking for. I don't know if you've ever used Craigslist to buy a bike or a pair of skis; 9 out of 10 times, you're not going to find what you're looking for."
parmijo@durangoherald.com