Two cooks at the brewery's restaurant think deeply to pack their dishes with flavor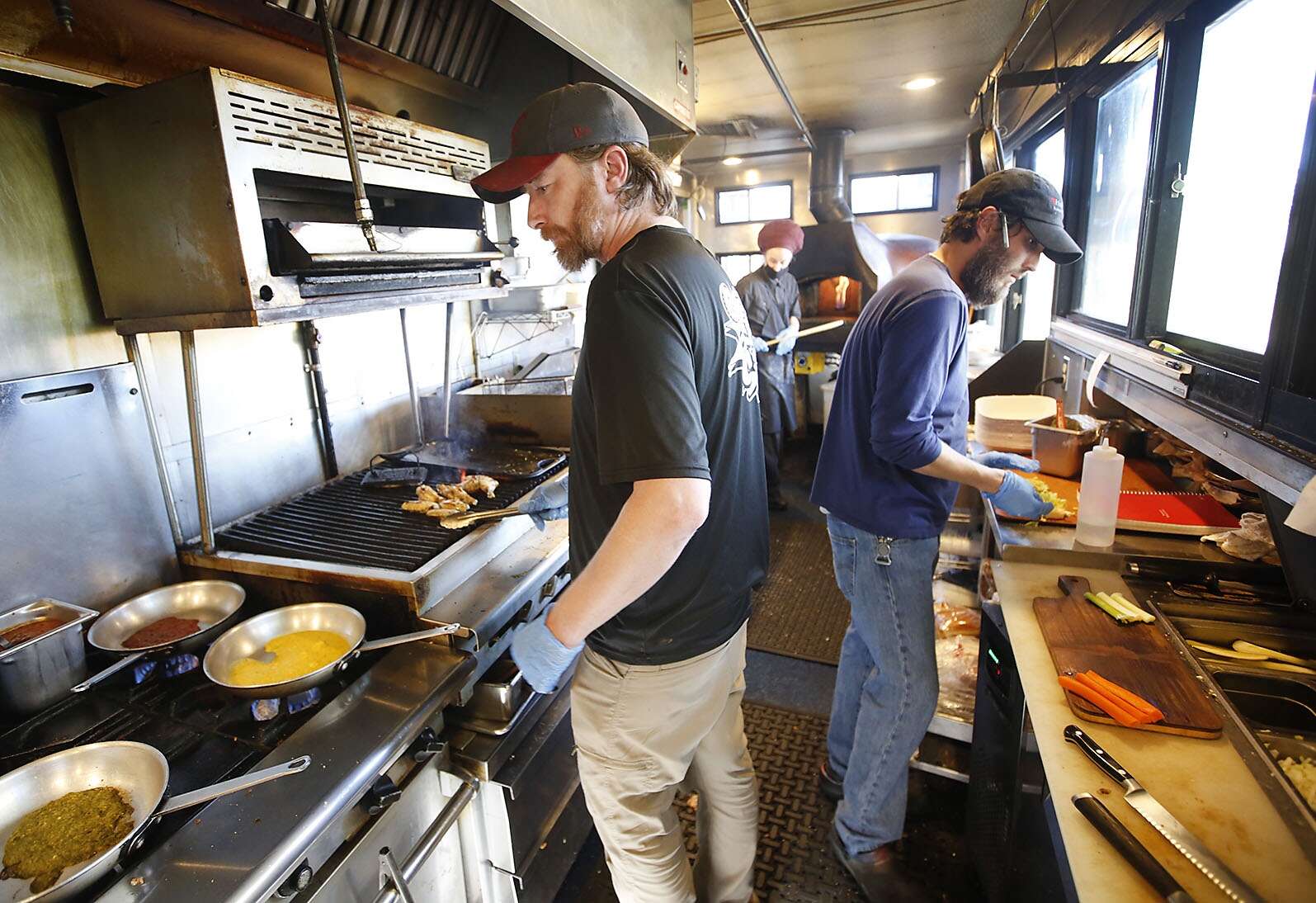 Ska Brewing Co. cooks Jeffery Lewis Clark and Shaun Keeney treat food like a blank canvas and paint with sauces and seasoning.
They act as the research and development team for Ska's menu. The two regard cooking as an art, and appreciate that Ska lets them be as creative as possible when developing dishes for the menu.
"Cooking is an art and it's a craft at the same time," Clark said.
Keeney and Clark said when they're thinking about sauces and dishes, thoughts can marinade for a while before the right idea hits.
"For some reason, it kind of just bubbles up inside of me, and gets to the top part of my brain," Clark said. "When it happens, you do get kind of obsessed with it."
Ska's menu takes advantage of the fact that it was a brewery first, with most dishes using beer as an ingredient in some way. Keeney said using beer in sauces and recipes is an added challenge when working on new items for the menu.
"The extra wrinkle for us oftentimes here is the beer itself," Keeney said. "It's bringing all that bitter to begin with, and you're not necessarily trying to fight against it, but really balance it. Plus you have to think about how that adds to whatever protein you're working with, and see if that plays."
The Rude Boy Mustard is Clark's favorite sauce he's made at Ska. The house mustard uses Ska's Moral Panic Brute IPA, but when Clark first started making, it he used the Rudy IPA.
"We don't produce the Rudy IPA anymore, and that was actually my call to switch it to the Moral Panic," Keeney said.
When thinking about pairing a sauce with a meal, the two said most of the time they think about whether to contrast flavors, or highlight the flavors that are already present.
"Sometimes, you just get lucky," Clark said. "Mostly, you have to figure out if you want to go with it or against it."
Clark said one of his luckiest pairings was a Nut Brown Ale Tomato Soup.
"I didn't think that it was going to work," he said. "I thought maybe the brownness of the nut might team up well with some tomatoes, and it turned out to be a very conducive pairing."
One of Keeney's current dishes that he said he's proud of is his Jerk Wedge Salad.
"I had it stuck in my head forever that if we took our jerk marinade we use for our wings and brushed some lettuce with that, we could make a grilled wedge that features a lot of the same flavors as our chicken wings, but it's still a salad. So you feel good about yourself," Keeney said. "That one is awesome."
When Clark thinks about making a sauce, he considers three things: how the sauce first hits the palate, the body of the flavor and how it finishes.
"If you're making a salad dressing, you really want a sharp punch on the front end to highlight the vegetables, and then finish up with a little bit of spice," Clark said. "If you're making a marinade that's oil-based, that body is going to be oily all the way through. It's really a roller coaster."
Currently, the two are working on a new jerk chicken sandwich and a variety of new sauces for Ska's chicken wings.
Keeney said the jerk chicken sandwich he's working on isn't the one Ska regulars will know from a previous menu.
"I'm working on that pretty hard," he said.
A new veggie pizza that incorporates fresh local produce and Keeney's roasted garlic green chile aioli is also on their radar.
Most of the new wing sauces Clark is working on are still top secret, but he did talk about one he's calling the Face Smelter.
"It's supposed to be over-the-top hot. I combined an obnoxious amount of grilled habaneros and coconut milk for the base," he said. "It almost has a little bit of a Thai feel to it. It balanced out really well, and it has a very vibrant yellow color, as well."
Staple flavors Keeney and Clark often work with include Caribbean spices, green chiles, thyme leaves and classic Italian spices, such as dried basil.
"We know where we live, and if all else fails, just put bacon and green chilies on it," Keeney said.
Clark said he worked for five years making gourmet mustard for a commercial condiment company, which helped him develop his palate.
"I was focused mainly on mustards, but I made a great impression with the president of that company and he put me in the tasting department," Clark said. "Every hour every day I'd have a spoonful of mustard and try to figure out what they forgot in the batch."
Growing up, Clark spent a lot of time at the construction sites his father worked at, and decided at a young age he wanted to find a job that allowed him to be inside during the winter. At 14, Clark got his first job at a burger restaurant and has worked as a cook ever since.
"When I was 14 years old, I decided I didn't want to work outside in the winters anymore," Clark said. "In 1994, I got my first cooking job."
Clark's journey as a cook took him all over the country before coming to Ska. While helping a friend open a restaurant, he met Keeney.
Keeney got into cooking professionally after earning a master's degree in English and deciding he didn't want to continue to get his doctorate.
"Like a lot of people, I started waiting tables, and one day my brother asked me 'what are you going to do, you can't wait tables forever,' I said screw it, I'm a good cook, I'll cook," he said.
Clark made his way to Ska after a friend of his from Portland, Oregon, told him about the brewery opening its restaurant. He invited Clark to help him get things rolling with Ska's restaurant, and Clark brought Keeney along.
"(I) was working in Washington, D.C., when I got a call about Ska, and on my way over to Colorado, I stopped in Texas and grabbed this guy," Clark said.
Clark said one of the things he finds rewarding about being a cook is being able to interact with people on a sensory level, without even meeting them.
"I like that it appeals to all five senses. The fact that it completely appeals to strangers is really great to me," he said. "It's just nice to not have to meet people and still know I'm making their day."
njohnson@durangoherald.com