Teams' free-agent safety valve is backfiring in 2014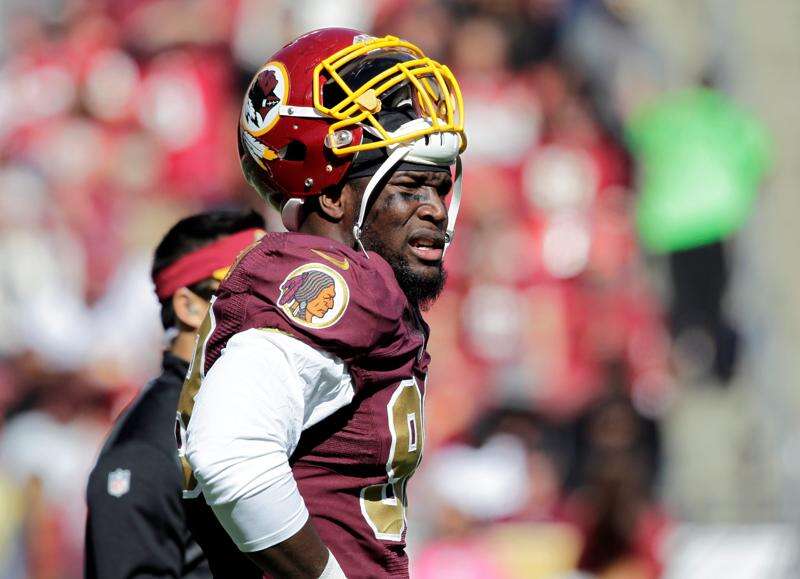 The NFL's franchise player tag originally was conceived as a mechanism to ensure that a team would not lose its top player, such as its centerpiece quarterback, in free agency without having the option to keep him.
It has evolved into something far different. Teams now use the tag, in many cases, as a one-year solution to keep a good but hardly indispensable player from hitting the open market.
Franchise tags were used sparingly league-wide this last offseason. Only four players were tagged as franchise players by their teams earlier this year: New York Jets kicker Nick Folk, New Orleans Saints tight end Jimmy Graham, Carolina Panthers defensive end Greg Hardy and Washington Redskins linebacker Brian Orakpo.
They were expensive decisions for their teams, just as the system intends them to be. And, for the most part, they are decisions that haven't worked out as the teams hoped, at least so far. Here's a look at what has happened this season with the franchise-tagged players:
Nick Folk, K, Jets
The Jets put their franchise tag, worth $3.556 million, on Folk after he connected on 33-of-36 field goal attempts and all 27 of his extra points last season.
And, actually, Folk is having another excellent season. He has converted 13-of-14 field goal tries and 10-of-10 extra points.
But the curse of the 2014 franchise tag affected even him last Thursday night. The Jets hurried down the field late in the game at New England and gave Folk a chance to win it with a 58-yard field-goal attempt. But Folk's kick was blocked, and the Jets lost to the Patriots, 27-25.
The NFL later defended the actions of an official who nudged New England's Dont'a Hightower before the snap on Folk's kick, warning Hightower not to line up directly across from the center and incur a penalty that would have given Folk another attempt.
It was, perhaps, just another sign that very little is going right this season for those players given the franchise player tag last offseason.
Two other players, Cleveland center Alex Mack and Pittsburgh linebacker Jason Worilds, were given the transition-player tag by their teams in the offseason. Mack is on the injured-reserve list after suffering a season-ending broken left fibula during an Oct. 12 win over the Steelers. Worilds has two sacks in seven games this season after getting eight sacks in 15 games last season.
Jimmy Graham, TE, Saints
Graham was one of the league's most productive pass catchers the previous three seasons, and the Saints had no intention of allowing him to go on the free-agent market. The issue all along was how much it would cost them to keep him put, and it became combative at times.
The Saints used their franchise player designation on Graham and tagged him at the prescribed level — $7.035 million for this season — for a tight end. Graham and his representatives contended that he was used more like a wide receiver by the Saints, and he deserved that position's much higher franchise figure of $12.312 million.
Graham filed a grievance. An arbitrator ruled in the Saints' favor. Graham appealed. But before his appeal was resolved, it became moot when he and the team agreed to a four-year, $40-million contract. Graham and the Saints arrived at the team's new training camp in West Virginia and declared the rancor behind them.
"So, the deal gets done," Saints' general manager Mickey Loomis said during training camp. "And the first time I saw him, I said, 'Hey, are we punching it out, or are we hugging it out?' He said, 'Oh, we're hugging it out.' So, I think that tells you what you need to know."
But little has gone as scripted for the Saints since camp. Thought to be an NFC heavyweight entering the season, they are 2-4. They're winless in four games on the road. Only the woeful state of the NFC South, in which first-place Carolina is 3-3-1, is providing reason for optimism.
Graham has 34 catches for 376 yards and three touchdowns. That puts him on pace for 91 catches for 1,003 yards and eight touchdowns this season. That's not bad. But it's not up to last season's 86-catch, 1,215-yard, 16-touchdown standard.
He had 32 catches in the season's first four games but only has two catches in two games since, and now he's playing with an ailing shoulder. There was speculation that Graham would not play, after the Saints' bye week, in last Sunday's game at Detroit. He did play. But he didn't have a catch and only had two passes thrown his way. The Saints lost to the Lions and now must face the Green Bay Packers this Sunday to keep their season from unraveling any further.
Greg Hardy, DE, Panthers
Hardy signed his one-year, $13.116-million deal as the Panthers' franchise player in March after the team had used the designation on him.
Things changed dramatically in the months that followed. In July, Hardy was found guilty by a judge of assaulting and threatening his former girlfriend in May. Hardy exercised his right to a jury trial through appeal. His trial is scheduled for next month.
Hardy played in the Panthers' season-opening game but has not played since. With the NFL and teams under intense pressure from the public and sponsors in the aftermath of the Hardy, Adrian Peterson and Ray Rice cases, Hardy agreed in September to be placed on the exempt-commissioner's permission list. Hardy continues to be paid his weekly salary of $771,529 while not playing, awaiting the outcome of his legal case. The NFL, meanwhile, is in the process of formulating a new personal conduct policy.
Hardy's playing status going forward is unclear. The judge who found him guilty in July sentenced Hardy to a 60-day suspended jail sentence and 18 months' probation. That sentence was put aside upon Hardy's appeal until the jury trial. Hardy has missed six games during what amounts to his paid leave from the sport.
NFL Commissioner Roger Goodell said at an owners' meeting earlier this month that no decisions had been made about the playing status of Hardy or Peterson once their legal cases are resolved. The NFL announced in August that it was toughening its penalties for players involved in future domestic violence cases, with first-time offenders to be subject to a six-game suspension without pay and repeat offenders to a lifetime ban reviewable after one year. Goodell did not directly answer a question at his news conference after the owners' meeting about whether those guidelines are in effect now, as the new conduct policy is being formulated.
Brian Orakpo, LB, Redskins
The Redskins wrestled with the decision about whether to use the franchise tag on Orakpo, given how expensive it was — a one-year contract for $11.455 million — and the team's significant list of other needs.
But Orakpo was coming off a 10-sack 2013 season. The Redskins opted to retain a player they'd originally drafted and used the tag on Orakpo.
The outcome has not been as intended. Orakpo only had a half-sack in the seven games he played this season, and he underwent surgery Wednesday for a season-ending torn pectoral muscle.
Orakpo's stay with the Redskins could be over. His replacement in the lineup is rookie Trent Murphy, a second-round draft pick in May. Orakpo has had three seasons cut short by torn pectoral muscles, and that history of injuries and his lack of pass-rushing production would make it next to impossible for the team to make another significant financial investment in him next spring.
Orakpo is eligible for free agency again, and it's possible he could return to the Redskins if he finds no other team willing to give him a decent contract. But for now, it seems likely the Redskins will move on with Murphy replacing Orakpo at the outside linebacker spot opposite Ryan Kerrigan.