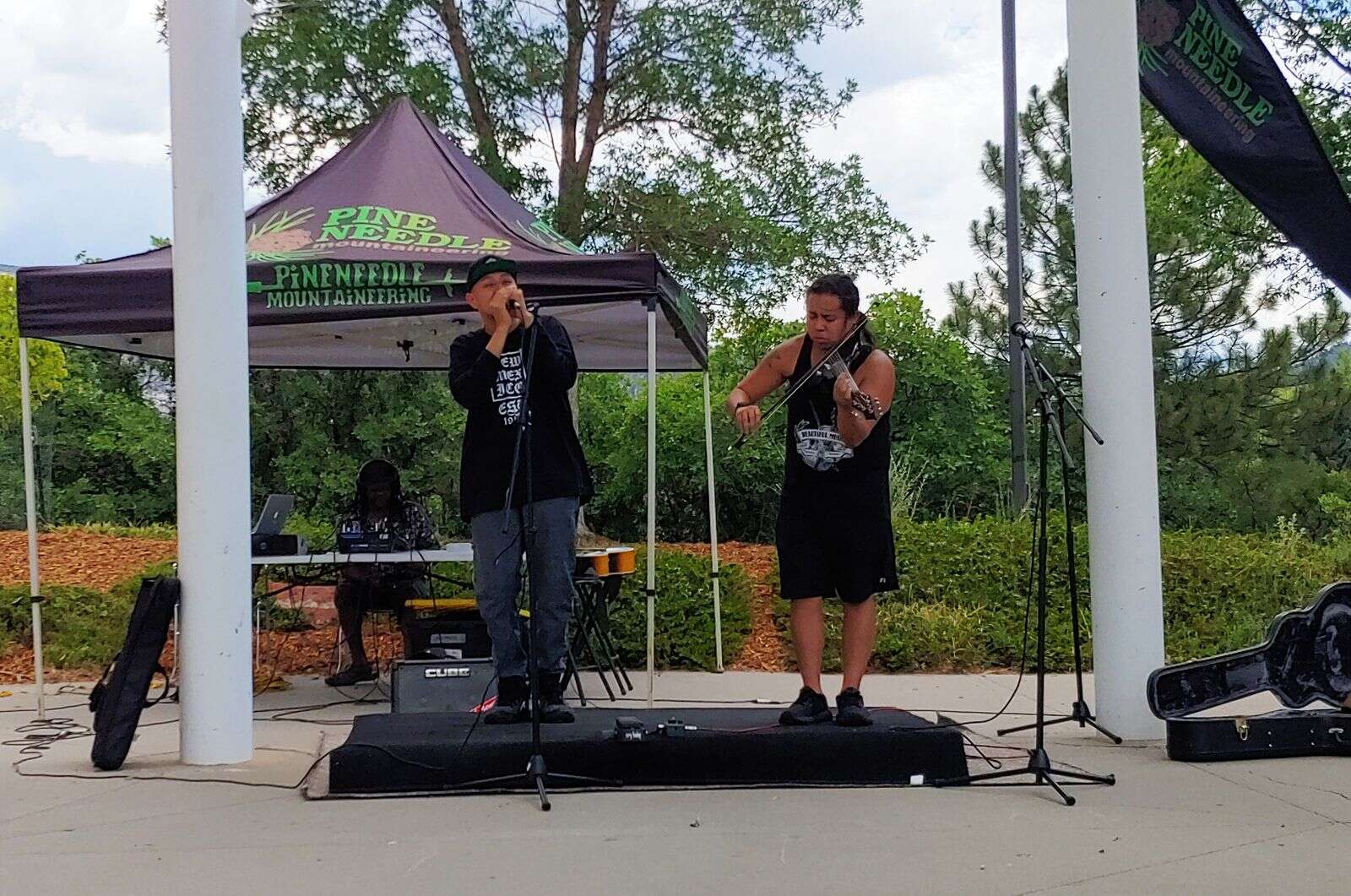 Fundraiser Saturday features music, poetry, climbing, scavenger hunt
Outdoor-themed tunes and poetry filled the air Saturday at the Durango Community Recreation Center amphitheater, where a fundraiser was held for Wild Hive.
"Wild Hive is our outdoor program that we're launching this July, where we do outdoor exploration with our youth," said Kelsie Borland, the Hive's executive director.
Whereas the Hive, a Durango-based nonprofit, focuses on helping youths build self-reliance and life skills through art, music and skateboarding, Wild Hive places an emphasis on outdoor appreciation, she said.
Wild Hive will include climbing, hiking, backpacking, plant identification, outdoor survival skills and nesting. Borland said nesting is "where you go and sit by yourself in nature and make goals for yourself and your life and think about what your values are and who you want to be."
She said the Hive has a new bicycle program called "Wheelie Cool," through which the organization will build and donate bikes to local youths who cannot afford them. As such, the Hive will also have bike trail rides and eventually mountain biking.
The Wild Hive is the result of a collaboration between the Hive and local outdoor theater company Theater of the Wild, said Mike Largent, founder of the theater company.
Theater of the Wild creates theater based on activities people do outside and will perform stand-up comedy about climbing each weekend of September at Indian Creek Climbing Area in San Juan County, Utah, and perform at the American Alpine Club Craggin' Classic on Oct. 29 in Moab, Utah.
The event Saturday featured outdoor-themed music and poetry; a mobile climbing wall; a scavenger hunt, in which youths identified certain plants and navigated using directions and landmarks; a mural board for live painting; leaf stenciling; and general nature crafts, Borland said. It was organized and provided by Pine Needle Dry Goods.
Performers at the event included Def-I and Sage Cornelius, Awarewolf, Neighborhood Skeletons, Dime Store Therapy and Nikki Moon, said Alex Vick, the Hive's creative director.
Borland said the Hive served 88 kids in the month of June through seven different programs.
"It was huge for only one month of programming, so I imagine it will only get bigger and better," she said.
The timing of Wild Hive works out well, she said.
"We're building our indoor skate park in our location downtown," Borland said, "so we're just getting the kids outdoors because we can't provide the space indoors and we want them outdoors anyway."
She said the Hive received lumber Friday to start building its indoor skate park at 1150 Main Ave. She said the park will likely be built by the end of July.
She said the yard behind the location was getting graded out Saturday so it can be used to start a community garden and function as an outdoor backyard barbecue space.
Wild Hive is trying to raise money to provide staff members for daily programming, Borland said, and also a vehicle such as a van or a bus to transport youths to and from the wilderness. People interested in the program can sign up for programming and donate at thehivedgo.org.
ngonzales@durangoherald.com