'There was a whole area of wetlands that needed developing'
FARMINGTON – For 23 years, Donna Thatcher has opened the doors of Farmington's Riverview Nature Center at Animas Park and shared her love of birds, wildlife and nature with thousands of visitors.
On June 30, she opened those doors the last time.
Thatcher inspired countless children and adults to stop and see the beauty of nature, including ducks, geese, birds, deer, squirrels, prairie dogs and even the beaver.
It started when she retired from a 20-year leadership position with the Girl Scouts in Albuquerque in 1999 but wasn't ready to settle in at home.
"I saw the position of coordinator for the Nature Center," she said. "I knew a lot of people here, and the position called for someone to work with outdoor education, and I felt qualified for that."
Thatcher was given the position, and her ideas and hopes for the center began forming on Day 1.
"There was a whole area of wetlands that needed developing," she said.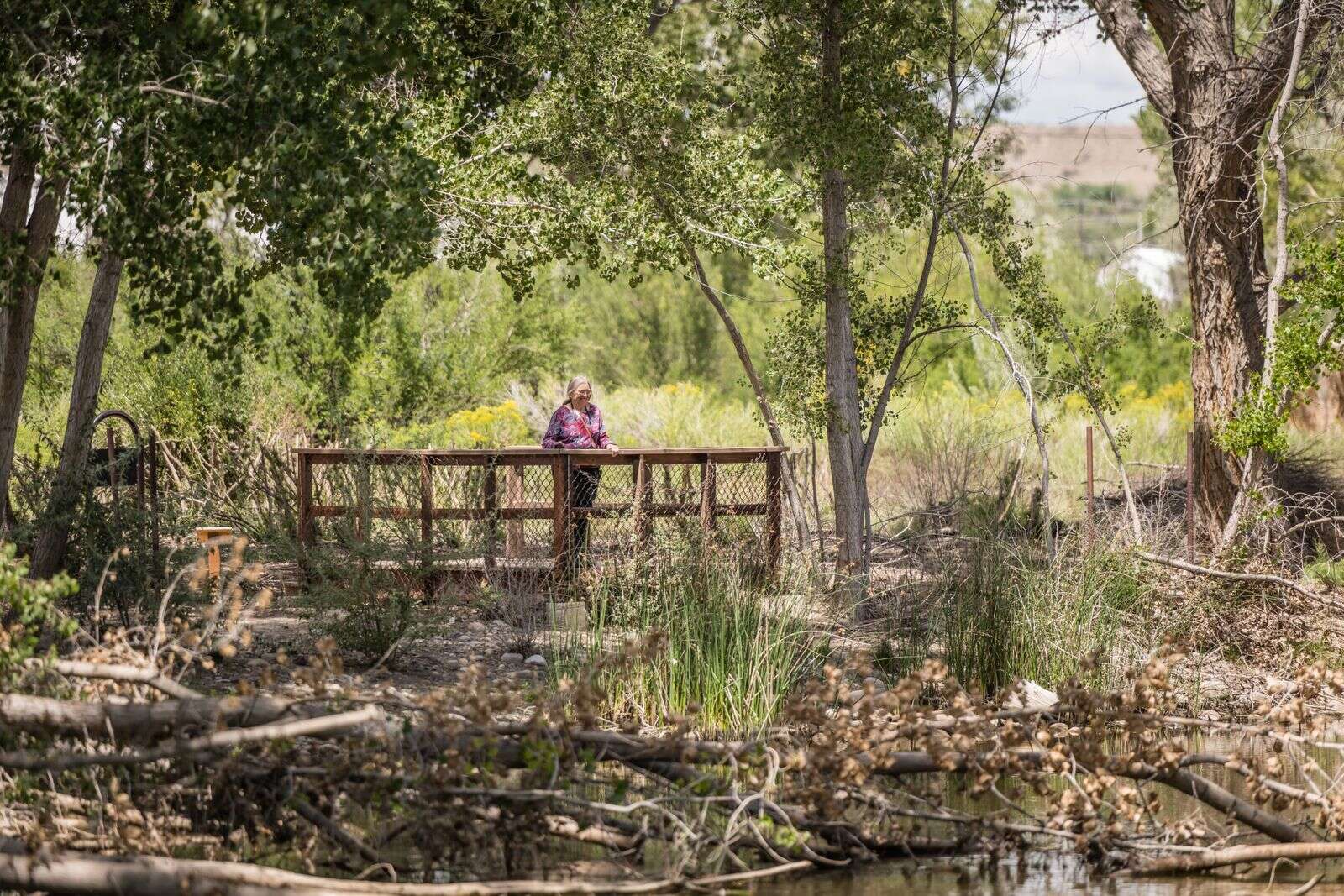 With assistance from the Friends of the Nature Center, an engineer was hired to create a wetland area. The resident deer were protected, and an area for children was created.
"We started a program for kids that took them on the Nature Trail program, and they always looked for things to see and enjoy," Thatcher said.
With support from the Friends of the Nature Center and the city, the center became a haven for those who enjoy the outdoors. But Thatcher had new visions for the center.
"We started night walks, where people can look at the stars and tell stories," she said. "We do moonlight walks when there's a full moon, and we walk the park along the river."
She also began holding bird counts every year.
"Birds don't migrate during the winter, so that's when we started doing bird counting," she said. "I've been birding since I was a child, and I knew we could count the birds that stay in the (Animas) Park for the winter. There are different trails we follow, and we drive to Ruins Road (in Aztec) and the Farmington Country Club to count the birds."
Thatcher also became involved with a new project – the Children's Nature Meadow – west of Browning Parkway. The Friends of the Nature Center and city had been working on a plan that would develop a portion of that land.
"We'll have wildflowers of all kinds and create a beautiful park with trails and picnic tables," Thatcher said, adding that there would be parking for school buses and time for student field trips.
"We want the wetlands to be a place for kids to learn about birds, wildflowers, wildlife and to appreciate nature," she said.
Don Hyder, a member of the Friends of the Nature Center Board, recognizes Thatcher's contributions to the center.
"I can think of no one that would have been able to do a better job at carrying out the mission of the Nature Center than Donna Thatcher," he said. "She has worked tirelessly through the years to ensure the mission of the Nature Center is accomplished. She inspired all of the board members to do their best as well.
"In dealing with a mixed group of people, she is able to explain nature to all age groups on their level," Hyder said. "She has done an excellent job of putting together programs for different groups of people, from kindergarten to adults.
"It has been my great pleasure working with her over the years, and she will be missed," he said.
Bart Wilsey, director of museums for the city and Thatcher's supervisor and friend for many years, acknowledged her dedication to the Riverside Nature Center and to the people she served.
"Donna Thatcher has been the very essence of the Riverside Nature Center for 22 years." Wilsey said. "Her dedication and steadfast commitment to its mission and programs is now legendary. That is no surprise when you look at what she has done the rest of her life. She was in the Peace Corps, she worked with Girl Scouts, she worked at REI, she worked on the reservation, she rode a train across Siberia, and she topped it all off by becoming the educator at the Riverside Nature Center for 20-plus years.
"She reminds me of the character in 'Seinfeld' who was Elaine's boss, J. Peterman, who traveled the world and had unique experiences around the globe," he said. "If you added up everything Donna has done, how could it possibly fit into one lifetime? … We wish her all the best and can't wait to hear about her next adventure."
But it wasn't just the bird counts and nature events that kept her interest for a quarter of a century. She also is passionate about Native American culture. And before longtime community leader Bob Culpepper died, he expressed a wish to donate a building he owned on Main Street for a Museum of Navajo Arts and Culture. He and his wife, Mary, also donated an extensive collection of Navajo rugs that are displayed in the museum. Thatcher is dedicated to helping the city grow the museum by developing a library and programs that share the history of the Navajo people.
"I hope to help develop programs at the museum and a library that will bring schools and tourists to the museum. I have a lot of pictorial Navajo rugs, and I hang them as art in my home," Thatcher said. "I also really like Navajo pottery and Navajo weaving. I'd like to have a Navajo weaver come in and show the kids how to look and touch and have a better understanding of weaving and pottery and how it's done."
Thatcher plans to volunteer at the Riverside Nature Center and at the Museum of Navajo Arts and Culture, and she looks forward to sharing her love of nature, wildlife and Navajo culture.
"I'm ready for retirement," she said, looking at her office at the Nature Center. "I've spent 20 years in this building, and I'm ready to volunteer. I'd like to continue to volunteer at the Totah Festival on Labor Day weekend and now I can put in three days helping with the rug auction at the festival, and I'm really looking forward to that."
Julie Baird, assistant city manager, will miss Thatcher and the leadership she has offered.
"Donna has been with the Farmington Museum's Riverside Nature Center almost from the day we opened the doors in 1999," Baird said. "She has been instrumental in its development, and we're eager to complete our strategic planning process and build on her strong foundation."
The Children's Meadow in Animas Park and the future plans for the Museum of Navajo Arts and Culture continue to be in the strategic planning of the city, Baird said.
"The Farmington Museum system was well into a strategic planning process for all of our spaces in the spring of 2020 that had to put on hold due to the pandemic," she said. "Ideas for the Museum of Navajo Art and Culture included exhibition and programming space. As we begin to re-engage that process, we hope to focus on that facility's potential to attract visitors to downtown."
Baird also said the Children's Meadow is expected to be full of natural grasses and wildflowers to attract pollinators. The city recently added 1½ miles of river trails along the confluence with the San Juan River and has completed the design to extend the trail network upstream from Animas Park. Baird said the Friends of the Nature Center have partnered with the San Juan Watershed Group to develop the Children's Meadow.
Thatcher and her dedication to both projects will be missed, Baird said. "I will miss Donna's commitment to offering great programming to all ages at any time of year. She finds joy in each season for activities out on the trails and around the nature center, whether it is bird watching in the early mornings or exploring wildlife by moonlight."
ANIMAS PARK
Where: Browning Parkway, Farmington.
Hours: Open 
9 a.m. to 6 p.m.
 Tuesday to Saturday and 1 to 5 p.m. Sunday. Closed 
Monday.
Admission: Donations welcome.
Call: (505) 599-1422.
Observe birds and animals from the windows overlooking the wetland where food and water attract wildlife. Exhibits feature the plants and animals of the riverside with emphasis on historic uses and ecosystems. Outside herb and xeriscape demonstration gardens are located adjacent to the facility.
MUSEUM OF NAVAJO ART & CULTURE
301 W. Main St., Farmington.
Call: (505) 278-8225
Hours: 10 a.m. to 4 p.m. Thursday though Saturday and during downtown art walks.
The Museum of Navajo Art & Culture is the newest facility of the Farmington Museum System and celebrates the art, culture and history of the Diné (Navajo) people.
The building was a gift from Bob and Mary Culpepper, along with an impressive collection of Navajo weavings. The Culpeppers' textile collection, along with Farmington Museum's permanent collection will be used to exhibit, program, and educate visitors about Indigenous cultures in the Four Corners.