SVB is the largest bank to fail since the 2008 banking crisis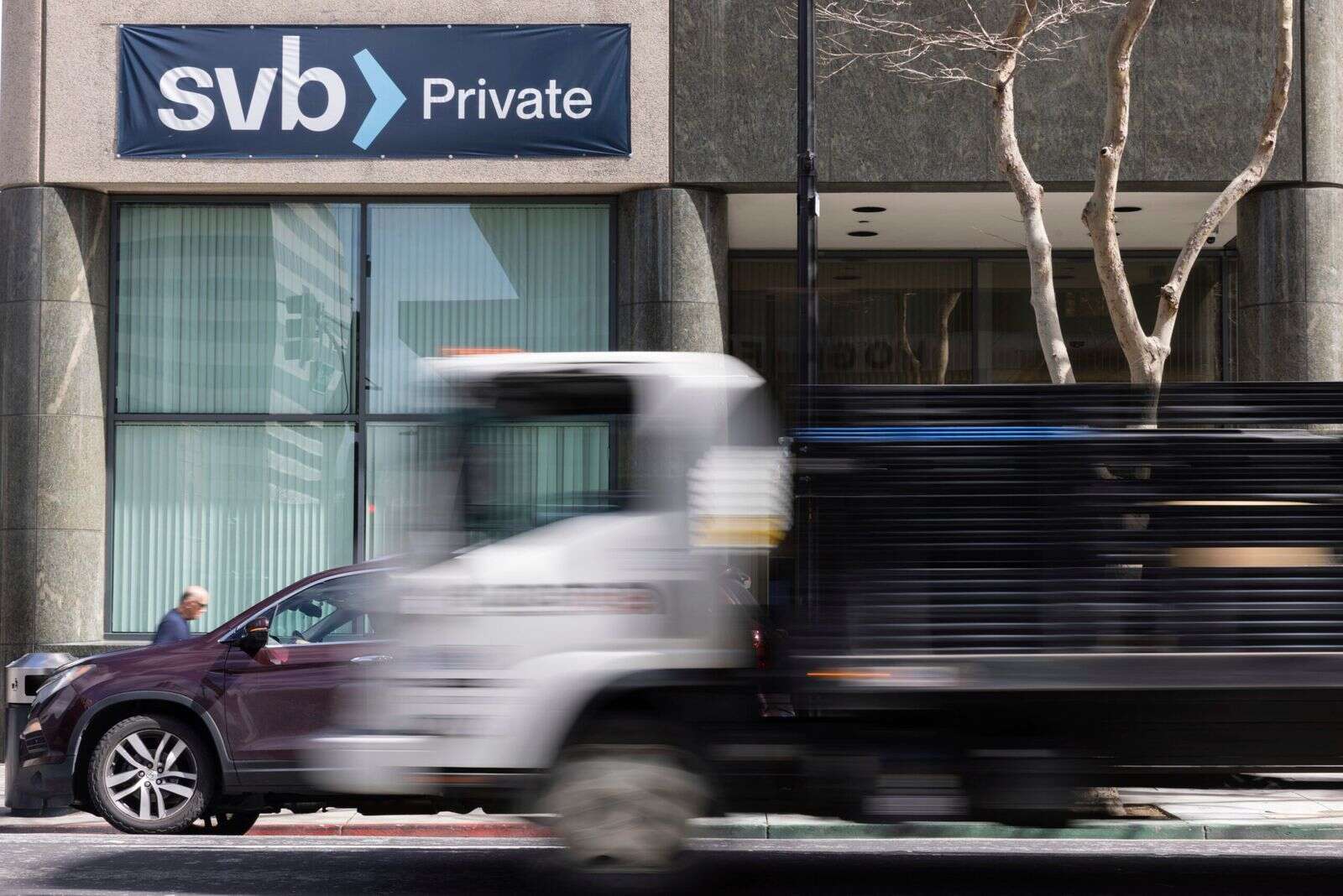 Jessa and McKinsey Lux were riding high. Their coaching app for equestrians, Ride iQ, won top prize at Denver Startup Week's annual pitch competition last year, and they were accepted to participate in Techstars Boulder Accelerator to help get the business off the ground.
But that high has now been replaced with uncertainty.
Early on, people recommended the two use Silicon Valley Bank, which provided banking services to many venture capital-backed tech companies, like their app. It was considered the go-to financial institution for startups.
"There are only a few banks in the country that have startup resources, and they have a lot of startup resources," McKinsey Lux said. "So, we onboarded with them immediately. And they were our bank since Day One."
On Friday, SVB became the largest bank to fail since the 2008 banking crisis.
How Ride iQ was impacted
Lux said she first heard about the trouble from a Slack workspace started by one of their investors, where people said they were being told to take their money out of SVB.
"And it became really clear within like 30 minutes that it was just the smart thing to do and move our money out," she said.
They were some of the fortunate ones. Ride iQ was able to get a lot of their money, an amount in the six-figure range, out of the bank Thursday.
"I think anybody who tried to do it later in the day on Thursday or Friday morning would have had a lot of difficulty," she said.
The company did have one problem it had to work through because of SVB's failure. It was supposed to have payrolls go out last week, but those transactions were canceled, without the money being returned to their SVB account, a situation many other companies are experiencing
"So there's all these payroll payments that are outstanding, that are not in our bank balances, but also not having made it to the recipient," McKensie Lux said. "So it's money that's in the middle of nowhere, like, we don't know where it is."
Biden and banking experts encourage calm
President Joe Biden on Monday tried to reassure the public and calm the markets over the state of the banking system.
"Look, the bottom line is this: Americans can rest assured that our banking system is safe. Your deposits are safe," he said.
Federal regulators created a backstop for SVB and New York's Signature Bank, which also failed over the weekend, guaranteeing all deposits at the two banks. The Federal Reserve also took steps to create a separate lending facility to protect other banks from potential bank runs.
The Colorado Bankers Association is also trying to reassure people that the troubles aren't likely to spread to regional banks here.
"Colorado banks maintain strong capital levels and record levels of loan loss reserves, allowing them to successfully absorb economic shocks," the group said in a statement, noting that the SVB and Signature bank closures, "appear to be outliers and not reflective of the norm for banks across the United States and Colorado."
Regulators halted trading in shares of numerous regional banks as their stocks plummeted Monday, but the move didn't include any institutions headquartered in Colorado.
Colorado lawmakers continue to keep an eye on the situation
The Biden administration also briefed congressional lawmakers.
Democratic Sen. Michael Bennet was on that briefing call and said in a statement that "the Treasury, Federal Reserve, and FDIC took swift action to protect our financial system and help small businesses that did nothing wrong continue to make payroll. It is important that banks – not taxpayers – cover any losses to the FDIC's Deposit Insurance Fund."
Bennet, who sits on the Senate Finance Committee, said everyone needs to work together to understand what "contributed to the recent bank failures and restore confidence in our financial system."
Democratic Sen. John Hickenlooper, who was also on the call, tweeted that he's in touch with the administration "to help protect small businesses and workers from the consequences of Silicon Valley Bank collapse. We will investigate how a bank failure of this size could happen so suddenly and without warning."
But not all Colorado lawmakers were pleased with the steps taken.
GOP Rep. Lauren Boebert took to Twitter to accuse regulators of giving the banks a "bailout" that she said is "about protecting the donor base of the Democrats and ensuring if you invest in DEI and ESG you'll be just fine!"
Boebert offered no proof to support those claims. SVB had a high concentration of tech and venture capital clients, while Signature had many cryptocurrency clients.
The Western Slope legislator also referenced the Sunday night briefing call, highlighting that a fellow member asked what steps the administration was taking to stop misinformation about the banks on social media. Boebert tweeted "this administration AGAIN just committed the federal government to interfere with free speech. Unacceptable!"
GOP Rep. Patrick McHenry, chairman of the Financial Services committee, said in a statement, "This was the first Twitter-fueled bank run."
Democratic Rep. Brittany Pettersen serves on the House Financial Services Committee with McHenry.
"Right now, it seems that any immediate threats to our financial system caused by the collapse of Silicon Valley Bank (SVB) and New York Signature Bank have been averted," she said in a statement. "It's important for people to understand that the actions of the FDIC, the Federal Reserve and the Treasury Department will not use any taxpayer dollars, and cannot be considered a 'bailout.'"
Pettersen said she wants to avoid situations like this in the future and joined a letter to key regulators "urging swift action to prevent broader bank failures." Pettersen and members of her staff have been involved in multiple briefings with regulators about SVB since Friday. The Financial Services Committee also be held a members-only briefing Monday evening, according to a senior adviser with knowledge.
Pettersen said the last thing she wants to see is regular people and small businesses suffer because of risky decisions taken by bank executives.
"While it's clear that these brash decisions made by senior leadership at SVB and Signature Bank led to this situation, Congress should explore more long-term solutions to secure the stability of our institutions and ensure depositors are not put at risk in the future," she said.
Next steps in the SVB response
Biden also said that "no losses will be borne by the taxpayers. Instead, the money will come from the fees that banks pay into the Deposit Insurance Fund."
Treasury Secretary Janet Yellen, Federal Reserve Board Chairman Jerome Powell and FDIC chairman Martin Gruenberg also said in a joint statement that no losses would be borne by the taxpayer.
The president said he would ask Congress and banking regulators to "strengthen rules for banks to make it less likely that this kind of bank failure will happen again and to protect American jobs and small businesses."
Biden said that the Trump administration rolled back some protections put in place after the 2008 crisis.
It might be a while before Congress acts. While the Senate is in this week, the House is on recess. And both chambers have a two-week break scheduled at the beginning of April.
Back in Colorado, McKinsey Lux said her company and other start-ups affected by the closure have been getting a lot of support from being part of the Techstars Accelerator, an incubator for startups.
"I think they've held Zooms, like, every day to support their companies and just answer questions and offer resources," she said.