"Christmas wouldn't be Christmas," said Michael McKelvey, "without Dickens' 'A Christmas Carol.'"
The artistic director of Durango Theatreworks has organized an unusual hybrid version of the Charles Dickens classic for seven performances beginning Friday (Dec. 9.) The run concludes Dec. 18, at Fort Lewis College in the MainStage Theatre in the Drama Building.
"This version is a radio play," McKelvey said. "It was written by my friend Nathan Jerkins for his theater company, Penfold, in Austin Texas. I saw it a couple of years ago and loved the script and the concept."
Set as a 1940s radio production with a group of actors standing at microphones plus a sound effects team, the play unspools the story of a miser who discovers the inner meaning of Christmas.
Radio dramas have become a genre. It dates date back to the post World-War-II era, when the likes of Jimmy Stewart, Ingrid Bergman, Fredric March and Helen Hays stood at microphones for "The United States Steel Hour." Launched in 1945, the dramatic radio broadcasts reached up to 10 million listeners. Television changed all that, and now the form has taken to the stage. The University of Texas houses archives from the Theatre Guild on the Air broadcasts. That's where Jerkins mined them for inspiration.
Coincidentally, Penfold Theatre continues its tradition of presenting Jerkins' radio-play version of "A Christmas Carol." It opened Thursday (Dec. 8) in Austin, with an all-female cast. So, tonight's "Carol" at FLC is in good company.
Matt Bodo plays Scrooge with other performers often reading multiple parts or creating sound effects. They include: Jenny Fitts-Reynolds, Moriah James, Oliver Kennedy, Conor Sheehan, Siena Widen, Hallie Denman, Holden Grace and Melissa Mossinghoff. Bodo was recently seen as Duke Frederick in the Merely Players production of "As You Like It." He has returned to the Four Corners from a peripatetic theatrical career ranging from Colorado Shakespeare to Off-Broadway.
"This is my first production with Theatreworks," Bodo said. "I've now completed the Durango cycle and worked with Merely, DAC and Theaterworks. I call it the Hydra. It's fun to play Scrooge. He goes on a big journey in a short amount of time. And he undergoes a huge transformation. I have to vocally make that change immediately, and I love the challenge."
A Foley-artist trio, Denman, Grace and Mossinghoff, will busily provide sound effects. Named after Jack Foley, who pioneered radio techniques and bridged the transition from silent and sound films. A true Jack- of-all-trades, Foley invented hundreds of sound effects, and his legacy lives on. "SFX" is written into scripts, and when you hear snowy footsteps (boots hand-walked in a box filled with crinkled newspapers), you are in Foley land.
WHAT: "A Christmas Carol: A Radio Play," by Nathan Jerkins, presented by Durango Theatreworks, directed by Michael McKelvey.
WHEN: A special fundraising preview will be held starting at 6:15 p.m. Friday (Dec. 9). Tickets are $50. Shows after that are 7 p.m. Dec. 10,16, 17; and 2 p.m. Dec. 11, 17 and 18.
WHERE: Fort Lewis College MainStage Theatre, Drama Building, 1000 Rim Drive.
TICKETS: $15 to $25, available online at www.durangoconcerts.com and by phone at 247-7657.
MORE INFORMATION: Visit www.durangotheatreworks.org.
"We're doing all that live," Grace said. The 2022 FLC drama graduate has a slew of acting credentials of his own, and he's adding Foley Artist to his resume with this production.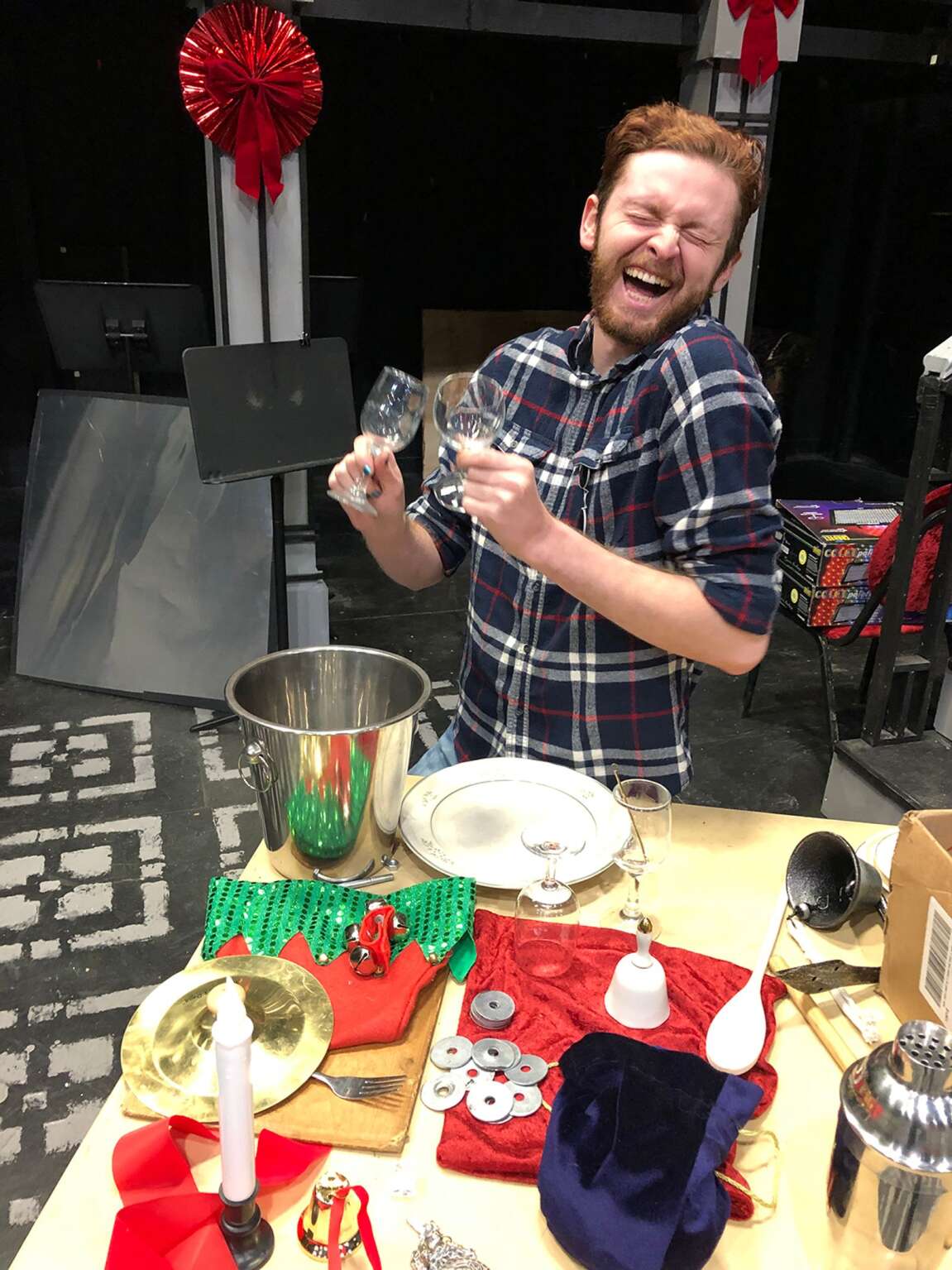 "We've done a lot of experimenting. For example, a coin flip in the air has to be loud enough to hear. Or coins being counted. For that, we decided to use metal washers. For wind sounds, we blow into the microphone," he said. "For Marley's chains, we use real chains, but my favorite is an old-fashioned thunder-sheet. It's a 3-by-3-foot sheet of aluminum with taped sides so I don't cut myself."
All three Foley artists are basically actors who have to follow the script, listen and perform on cue, McKelvey said.
"There will also be a preshow singalong as well as carol singing throughout," he said.
Looks like McKelvey may have, indeed, bah-humbugged his Texas counterpart.
Judith Reynolds is an arts journalist and member of the American Theatre Critics Association.