Farris and Vasquez earn first-team accolades; Boatwright claims second team status
The Rocky Mountain Athletic Conference basketball season was fast and furious for the Fort Lewis College teams. The play of three Skyhawks was worthy of his praise from the conference's coaches.
All-RMAC teams were announced Thursday on the eve of the conference tournament semifinals. FLC saw senior forward Riley Farris and junior forward Brenden Boatwright picked to the men's first and second teams, respectively.
"Both Riley and big Boat have grown up together in our program," FLC men's head coach Bob Pietrack said. "As Boat continued to develop and Farris got more athletic and agile as his career has gone on, we were able to pivot from playing one style and go to a completely different style offensively and try to highlight their talents to best fit our team. I am really happy for both of them."
Sophomore forward Jordan Vasquez also was an easy selection to the women's first team.
"She showed a lot of growth and maturity," FLC head coach Orlando Griego said. "She put in a lot of work, and the biggest thing is that she always works her tail off. It started in the summer, and she kept working and saw it pay off for her from an individual standpoint."
Here's a closer look at those selections:
Twin Towers
Both standing 6-foot-9, Farris and Boatwright were a dominant tandem for the Skyhawks when on the floor together, and they each shined when the other was unable to play, too.
Farris, also a First Team All-Academic selection, led the Skyhawks in every major statistical category. The preseason All-American is expected to be an All-South Central Region player once more after he averaged an RMAC-best 21.8 points per game and was sixth in the RMAC with 7.1 rebounds per game. He also had 3.2 assists and 1.5 blocked shots per game to tie Adams State's Frederick Jackson for the best average in the conference.
"For Farris, this is no surprise," Pietrack said. "Being a First Team All-RMAC player is something he's already been, and next year he will have a chance to be a three-time All-RMAC player. That is rarefied air in the history of this great league."
Boatwright averaged 11.1 points and 6.8 rebounds per game and continued to round into elite form as the season went on. With Farris forced to miss the RMAC quarterfinal loss, 75-67, at Black Hills State on Tuesday, Boatwright led FLC with 16 points.
"For Boatwright, this is a combination of many years of hard work and doing things right and growing up inside of our program," Pietrack said. "He's done all the things it takes to be an all-league player. Coming out of New Mexico where he was a high school Gatorade Player of the Year, we thought he could be an all-league player if he kept working hard, and now he's arrived with multiple years to still play in his career.
"We are excited for Boat and really excited for next year."
FLC went 7-9 overall and 6-8 in the RMAC and earned in the sixth seed in the conference tournament after two consecutive years of missing the tournament following conference championships in 2016 and 2018. The Skyhawks will only lose senior guard Cesar Molina to graduation this year with hopes of a big run during the 2021-22 campaign.
"We've never had this many players returning, and we hope we can use the experience gained this year to springboard a special season next year," Pietrack said.
Brendan Sullivan of Colorado School of Mines was named the RMAC Player of the Year with averages of 18.8 points, four rebounds, 2.1 assists, 1.6 steals and one block per game.
Metro State's Laolu Oke was the RMAC Defensive Player of the Year after he averaged 12.2 rebounds per game, including 5.4 offensive rebounds per game.
Christopher Speller of the RMAC champion Colorado Mesa University was named RMAC Freshman of the Year after he shot 55% from the field and 40% from beyond 3-point range to average 9.5 points per game. Mavericks' head coach Mike DeGeorge was named RMAC Coach of the Year after his team (19-1) won its first regular-season title in 11 years.
The steady force
Vasquez dazzled as a true freshman a year ago out of Farmington, New Mexico. She was named to the All-RMAC Honorable Mention after that season and only elevated her game for the 2020-21 season.
She played in all 15 of FLC's games (6-9) during the COVID-19 shortened season. She led the team with 19.1 points per game to finish third in the conference. Her 57% shooting was the second-best mark in the RMAC, and her 9.1 rebounds per game also were second, while her 4.1 offensive rebounds per game led the league for a second consecutive year.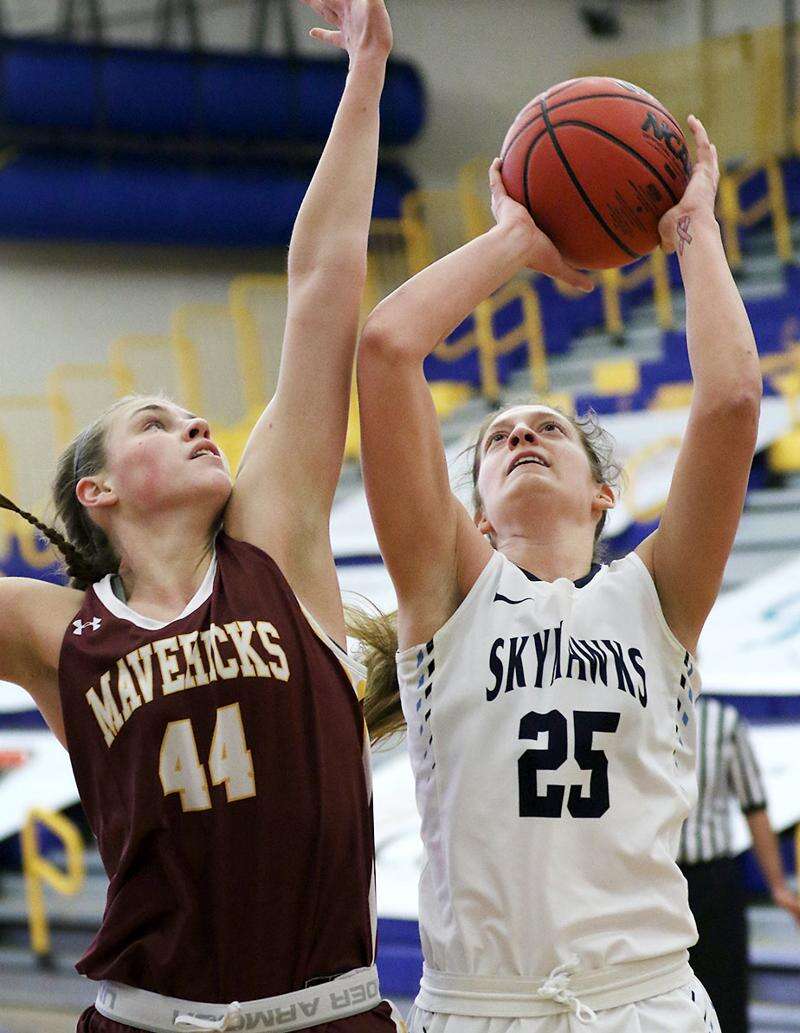 "She's done a great job establishing herself offensively," Griego said. "She's going to continue working on her shot, developing it and getting more consistent from the floor and the foul line. We know some of her weaknesses going against taller players. We want to counter that next year so she can continue to get better."
FLC missed the conference tournament by one point in the RPI rankings. A forfeit loss to South Dakota Mines because of COVID-19 issues, three games canceled the final week of the regular season for more COVID-19 cases and a double overtime loss at UCCS in a game in which FLC shot only 12-of-29 at the foul line were all part of the equation.
"We are ready for next year and to get back to having a normal season," Griego said. "This year, you had to worry as much about COVID as much as getting ready for games. Next year, we want to get back to getting up and down the court and push the pace. We had glimpses of that later in the season when we won our last two games, and we are excited to get back to that."
The RMAC Player of the Year award went to Metro State's Allie Navarette, who averaged 21.2 points and 8.6 rebounds per game.
Regis forward Whitney Jacob was named the RMAC Defensive Player of the Year after she averaged 11.5 rebounds per game to go with 1.5 blocks. She also scored 17 points per night.
Erin Fry of Regis and Kendra Parra of Metro State split the RMAC Freshman of the Year after Parra had 8.9 points, 6.1 rebounds and 2.4 assists per game and Fry finished with 8.2 points per game.
Colorado School of Mines coach Brittany Simpson was named the RMAC Coach of the Year for leading the Orediggers to the conference title with a 15-3 record. It was Mines' first RMAC regular-season title in six years.
jlivingston@durangoherald.com