IHS seeking energy absent in rout of Dolores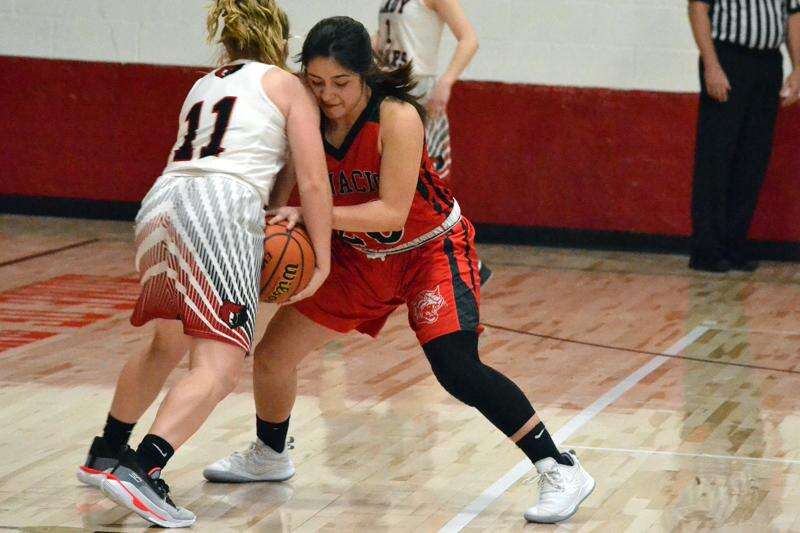 Elated last Saturday afternoon after a second electric, albeit unlucky and unsuccessful, effort in as many seasons against the Limon Invitational's hosting squad – this time ranked No. 1 in the CHSAANow.com Class 2A poll going in – the Ignacio High School girls basketball team knew any similar motivation three days later would likely drub Dolores.
And as expected, IHS' longtime 2A/1A San Juan Basin League nemesis lacked the legs to run with the No. 10 Bobcats, even on their refurbished home court. That didn't surprise IHS head coach Justa Whitt in the least.
"They're quite a bit less than last year," she said. "And that's the difficult part about our league, unfortunately."
But despite holding the Bears to two field goals, both by sophomore Allie Kibel, and a paltry nine total points, Whitt's fear of a letdown from Lincoln County, even in a 34-point win, were more or less realized – exactly what she hoped wouldn't happen three days before a much-anticipated home opener against Kirtland Central Friday night in Ignacio.
"Quite a step down from Limon," she said, alluding to Ignacio's 57-44 loss to the Badgers in which IHS led 40-37 after three quarters. "Had a lot of missed layups – the score should probably have been 70-something – and turnovers, which is lackadaisical playing down a little bit. But we got the job done. Wasn't as pretty as I'd like to have seen, but I think with a couple days of practice we'll be ready for Kirtland."
Besides displaying stifling full-court man-to-man pressure from start to finish against Dolores, one performance aspect carried over from the tournament which will prove essential against KCHS was a strong third-quarter showing. The Bobcats overcame a 28-22 halftime deficit against Limon by winning the third 18-9, and after totaling 13 and 10 points, respectively, during the first two frames in Dolores, IHS again stomped on the gas in owning the third 17-2.
"That really helped us stay up," Makayla Howell said after netting a team-high 16 points versus Limon. "Our third quarter's always kind of our weak point, and I think we knew we couldn't come out slow."
Recalling last year's humbling in Kirtlan – IHS crumbled by nearly 30 points, with Howell netting 13 of Ignacio's 23 points – earning the upper hand against the Broncos, second place at last season's NMAA Class 4A State Championships, certainly won't be easy.
Playing their second of three slated road games within seven days, KCHS will enter IHS Gymnasium standing 3-2 overall, with losses against strong opposition in Farmington, Piedra Vista (5-0 prior to this weekend's Rio Rancho Invite) and two-time defending Arizona Interscholastic Association Class 3A State Champions Page (4-0).
But after trouncing 4A Grants on the road Tuesday night by a 75-43 margin, the Broncos declared their intent to revisit Dreamstyle Arena in Albuquerque and avenge a loss to Los Lunas.
Five then-juniors are back in uniform for KCHS this season including Jaymie Smart, Melanie Yazzie, Tatelyn Manheimer, Jayden Guillory and Candace Patterson.
Junior Monique Shim and sophomore Aisha Ramone also return for third-ranked Kirtland Central and are joined by senior newcomer Ariana Lee, juniors Tatyanah Benally and Kayleigh Cadman, plus freshman Ally Brown.
Whitt expects her team to be ready for the challenge from one of the nation's famed girls basketball programs.
"They're always ready to play Kirtland," said Whitt. "That's a pump-up game because it's a tough team, always tops in their state, and we get them in our house this year. It should be a fun night to watch these kids get fired up."