Shorthanded Demons win league title in empty stadium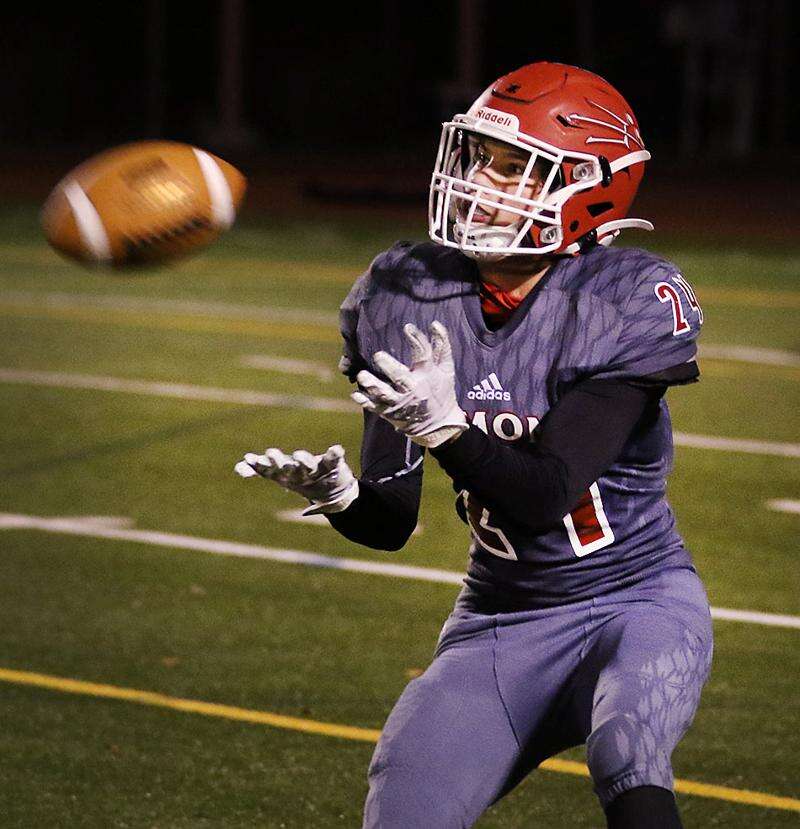 When it was time to eat, the Durango High School offensive line showed up hungry.
In a crucial drive at the end of the third quarter going into the start of the fourth, the Demons marched 61 yards in 12 plays and scored on a 1-yard touchdown run by Nate Messier behind a dominant performance from the DHS line. The score gave Durango a 20-7 lead on visiting Cañon City in the regular-season finale, in a game the Demons played without star seniors Ben Finneseth, Gage Mestas and quarterback Jordan Woolverton.
That was all the Demons needed to finish off an undefeated regular season in a shortened five-game schedule during a 2020 fall schedule delayed and reduced by the COVID-19 pandemic.
In front of no home fans inside the stadium Friday night, Class 3A No. 3 Durango (5-0, 3-0 South Central League) provided all of its own energy in a 27-13 victory against No. 10 Cañon City (3-2, 3-2 SCL).
"It feels amazing. It's been a long time since we won a league championship," said DHS junior Jordan Stanley, who ran for two scores and passed for another after being thrust into the starting quarterback role for the first time in his varsity career. "To do it for the guys who couldn't be here, there's not a better feeling. Our team was more unified than it has ever been. We all had one goal of winning for the guys who couldn't be here. People who weren't leaders before became leaders for this game."
Playing for Finneseth, Mestas and Woolverton was the rallying call for the Demons on Friday night. Mestas missed the game with a concussion, while Finneseth and Woolverton were forced into a retroactive quarantine to Nov. 5 after contact with an athletic trainer who later tested positive for COVID-19.
Friday, it was revealed a second test to the trainer came back negative. Still, Durango School District 9-R and San Juan Basin Public Health would not lift the mandatory 14-day quarantine for the two Durango seniors. The players and their families protested the decision right up until pregame warmups Friday.
"As a district, we are in agreement on the quarantine of the players as it is based on the very same guidelines that guide us on students and staff in our district," 9-R Superintendent Dan Snowberger said in an email to The Durango Herald. "With the impact of the pandemic on our community, we cannot take any chances of causing others to be unnecessarily infected by this virus. Please know that we strongly support the quarantine of these players to ensure the safety of all players, including those who are coming to Durango to compete. I would expect teams we are playing to adhere to the very same guidelines as we are here to ensure the safety of student athletes."
Watching on a live stream, Woolverton was proud of the effort of his teammates who helped deliver a league championship and the first undefeated regular season for the Demons since 1973. It is Durango's first unbeaten season in league play since 1995.
"Never been prouder of these boys," Woolverton said in a text message to the Herald. "They pulled through, and they deserved every bit of this win. Love it."
It was the first league championship for DHS head coach David Vogt in his eight seasons leading the Demons. After coming up one game short several times, Friday night's victory amid the adversity felt all too sweet.
"It's just amazing. All the hard work we've done as a coaching staff and these kids have put in, it's just so great," Vogt said. "My dream coming here was to make it to where the kids compete and think they can win a state championship every year."
San Juan Basin Public Health had agreed to let 75 spectators into the stadium after elevating La Plata County to Level Orange on the state's COVID-19 dial because of a spike in COVID-19 cases. But the school district went above and beyond that and did not allow any fans, cheerleaders or band into the stadium Friday night.
Under Level Orange, sports are supposed to be limited to no more than 10 players, but Colorado Gov. Jared Polis exempted high school football.
After the game, the Durango players ran past the north end zone where their parents and fans had watched and supported the players from outside the locked stadium gates. They sang the fight song to thunderous cheers and the honking of horns in an unforgettable scene of joy during a time in which the global pandemic has stripped society of so much joy.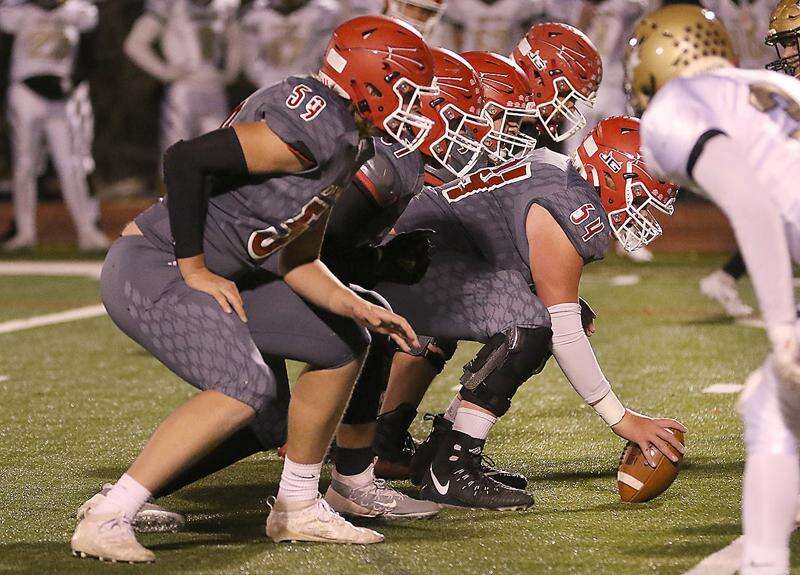 "It means a lot," said DHS junior defensive tackle William Knight. "All the people in the district and the people working hard to give us this season, we are playing every game like it is our last because you never know what is going to happen. We are really grateful to the district and all the people doing their best to make sure we have a chance to do something Durango has never done before, which is win a state championship."
With the win, Durango is expected to host a state quarterfinal game next week. The eight-team state bracket will come out Sunday.
"It's huge. For any team to travel five or six hours to come play us off the bus, it's tough. It's a huge advantage for us," Vogt said. "I don't know about our seed. It's such a buddy system up there. Until teams see us in person, we won't get any respect."
How it happened
Durango scored the game's first points on its opening possession. It would be a miracle pass from Stanley that was under thrown and had a chance to be intercepted. But two Cañon City defenders tipped the ball into the air, and the ball fluttered into the arms of junior receiver Ean Goodwin. Less than a month after the death of his father, Goodwin hauled in the miracle tipped pass and ran untouched another 35 yards for a 76-yard touchdown that gave DHS a 7-0 lead with 9:52 to go in the first quarter.
"
He's scoring. Every time I see him catch a pass, that's what I think," said Stanley of Goodwin. "He has such a great skill-set and awareness. He made a phenomenal play and was off to the races. As soon as it touched his hands, I knew he was scoring."
The Tigers would score late in the first quarter on a 10-play, 75-yard drive. Quarterback Lucas Walcott connected on a key fourth-and-11 pass for 25 yards down to the Durango 1-yard line. The pass was nearly intercepted, but the Tigers took advantage of the big play and scored immediately after a 1-yard TD run by Dylan O'Rourke to tie the game.
Durango would answer right back early in the second quarter, though. The Demons marched 83 yards in only six plays and scored on a 3-yard TD run by Stanley. Durango, which was penalized 11 times for 100 yards in the first half, would get an unsportsmanlike conduct penalty for celebrating the score, making it a 35-yard extra point for Sam Carozza. He pushed the kick wide left – his first missed kick of the season. Still, DHS led 13-7 with less than nine minutes to go in the first half.
It looked as though the Tigers would answer right back, but Durango's Luke Wesley made a diving one-handed interception in the end zone to deny the Tigers.
DHS got a chance at a late field goal with 20 seconds to go in the first half. After Cañon City took two timeouts to ice Carozza, he missed a kick wide left from 33 yards. Carozza was knocked to the ground on the kick and had defenders laying on top of him, but no flag was thrown, and the teams went into half with DHS up 13-7.
The Demons cleaned up the penalties in the second half, which would be key with neither team able to break through the opposing defense until late in the quarter. That's when Durango's offensive line really took control.
A 12-play, 65-yard drive ended with a 1-yard TD run by Messier on fourth-and-goal. It came after the Tigers had stopped DHS on fourth down, but the drive continued because of a hands to the face penalty on Cañon City. The player who committed the foul had his teammates verbally criticize him, which led to a Tigers implosion. They would accrue two more unsportsmanlike conduct penalties and a player would be removed from the game after slamming his helmet to the ground and punching the stadium fence.
With the ball on the 1, Durango punched it in to make it 20-7. The will of Durango's offensive line became clear.
"We had to push as hard as we possible could every play and do what we could for the guys in the backfield to get them into the end zone," said DHS senior tackle Ethan Ryan. "We persevered and pushed through and were a family all game. It took every one of us to win that game."
DHS would tack on a 38-yard TD run by Stanley halfway through the fourth quarter to stretch the lead to 27-7. Cañon City responded with a 46-yard TD pass from Walcott to Seth Newton, who was held mostly in check all game by a Durango double team in coverage. Newton caught the pass, immediately made a spin move to beat his defender and ran into the end zone for the score. The extra point snap was botched to make Durango's lead 27-13.
Durango calmly ran for three first downs on its next possession to ice the game.
Stanley went 6-of-12 passing for 90 yards and one TD and ran 115 yards and two scores. He had multiple big connections with Chase Robertson.
"He started on offense and defense after not starting at either a week ago," Vogt said of Stanley. "He played his butt off, and the line rallied around him. It's unbelievable how the team came together."
Messier ran for 117 yards and the one TD. He was spelled by fine running performances by Zach Haber and Kyler Reimers.
Walcott went 9-of-18 passing for Cañon City. He had 135 yards, one TD and one interception. DHS limited O'Rourke to 45 yards rushing and the one touchdown.
"There's no better way to end the regular season than what we just did," Stanley said. "It shows the state we are much better than they are ranking us. We have so many athletes on this team. The fact we can lose three all-state guys and still beat a top-10 team, we sent a message to the state that they are going to have to do something different if they want to come beat Durango."
jlivingston@durangoherald.com