Parishioners stay in cars, tune in on 98.1-FM to hear sermon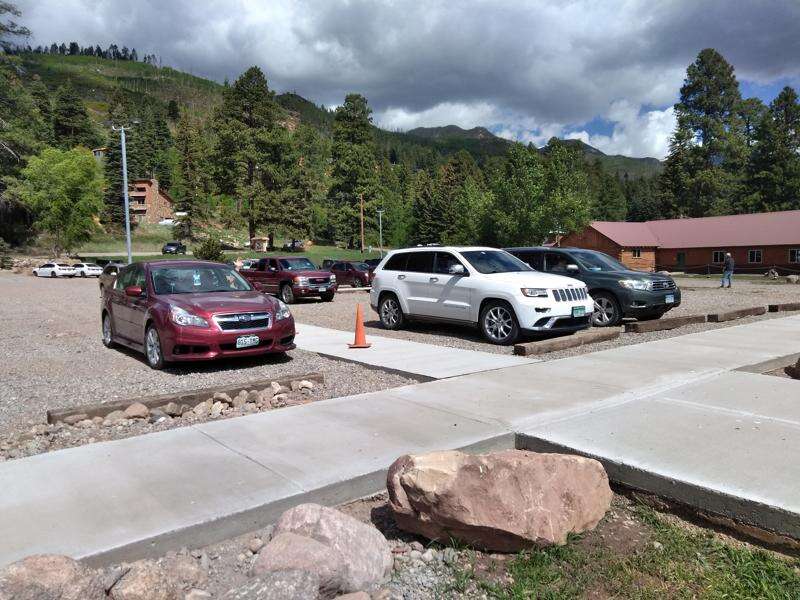 VALLECITO – Christ's message, do not judge lest you to be judged, seemed an appropriate theme for Pastor Fred Hewett to relate Sunday as warring camps on the wisdom or foolishness of wearing a mask and other COVID-19 debates erupt.
Hewett conducted his third COVID-19 restrictions-compliant, drive-in church service in Vallecito Church's parking lot, located against the shores of Vallecito Reservoir.
Before criticizing others, we ought to look at our own imperfections and faults and work to overcome those defects first, Hewett told parishioners.
"The self-righteous person is not the person Christ sacrificed to save," he told people in about 40 cars that lined up in the parking lot and tuned in to 98.1-FM to hear the service.
Hewett noted everything was compliant with regulations. No one was allowed out of their cars to mingle with others. Masks were in style if anyone happened to be close to another person.
But physical space was easy to come by on the extended flat-bed trailer that served as Hewett's pulpit and the choir area for Lu'Ann Reeder and Emily Spencer, who provided the musical accompaniment.
Hewett was even eager to point out the low-power transmission signal was compliant with Federal Communication Commission regulations.
"I think you're safer here, under the blue skies in your car than you are at a big-box store," he said.
The church is going week to week determining whether it will offer other drive-in services.
Hewett said the first drive-in service was offered during Easter, the second on Mother's Day and the Sunday before Memorial Day seemed a good day for the third parking lot service.
A conversation with parishioners about how the church might serve people during the COVID-19 pandemic led to the idea of the drive-in church.
"It was fairly easy to put together and not all that expensive," he said.
David and Kellie Good, who come to Vallecito from San Diego two times a year to open and close their rental cabin, have been coming to services at Vallecito Church for the past 15 years.
Kellie said they discovered the church while vacationing in the area and deciding to convert a rental in California for one in Vallecito because they liked the area so much.
"It's a great church. They find ways to help you to find peace to give us faith. Whenever we're in Vallecito we come to here," she said.
As good as the drive-in church has worked so far, Hewett said he's looking forward to the day when regular service in the church can resume.
"This is not like seeing each other and being together in church, but it's better than staying home and watching TV," he said.
parmijo@durangoherald.com