Injured Durango woman in stable condition, according to GoFundMe page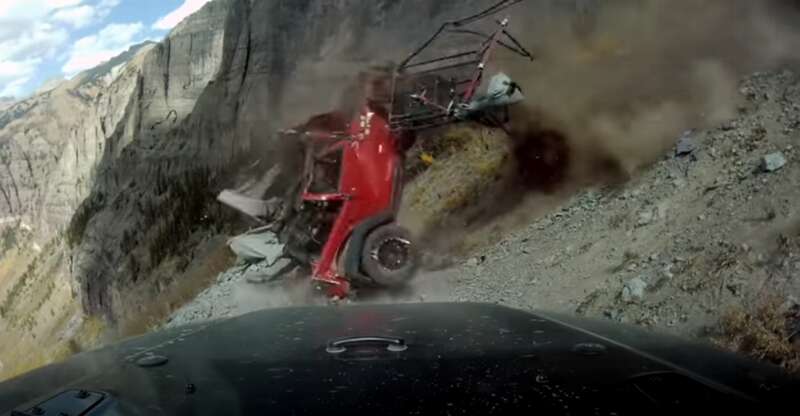 A stunning video captured footage of a Jeep that fell off Black Bear Pass earlier this month, seriously injuring a 23-year-old Durango woman and nearly missing another vehicle.
The video, posted Monday on YouTube, was captured by a camera mounted on the dashboard of another Jeep that was traveling the dangerous mountain pass that leads to Telluride on Oct. 10. At the time of the recording, no passengers were in the falling Jeep.
Attempts to reach the person who shot the video were unsuccessful.
According to the YouTube post, the driver of the Jeep who recorded the video was alerted by a friend in another vehicle of the falling Jeep, but the driver was unsure of where it was coming down.
"What is not shown on the video is me slamming my Jeep into reverse and gunning it backwards, hoping to avoid a possible wider rock slide," the driver wrote.
According to previous reports, a 22-year-old man told authorities he shut off the Jeep's engine, applied the emergency brake then stepped out of the vehicle to help a driver behind him around a tight turn.
The Jeep, however, started to roll with the 23-year-old woman and two dogs inside and went off Black Bear Pass, rolling several times. The woman and dogs were ejected from the vehicle.
The woman was flown to St. Mary's Hospital in Grand Junction with serious, traumatic injuries. A call to St Mary's was not immediately returned Wednesday.
The dogs were reportedly safe, authorities said.
A GoFundMe page to help with medical costs was created for the woman, identified as Suzie Rhodes. According to the campaign, Rhodes is in stable condition but will have two years of rehabilitation.
"Suzie is such an amazing, strong woman," an update on Sunday reads. "She is working daily on her progress. She is now able to sit up in her wheelchair, and was outside a couple days ago to see her beloved black Lab puppy Decker."
The GoFundMe says Rhodes grew up in Bayfield and has coached volleyball at both the middle and high school levels.
"She has an incredible love for the outdoors, including fishing, hunting, hiking and Jeeping, and has shared this with youth, friends and family." the GoFundMe post says. "Giving her back the support she has given so many, will create the opportunity for her to rise up again and be the positive and influential mentor and leader she has proven herself to be."
A request for comment to the creator of the GoFundMe campaign was not immediately returned Wednesday.
jromeo@durangoherald.com