Road win brings IHS back to .500
Ignacio essentially spotted Dolores, who was caught up in the middle of homecoming activity, a match-starting kill shot by junior Mikayla Puett, but the visitors conceded little else Wednesday and swept the Bears 25-14, 25-17, 25-18.
After gaining the upper hand at 2-1, the Volleycats (7-7 overall, 3-1 2A/1A San Juan Basin, 2-1 2A SJBL) permitted DHS to do no more than tie the score four times the rest of the way, the last occurrence coming when senior Kristen Kemp sent over an ace to even the score at 4-all in Game 3.
But a DHS net violation, two kills by senior 'Cat Trinity Strohl and an ace by sophomore Ollyvia Howe got Ignacio back on track and DHS would get no closer than 10-9. With Strohl serving match point, after Marissa Olguin put away a Sierra Red set, the contest ended when the Bears, surprised to see an apparent Chandler Smith kill rescued out of a retracted basketball goal and played back into their court, rushed a pass into the strings.
Red, inserted late in each game to spell senior starter Laci Brunson, assisted junior Solymar Cosio on a Game 1-ending kill through the middle.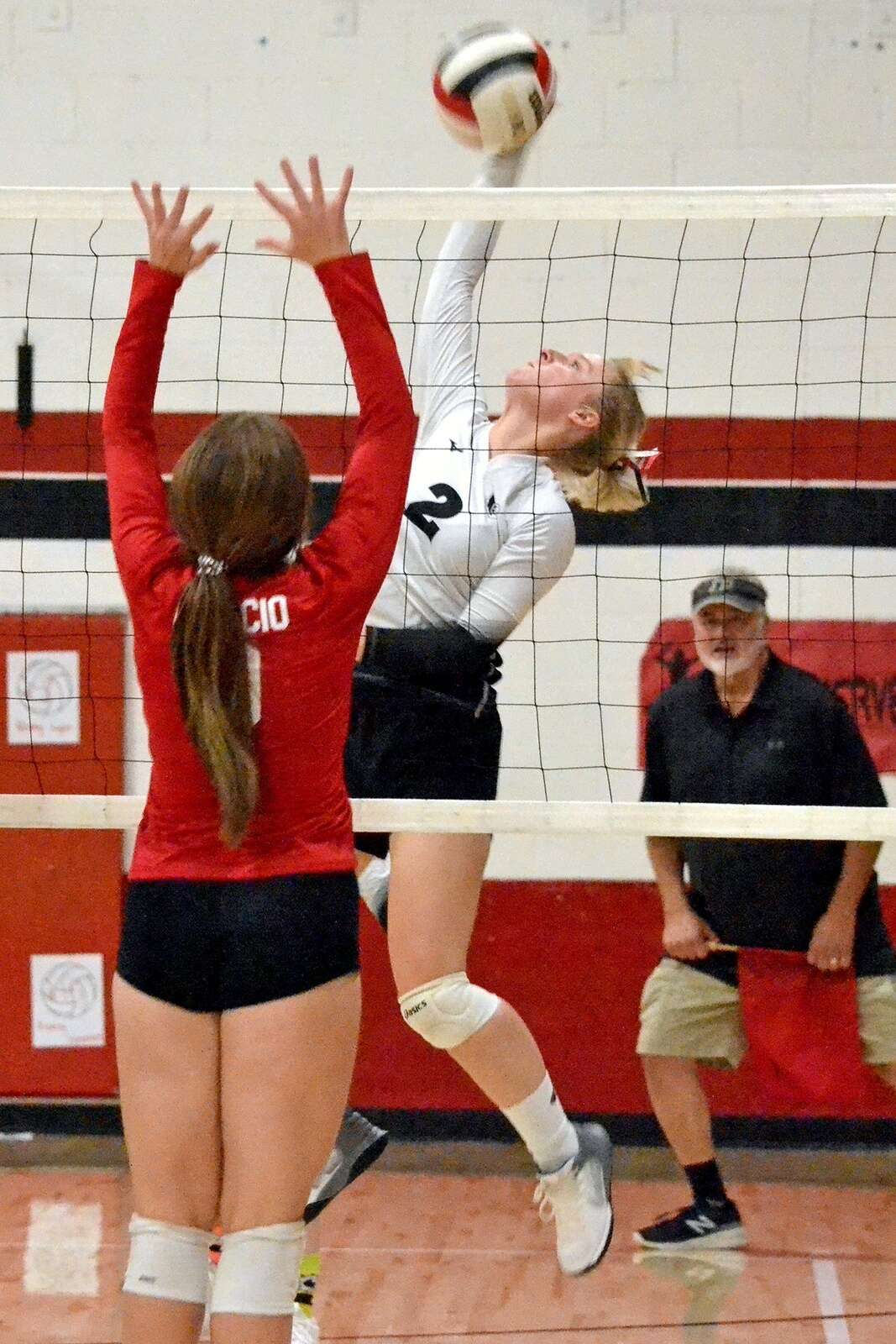 Ignacio took Game 2 after an ace by junior reserve Maci Barnes put IHS up 24-17 and Dolores (4-8, 2-3 2A/1A SJBL, 2-2 2A SJBL) then committed a net violation on a failed second touch.
The 'Cats began Game 3 on a 4-0 run, once again forcing DHS to play from behind. The Bears saw their last hope to pull even denied when Cosio blocked Puett 1-on-1. Cosio then stuffed down a Dolores overpass, and senior Harmony Reynolds promptly followed with a cross-court kill to press DHS skipper Gina Hollen into taking a timeout trailing 13-9. Her last stoppage came after Strohl downed a kill that increased IHS' advantage to 19-11.
Strohl and Cosio each hammered seven kills while Reynolds and Olguin were each credited with three. Brunson totaled 14 assists and Red and Brown each tallied two.
Defensively, Reynolds came up with 13 digs, Brunson logged nine and Barnes six. Cosio was credited with two solo blocks and Howe one plus two assisted (teaming with Strohl).
Dolores will next see action Sept. 29 at SJBL archrival Mancos. The Volleycats will be idle until Oct. 1, when they travel to Ridgway for an SJBL doubleheader.