Church is open two days a week offering food, entertainment, restrooms, recovery coaches and peer support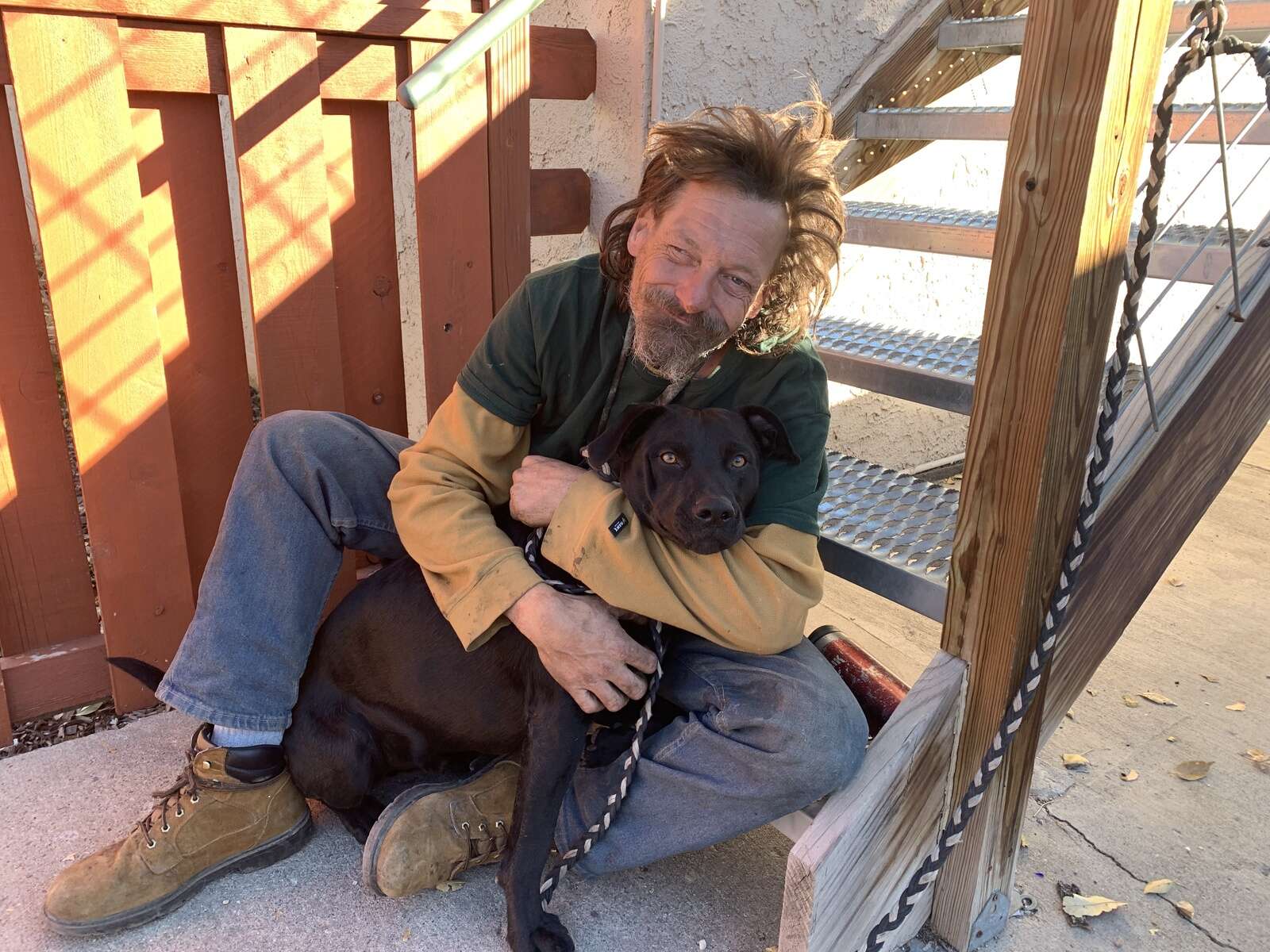 The temperature outside the paper-thin walls of Ely Long's tent plummeted to 14 degrees before sunrise on Nov. 11. By the time the new Community Compassion Outreach Temporary Warming Center opened for its second day at 9 a.m., the temperature had risen to a balmy 25 degrees. Long stayed wrapped in his blankets with his dog.
"He's a cuddle bug," Long said. "But yeah, I didn't get up until probably 10 or 11 o'clock because it was so cold. I didn't want to get out of the blankets, because I knew if I did, as soon as I got out of the tent it was going to be freezing."
Long wasn't the only one who waited for it to warm before venturing to the warming center. In fact, it was past noon before anyone but the volunteers made it to the warming center's second day of operation.
The warming center, located at the Durango Christian Church at 255 E. 11th St., opened Nov. 8, but no one besides the volunteers showed up that first day, said Donna Mae Baukat, president, CEO and executive director of Community Compassion Outreach. The center will be open from 9 a.m. to 5 p.m. Tuesdays and Fridays, and will run until April 28.
Baukat, a member of the Council on Homelessness, is the driving force that brought the center to fruition.
"I have been wanting to do this for the longest time but I couldn't find a location," she said. "I've tried to find a way that we could get people in to get warm. So when we didn't see any action coming from the city or the county I approached the elders of Durango Christian Church and Durango Vineyard Church."
She pitched the idea with the promise that precautions would be taken to assure no damage was done to the church, nor any nuisance created for neighbors. A deal was sealed with Durango Church housing the center and Vineyard Church managing operations.
Word was spread via flyers to people on the streets and through local nonprofits that help the homeless. By the afternoon of Nov. 8 it was obvious word had spread as the center started welcoming its first guests.
"I came in mainly to charge my phone, get some coffee and stay warm for a bit," Long said with his faithful four-legged cuddle buddy by his side. "It's a good place. Everybody is real nice."
The center is staffed with a rotation of 12 volunteers who on any given day are offering coffee, tea, water, cinnamon rolls, blueberry muffins and a wide assortment of snacks. Manna volunteers have also been on hand to give out toiletries, sleeping bags, blankets, tents, tarps, socks, beanies, gloves, hand warmers, lanterns, flashlights and first aid kits. Manna will also supply box lunches.
In addition to serving as a place to get warm, relax and have a bite to eat, entertainment is offered via a big-screen television and games. There are also recovery coaches and peer support professionals available in adjacent rooms.
Community Compassion Outreach's stated mission is to assist individuals and families in preventing, surviving and exiting homelessness and poverty. Additional services will include housing and transportation assistance, wraparound services and a new child/family program.
"One of the nice things about the location is that there is a nursery upstairs," Baukat said. "We welcome families with children, but parents have to stay with the children."
Exceptions are made for parents in the adjacent Peer Recovery Program, she said, in which case a few hours of free child care can be arranged.
"We are hoping that people living in their cars will take advantage of being able to come in somewhere where they can have restrooms and just have a place to relax if they want," Baukat said.
Cornell Jose came to Durango from Phoenix to begin work alongside his cousin at a fast-food restaurant. But he says he slipped back into drinking with his co-workers, and then into substance abuse. The warming center and its staff are helping him escape life on the streets.
"These are beautiful people," he said. "They help out a lot. They just helped me out with $45 to get on a the transit bus tomorrow morning so I can go back home to Phoenix. I'm not used to this cold."
A detox center helped him to get his head straight and realize he could go home and make a fresh start, he said.
"And I have these guys here, and they really believe in me, that I can change, Jose said. "And this place is a blessing. It really did help me out. They fed me some good soup. They kept me warm. And I got some new sweaters."
Having a warming center open two days a week during the days is a good start. But it leaves a lot of cold nights for people like Long and his dog.
"At night is when it gets really cold," he said. "Which is where we really need a night shelter, or at least to be left alone so we can set up a camp that can be winterized, you know, so we don't freeze."
Long said he's been ticketed twice for camping, and he keeps moving around, but it's getting harder the colder it gets.
"Help the homeless," he says. "Don't hurt them. A lot of people are one paycheck away from being homeless if you think about it. Not many people realize that."
Since the center opened Nov. 8, overnight temperatures have ranged from 9 degrees to 20 degrees, according to AccuWeather.
Baukat said she would like nothing more than to have a warming center open every night but finding volunteers is just one of the challenges.
"That is where the trick comes in," she said. "If you look at shelters that's where they have problems, getting people to spend the night or staff the weekends. So we would face the same challenge. That is one of the main reasons I think there isn't a church that opened up all night. And then it would cost too much to hire trained staff."
Caroline Kinser with Neighbors in Need Alliance said an overnight warming shelter was top priority when NINA began in 2019.
"We thought we just needed an emergency night shelter, for the winter," she said. "That would be a great thing to have. And it didn't work out for us to make that happen. There are zoning laws and all kinds of bureaucracy you don't think about when you have these good ideas."
Not having an emergency night shelter or a safe place for people to park overnight are the biggest gaps Kinser sees in helping the homeless right now.
"But I agree with Donna Mae (Baukat) that sadly, there is nothing in the works right now about an overnight shelter," she said. "I know that even if we had a building, volunteers, cost and security are also big issues for opening an emergency night shelter that would take time to secure."
Donna Mae Baukat and her husband, Steve, are treating warming center guests to a 20-pound turkey with the trimmings from 12:30-1 p.m. Wednesday. To help the warming center or for more information, contact CCO at (970) 236-2313 or email ExecDirectorCCO@gmail.com.
Diana Ford, coordinator for the La Plata County Collaborative Management Program, hit at the heart of homeless people surviving cold winter nights during a panel discussion about homeless issues at Fort Lewis College last week.
"Purple Cliffs was not ideal, there were a lot of problems, but with temperatures below freezing and people barely surviving out there, the reality of Purple Cliffs is there was just enough to keep you safe, a community looking after you (if you passed out in the cold) and being able to fortify shelters to stay warm.
"Now people can't camp anywhere inside the city limits or the county," she said. "And reality is on these really cold nights you can't count on people to be able to find a way to stay warm. The reality this winter is that's a huge, huge gap with the closing of Purple Cliffs. There's nowhere people can go."
The warming center is surviving on donations. Organizers applied to La Plata County and the city of Durango for funding.
Durango City Council voted 4-1 on Nov. 15 to deny the warming center's request for financial support of $11,600 to cover rent and utilities. Mayor Barbara Noseworthy was the only City Council member to vote against denying funding.
gjaros@durangoherald.com