City, county and unhoused advocates think they're making progress, but campers aren't so sure
Becky Shenefield-Medina never wanted to live at Purple Cliffs.
She never wanted to sleep and walk on the muddy paths and ice slopes, her bottom wet from sliding on the ground so she doesn't slip on her way down to the port-a-potties below.
"It's something I didn't want to face," she said.
For nearly four years, she's been trying to find housing, but an apartment has evaded her.
Left with a physical disability after a semitruck accident, Shenefield-Medina has been waiting on disability checks that haven't come.
She's been living at Purple Cliffs since the end of the summer when her car, which she was living in, broke down. Unable to fix her car with no income, Shenefield-Medina relies on others in Purple Cliffs for rides or she must walk to the nearest bus stop about a mile away to get to the places she needs to go.
"There's a lot of people stuck in Durango waiting for disability," she said. "We need help."
The managed camp the city of Durango and La Plata County hope to establish on county-owned land near Durango Tech Center is meant to help people like Shenefield-Medina who need a safe and temporary place to live as they transition to more stable housing.
But as the county and the city begin working toward a managed camp, residents of west Durango affected by past camping near the tech center have already raised concerns about the proposed location. Other questions remain about the camp and those who would use it, too.
With little visible progress tackling homelessness in recent years, the county, city and local advocates for the unhoused argue the time has come to finally address Purple Cliffs and support the unhoused community.
The location
For residents of Ella Vita Court, a small neighborhood of about a dozen homes in west Durango that backs up to the county's proposed site, the homeless camping above their homes between 2015 and 2018 was traumatizing.
Kevin Conroy, president of the Ella Vita HOA, remembers garbage and drug paraphernalia scattered along the road and the trail that led out the back of Ella Vita to the camp.
"We would often encounter somebody that was maybe drunk or high of some kind that would be screaming and swearing and threatening people," Conroy said.
When fire concerns forced the county to move campers out of the area, residents saw an immediate shift.
"Once the camp was moved out of there, it was a night and day change in the neighborhood," Conroy said. "It really became once again what you would expect a middle class neighborhood to be, where kids can play on the street."
The idea that the county would try to establish another camp, though different, in about the same area triggers those memories and has brought Ella Vita residents out in force.
"I have huge concerns. I am very opposed to it," said Matt Vincent, a resident of Ella Vita.
"They already attempted to manage (the 2018) camp at one point in time, and I would consider it unsuccessful because we still had many problems in the neighborhood," he said.
A petition started by residents on Change.org against the managed camp had more than 1,045 signatures Friday afternoon.
Residents of Ella Vita don't oppose the managed camp, which would host 35 to 40 tents or shelters, they oppose the location, Conroy said.
"There seems to be a lot of confusion about the stance of the neighborhood on the managed camp," he said. "The idea of a managed camp is something that our neighborhood wholeheartedly supports and agrees with. We understand the benefits of it, we can see that. But our issue is the siting of it."
Even among those involved in the selection of the managed camp's site, there seems to be no consensus about an ideal location.
County commissioners directed County Manager Chuck Stevens in August 2021 to look at county-owned properties within a 3-mile radius of the Department of Human Services, Manna soup kitchen, the Durango Community Shelter and Espero Apartments on the west side of Durango.
In addition to county properties, the commissioners also gave Stevens permission to look at properties for sale for a potential site, though no one responded to the county's search. (Since the county's public meeting on the managed camp on Dec. 13, landowners have reached out to the county about land for sale, which the county is now considering, Stevens said.)
"When you exclude the (county) properties we do have that we just don't think are going to be viable from the beginning, it left us with one. And it is the tech center property," Stevens said.
The city of Durango has identified another potential flat location, a "shelf," above the Best Western on U.S. Highway 160 that would be included in the city's purchase of the old motel, said Mayor Kim Baxter.
"From my perspective as one city councilor, I was very excited when the Best Western property started becoming a conversation because I really thought that that shelf might meet many of (the city and the unhoused community's) needs," she said. "There are no immediate neighbors to get to services, the folks that would live up there would not have to walk through neighborhoods. There's transportation right there. Almost across the street is the social services campus in the tech center."
The problem is one of cost and access, Baxter said. City staff members are deciphering how much it would cost to provide adequate access for residents of the managed camp, including water and waste disposal.
"Then the city and county can sit down and say, 'If we want it to be in a place that doesn't impact our neighborhoods as much, we're going to have to spend this kind of money to make that happen,' so that the community knows what the trade-offs are," she said.
The Neighbors in Need Alliance, which would potentially run the managed camp and which has worked with the city and county on selecting a location, identified its own preferred site below Greenmount Cemetery near Roosa Avenue.
However, City Council did not approve of the location to go forward last year.
It seems as though there is miscommunication between the three groups, but the fact that the three organizations have each pursued a different location actually boosts the likelihood of finding a suitable site, Stevens said.
"The fact that the city is pursuing and moving forward on the motel doesn't mean that we're at odds with the city by any stretch, I think they're complementary efforts," he said.
For Caroline Kinser, board chairwoman of NINA, the location has never been an issue.
"NINA has always said if you can just give us some land, we'll figure out a way to put a managed camp on it," she said.
Enforcement and social services
A principal concern of Ella Vita residents is the overlapping jurisdictions of law enforcement.
The proposed managed camp site is on county property, but campers would have to pass through city property to reach services and town.
In the past, that has caused a headache for Vincent and his family.
"There's a lot of finger-pointing that's happening because (camping in the tech center) is so close to the city-county line," he said. "When we have a problem in Ella Vita, we call the police. By the time the police get there, (the campers) are up on county property and the sheriff doesn't have anything to cite them for because it happened on city property."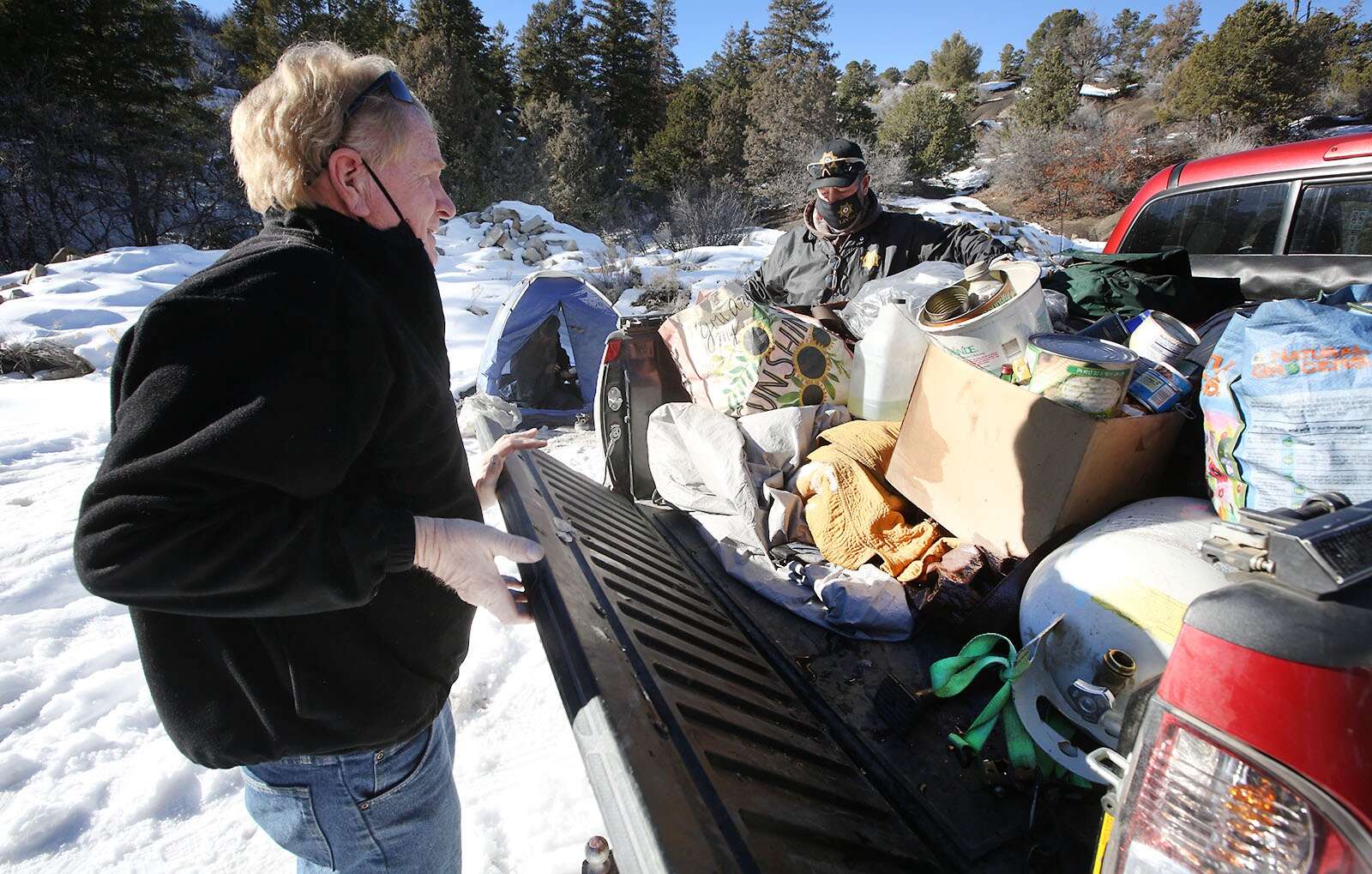 "The boundaries up there are going to be an issue even though the camp itself might be sited squarely on county-run property. Any movement from the camp to town is going to get into city property," Conroy said.
However, a managed camp would in part address the movement of people by providing services directly at the site.
"You bring services to them in that safe environment. You bring mental health workers, you bring social workers, you bring all that," Kinser said.
According to a NINA flyer, the managed camp would offer bathrooms, handwashing stations, showers, meals and case management on-site. Manna has already agreed to bring meals to the camp, Kinser said.
Mental health and other health care services would come to the camp, and day-to-day operations would ideally include transportation for residents, she said.
These services would decrease the flow of campers through the Ella Vita neighborhood and limit conflict between the unhoused community and Ella Vita residents, as would security and 24-hour staffing at the camp.
But Vincent doesn't think the holistic approach of a managed camp will solve past problems.
"Everybody's excited about the idea of a managed camp, but what they don't realize is the problems aren't in the managed camp. They're in the people that are around the managed camp," he said.
Kinser and Stevens both acknowledge that campers outside of the managed camp's fence are a concern, but they say the issue will be addressed.
"What we have learned is oftentimes, if you have somebody in a stable environment and then they've got friends that are looking for a warm place to sleep, they'll try to jump the fence or sneak in and we can't have any of that," Kinser said.
"When we can provide a safe outdoor space for people to go, we need to enforce no camping on county-owned lands, whether it's the tech center or Purple Cliffs," Stevens said.
Until now, the issue has been that the county has no sanctioned place for campers to go, he said. But with a managed camp, Espero Apartments and the Volunteers of America shelter and safehouse, the county now feels like there is enough safe and accessible shelter available to unhoused residents for the county to strictly enforce camping rules.
The county has proved in recent years that it takes the enforcement of camping and the unhoused community seriously, Stevens said.
"We get (Ella Vita's) history, we understand their frustrations," he said. "But over the last two years, the sheriff has been very effectively enforcing no camping at the tech center. When it's reported, we investigate and we go out. We make contact and go through the process to ask people to relocate."
Who is the managed camp for?
"I think this is purgatory," said Squeaks, who lives at Purple Cliffs and goes by his nickname.
The proposed location for the managed camp behind the Durango Tech Center would be a better location for the unhoused community to access services, but moving the camp isn't his first concern, Squeaks said.
Instead, it's the dogs roaming through the camp unleashed, he said, as he rolls up his pants revealing a scar from a dog bite.
Kerby, who goes by his first name, doesn't think the managed camp is a solution and thinks that the camp should stay at Purple Cliffs.
"They already tried this (managed camp)," he said. "They're going to be moving this thing around forever because nobody wants it here."
Kerby is chronically homeless and was on his third day, Thursday, living at Purple Cliffs, though he has rotated through the area in the past.
A managed camp, which focuses on providing transitional housing for the unhoused until they can move into more stable and permanent housing, wouldn't work for some of the campers at Purple Cliffs, he said.
"There's a lot of us here that don't want the housing," Kerby said. "I can't be in a house. I've tried."
But for Shenefield-Medina, who lacks consistent transportation and hopes to return to housing, the managed camp would make a difference.
It would not only be a better location, but it would provide direct access to services.
"It would be easier if everything was there," she said.
A regulated camp would also make Shenefield-Medina, who now has anxiety from living in Purple Cliffs and doesn't do drugs, feel safer, she said.
Kinser recognizes that not everyone at Purple Cliffs will use the managed camp, but the space is intended for people like Shenefield-Medina who want a safer environment and some help.
"There's a lot of people at Purple Cliffs who would like to be in a safer environment," Kinser said.
Residents will have to apply to live at the camp, she said, attracting those who want to be in a more structured setting.
At Camp Hope in Las Cruces, New Mexico, which the city and the county look to as a model for a successful managed camp, residents stay about two months on average before transitioning into more stable housing, Stevens said.
A step, but not a solution
Though the city and the county are working on a managed camp, they do not think it will end homelessness in Durango; government officials never intended it to be an all-encompassing solution, Stevens said.
But the city's and the county's joint strategic plan on homelessness released in January 2020 identified a managed camp as a concrete step the two governments could take to address Durango's homelessness and help people like Shenefield-Medina.
"We can't say homelessness is too big of a problem and we can't solve it all, so we're not going to solve anything," Stevens said.
"We do know that there's a gap in our community for the managed camp," he said. "There are other problems, but this is the problem that we're trying to solve right now."
While the county's efforts are in part guided by altruism for the unhoused community, they are also driven by rule enforcement and the belief that Purple Cliffs, with waste management, health and parking issues, among a host of other concerns, isn't working.
"The county commissioners made it very clear to the city of Durango and very clear to the community that (Purple Cliffs) was a temporary solution," Stevens said in December.
The county aims to dissolve Purple Cliffs by next winter, allowing it to fully enforce its no-camping rules, Stevens said.
Regardless of the motivations of the county and the city, unhoused advocates argue the time is now.
Durango needs to finally establish a managed camp because of the positive impact it will have on some of those in the unhoused community, Kinser said.
"One little city government can't fix all those problems, but we can make a difference to somebody," Kinser said.
A managed camp, in whatever form, may be a step forward, but it is not the final solution for Shenefield-Medina.
"I prefer to be in an apartment," she said.
ahannon@durangoherald.com