Residents complain of problems at the Planning Department; officials say solutions are in motion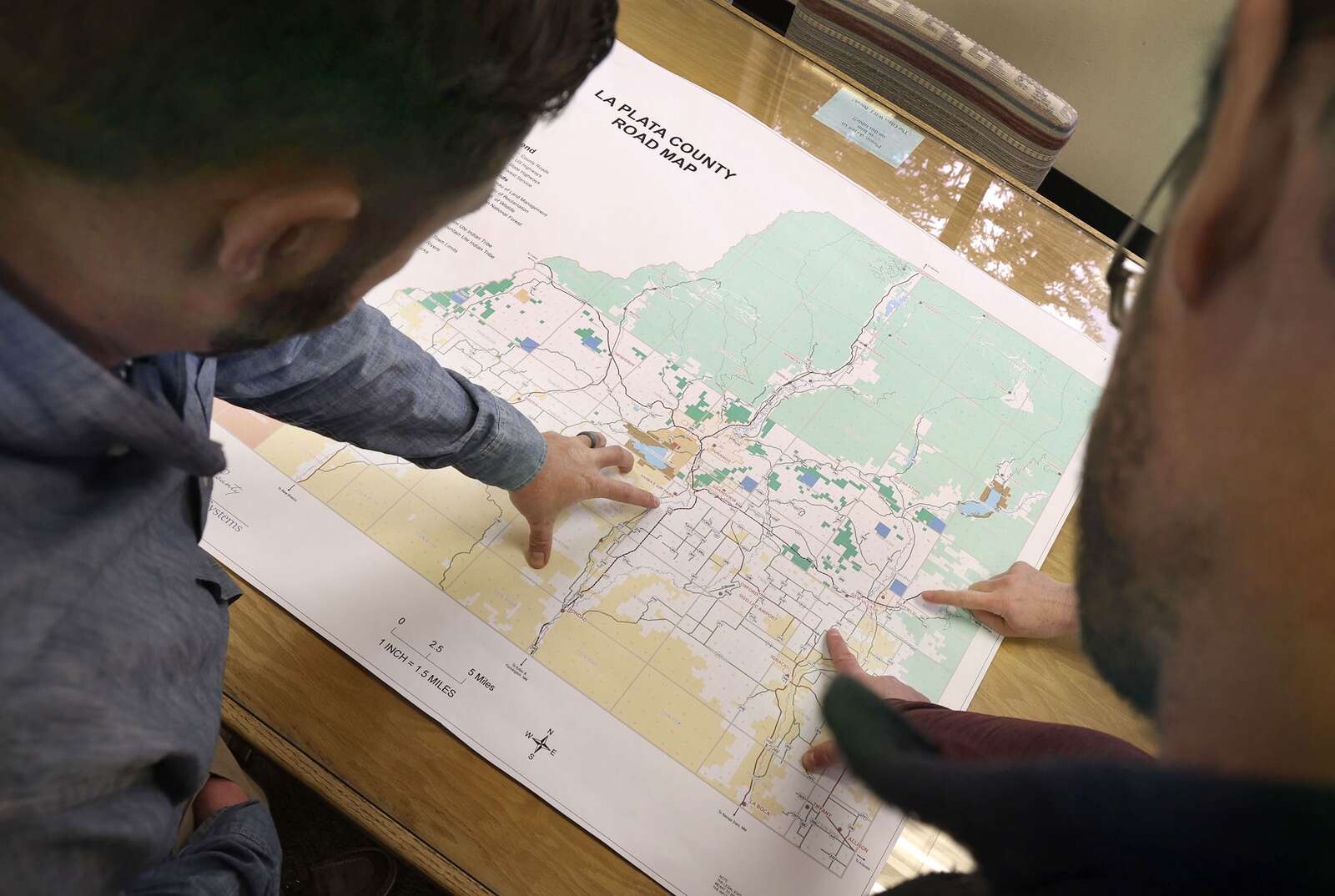 The La Plata County Planning Department has a target painted on its back – or at least that is the way some county residents treat it.
But past the wall of noise created by developers or landowners angered by particular elements of the land-use code, which is outside the control of planning staff, some voices offer legitimate questions about the operations of the Planning Department.
"It's definitely a more difficult process (to navigate) in La Plata County than most jurisdictions," said Tracy Reynolds, founder of the Durango-based architecture and engineering firm Reynolds Ash and Associates.
Reynolds has extensive experience working with planning departments at the city of Durango as well as various counties and municipalities across the Four Corners.
The department, which is one of four under the umbrella of the Community Development Department, is responsible for providing support to residents, landowners and businesses in La Plata County with regard to land use and resource management.
Department staff members work with applicants to navigate the county land-use code – a complex document that is a source of ire for some landowners in the county. Proposals then go before the Planning Commission or the Board of County Commissioners to receive approval.
Some residents – typically those making off-handed or off-record comments – vociferously object to the code and the way planning staff members interpret it.
Amid the cacophony of complaints hurled at the department, valid concerns exist.
While the exact cause and extent of those concerns is up for debate, county staff members are forthcoming about the fact that the department is facing challenges. Since June 2022, the Community Development Department's monthly newsletter has led with a note reading "Due to a staffing shortage and an increased number of permit applications, processing time for projects has significantly increased."
County Manager Chuck Stevens says the department has turned the rudder onto a path of success, but the ship of public opinion will take more time to follow.
Root of a growth problem
Individual landowners seeking small-scale developments on their property tend to blame the land-use code, but developers who operate on a larger scale say the high rate of turnover within the planning department is the root of the problem.
As a result of turnover, projects move slowly through the planning process, which, developers say, drives up costs and hinders development.
Frank Sinton, developer behind Dalton Ranch, has worked through the county's planning process many times over the last three decades.
"I started Dalton Ranch in 1990 going through the county planning process and quite honestly ... I was moving dirt within nine months," he said. "And that was not a very simple project. That would take two years now, minimum."
He recently opted not to pursue an affordable housing development project to avoid what he called the "head-bash with the county planning department."
Of the 13 positions in the Planning Department (including the community development director), six are currently vacant, excluding a planning tech who will begin on May 8. Two offers were extended last week to fill two more of the vacant positions.
Kevin Hall, who spent several years at the city of Durango's Community Development Department, is temporarily filling that same role for the county, although he may leave as soon as the end of April.
Of the seven staff members currently in the Planning Department, the county engineer is the longest tenured with 17 years on the job. Dan Murphy, one of two senior planners, has also gathered a wealth of experience during the last nine years in the department. Of the remaining five employees, one was hired in 2017, one in 2021, another in 2022 and two began in January.
"There is a lot of turnover in the Planning Department with the county and it's not a new thing," Reynolds said. "It's been going (since) I've been working in Durango, since 1997. ... Because of that, things tend to get missed. A lot of things get dragged out a lot longer than they should. When you have to change over to a new planner in the middle of the project, getting that planner up to speed typically takes a lot of time and it certainly slows down projects and it slows down approvals."
Although county officials acknowledge the high rate of turnover at the department, they also point out that the workload has surged as the population grows and landowners scramble to capitalize on the opportunity.
To compensate for the growing demand for services, the county added 11.5 full-time equivalent employees across departments in the 2023 budget, including two in the Planning Department.
"The code is not cumbersome," Murphy, a senior planner, said. "We just don't have the literal human bodies to process the amount of work we receive."
Staff impact
On top of growing demand, staff retention can be a challenge for the department because, as is the case with many government positions, planners can make significantly more money in the private sector.
In 2022, the lowest-paid planner at the county made $45,056 while the highest-paid planner made $84,111. The salary range for an entry-level planner at the county in 2023 is $55,555 to $80,555. In comparison, the base salary range for a similar position at SEH, a planning firm with an office in Durango, is $65,000 to $110,000.
A former SEH employee said high-performers can often make an additional $10,000 to $15,000 annually with bonuses.
"Our profession typically pays relatively well," Murphy said. "(But) The cost of living in Durango is exceptional. How do we compete with ... big firms or big cities?"
Christy Kost, former natural resources planner at the county who left earlier this month for a job in the private sector, said that although the county is a great workplace, "a better opportunity just came up."
"That does happen a lot," Kost said. "Government cannot compete very well with private sectors, so I think that's really common."
Stevens also points out that a lack of staff is not a problem unique to the Planning Department or the county, but an epidemic affecting businesses and governments nationwide.
Although nobody entirely agrees on how long staffing-related sluggishness has been a problem, one thing is clear: The situation reached a critical low point last fall.
After an arduous multiyear revision of the land-use code, the Planning Department found itself with a growing workload saddled upon a staff populated with newer planners who were still working to gain familiarity with La Plata County. As a result, spirits in the office dipped.
"Morale of planning department staff reached critically low levels," Stevens said.
The department had been under the leadership of former community development director Neal Starkebaum since May 2019, and in fall 2022, it became apparent it was struggling.
"Staff turnover is an indicator of ineffective management, and we were seeing some staff turnover," Stevens said. "And so we took steps to address that."
In an email, obtained by The Durango Herald through an open records request, Stevens asked to meet with Starkebaum on Nov. 17 to discuss a performance improvement plan. Starkebaum submitted his resignation in response to that email. His last day was Dec. 2.
"I was very concerned in December," Stevens said.
In addition to trouble at the helm, Stevens and Murphy noted that vicious public comments have taken a toll on staff members as well.
Although planners are not elected, they occupy high-profile, public-facing positions. And the negative comments from members of the public directed at the staff members who are working to navigate county codes can make retention even more difficult.
"People talk to me at City Market," Murphy said. "... Those conversations are never positive, of what we're doing right."
Murphy is the planner working with the developer who has proposed building a controversial luxury RV park in the Animas Valley. Opponents of the project have submitted comments targeting him personally.
"To have personal attacks lobbed on staff by name, it is really disturbing," Stevens said.
Budding solutions
Stevens says solutions to both long-term and short-term challenges facing the department are underway.
Within days of Starkebaum's resignation, Stevens convinced Hall, the city's recently retired community development director, to fill the director position in an interim capacity. Hall's first day was Jan. 3.
A national recruiting effort is now underway to find a qualified person to fill the position permanently.
With respect to staffing other positions, Stevens said every employer goes through challenging periods.
"We are, as an organization, doing pretty good right now," he said. "We just had an incredibly harsh winter. My road and bridge crew? Fully staffed. (They are) driving plows on 12-hour shifts on icy roads in the dark."
The county also hired temporary administrative staff to handle intake work, freeing up planners to handle the more technical planning work.
In addressing longer-term challenges, Stevens says the county is slowly seeing the benefits of the new land-use code, passed in 2020.
"We have not achieved success," he said. "... What we are seeing is that it so far has been successful. ... We're moving the needle in the right direction."
The code now streamlines approvals and frontloads certain elements of the planning process to avoid doing unnecessary work on projects that are not compatible with certain elements of the code regulations. The more comprehensible code has also allowed the county to contract planning work out to a consultant.
Stevens added that the county is addressing necessary amendments to the code as minor gaps are revealed through its use.
"There are a lot of developers who have long memories about how it used to be," Stevens said. "We're trying to change that."
rschafir@durangoherald.com