Congressman takes new approach to reimbursing damages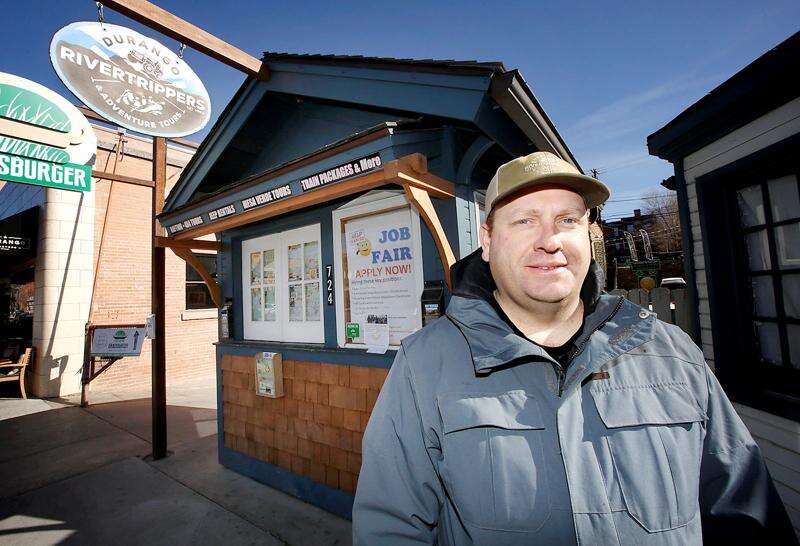 In the days after the Gold King Mine spill tainted the Animas and San Juan rivers in 2015, Environmental Protection Agency officials encouraged people affected by the event to file damage claims for financial losses.
With the river closed for eight days, rafting companies and fishing guides were kept out of the waterway at peak season and, with irrigation ditches shut off, crops went fallow in the late-summer sun.
The EPA spill released 3 million gallons of mine wastewater laced with potentially toxic heavy metals, turning the river an electric hue of orange. It was unclear if the river that runs through the literal and figurative heart of Durango would ever be the same.
The prospect of compensation was at least something.
EPA officials were on hand at some August 2015 meetings in Durango to help people file claims, known as a Form 95.
Residents had up to two years from the date of the spill to file a damage claim, which would be reviewed by the EPA on an individual basis, officials said. Financial claims immediately starting pouring in. Just two months after the spill, more than 30 individuals and business owners filed claims totaling $1.3 million.
But on Jan. 13, 2017, the EPA said it was legally protected from any damages associated from the spill. Stated simply: It would not be paying the more than $1.2 billion from 73 claims.
"This is yet another devastating blow from the EPA," David Moler, owner of Durango Rivertrippers & Adventure Tours, said at the time. "As a small business that relies on the river to make our living, we're certainly drastically impacted by the event that took place in 2015. We were shut down and lost substantial amounts of business."
While local politicians lambasted the EPA for its decision, there seemed to be little recourse for residents who lost out. An EPA spokeswoman said residents could submit damage claims until August 2017, but in the same breath, she said those claims would ultimately be denied.
A glimmer of hope for those holding out for reimbursements surfaced when newly appointed EPA Administrator Scott Pruitt pledged at his nomination hearing to review the agency's decision to not pay for damages related to the EPA-triggered spill.
After visiting the site, just north of Silverton, on the eve of the two-year anniversary of the spill last August, Pruitt reaffirmed those intentions.
"When I was appointed EPA administrator by President Trump, I committed to review the Gold King Mine decision made by the previous administration," Pruitt said in a prepared statement at the time. "A new review is paramount to ensure that those who have, in fact, suffered losses have a fair opportunity to have their claims heard."
But more than six months after this declaration, the EPA has been silent on where this process is. EPA officials did not respond to The Durango Herald's request for comment on this story.
As a result, U.S. House Rep. Steve Pearce, a New Mexico Republican, introduced "HR 4735, The Gold King Mine Spill Accountability Act of 2018," to provide compensation for those financially hit by the spill.
The bill closely resembles legislation that Sens. Tom Udall, Michael Bennet and Martin Heinrich – all Democrats – pushed in 2015, called "The Gold King Mine Spill Recovery Act of 2015," which ultimately died in a previous congressional cycle.
One major difference, however, is that Pearce's bill seeks to use money from EPA's budget, whereas the 2015 bill would have drawn funds from the Treasury Department's Judgment Fund, where federal tort claims are usually settled.
"(Bennet) believes that communities harmed by the Gold King Mine spill have waited far too long for compensation," said a Bennet spokeswoman. "However, Michael does not believe it's necessary to erode the EPA's budget – which is critical to operations like cleanup of the Bonita Peak Superfund Site – in order to pay the pending tort claims."
It's unclear where Colorado's other congressional representatives stand on Pearce's bill.
Kelsey Mix, spokeswoman for House Rep. Scott Tipton, said: "(The bill) addresses issues that are specific to the state of New Mexico. Congressman Tipton and his staff continue to engage with the EPA to ensure the agency upholds the commitments it has made to Coloradans."
Pearce's bill, however, calls for compensation to anyone affected by the spill, regardless of what state they live in. The only New Mexico-specific mandate is a provision in the bill that asks for funding to launch a water-monitoring project in the state.
Follow-up questions to Tipton's representative were not returned.
Casey Contres, Sen. Cory Gardner's spokesman, did not return multiple requests seeking comment.
It's unclear how Pearce's bill, which currently has no co-sponsors, will progress through the legislative channels. The bill, assigned to the House Transportation and Infrastructure Committee, has a 13 percent chance of succeeding, according to Skopos Labs.
"This recovery process has gone on way too long, and the people of New Mexico deserve certainty," Pearce said in a prepared statement. "A good government must be held accountable to its citizens, and this bill takes an important and necessary step forward to ensure those who were wronged are made whole."
Pearce's bill, aside from compensating those affected by the Gold King Mine spill and funding a water-monitoring program in New Mexico, would also set up an "Office of the Gold King Mine Spill" within the EPA to deal with damage claims and other issues related to the spill.
Yet, as Bennet's spokeswoman pointed out, at a time when President Donald Trump is calling for the EPA's budget to be slashed at least 30 percent, the agency may not be able to take on additional financial responsibilities by paying out claims.
The EPA, for its part, has spent millions in recovery efforts. The agency has tallied more than $29 million in its response and reimbursed more than $3.5 million to local, state and tribal governments for costs incurred from the release as of August 2017.
And, the EPA officially listed the vast network of leaking mines around Silverton, including the Gold King and 47 other mining-related sites, as a Superfund site.
The hope for the Bonita Peak Mining District Superfund Site is to improve water quality in the Animas River watershed that's compromised by mine pollution. The basin, as a whole, dumps enough metals to cause a dead zone for aquatic life from Silverton to just north of Durango. And, fish populations that are stocked are unable to reproduce.
But that comes as little solace to business owners that took a hard hit during the spill.
"We want to be made whole," Moler said Wednesday. "If you damage someone's property, you'd want to make it right, and they should do the right thing. But hope is something I don't cling to."
jromeo@durangoherald.com